Most double strollers are a bit bulky and clunky to take out on a jog. The 3-wheel design of the Thule Urban Glide 2 gives it an edge for maneuverability, and it has features like all-terrain wheels and a zip-closed storage pouch that are perfect for active parents. Sound like something you need? We'll break down all the features in this Thule Urban Glide 2 review so you can decide if it's the double stroller you're looking for. (>>> Check on PishPoshBaby.com)
Thule Urban Glide 2 Review of Specifications:
| | Thule Urban Glide 2 |
| --- | --- |
| | |
| Maximum child weight | 98 lbs (49 lbs per seat) |
| Age range | 6 months - toddler |
| Unfolded dimensions | 41.1"L X 27.2"W X 40"H |
| Folded dimensions | 34.2"L X 27.2"W X 13.3"H |
| Weight | 34.2lbs |
| Price | Find on Amazon |
Maneuverability
The 3-wheel design of the Thule Urban Glide 2 is perfect for navigating in tight or crowded spaces. The front-wheel swivels to make tight turns, and can be locked into place for more control when you're out jogging. The twist hand brake lets you easily control the speed or stop the stroller when you need to.
The Urban Glide 2 maintains its maneuverability over all kinds of terrains. It uses large 16" rear wheels with an all-terrain tread that can handle surfaces like grass, gravel, or sand. All three wheels also have a suspension system to keep the ride smooth no matter what you're rolling over. This makes it the ideal stroller for active families, letting you go from the mall to the park with ease.
Child Comfort
The seats of the Thule Urban Glide 2 are made to comfortably fit babies from around 6 months until they're 43" tall or 50 pounds. While the footrest is a bit narrow for older toddlers, the under-leg padding is nice, and the 5-point harness does a great job keeping your baby safe and comfortable. It's also easy to undo with just one push on the central button, and it's just as fast to get your child snapped in.
The seats are independent, and each can recline to a fully-flat position. There's an extra sunshade at the foot for when you use this position, blocking sun from any angle. Each seat of the Urban Glide 2 has a larger sunshade at the top, with a pop-out visor to extend it on sunny days and a rear-facing ventilation window so you can peek inside.
Pros
Smooth ride thanks to large, treaded wheels with suspension
Folds one-handed into compact package
Storage basket zips shut to keep items safe
Adjustable, ergonomic handle
Hand brake with speed control
Cons
Storage is small and tricky to access
Not suitable for newborns out of the box
Folding and Transportation
You can collapse the Thule Urban Glide 2 with one-hand, and it's a quick and easy process to restore it to its full size, too. Once collapsed, it's compact enough that one person can move it around fairly easily. Now it is a heavier stroller, at around 35 pounds, and it doesn't wheel when it's collapsed. That said, it's still light enough most will have no trouble lifting it into a car trunk or storage area.
On-Stroller Storage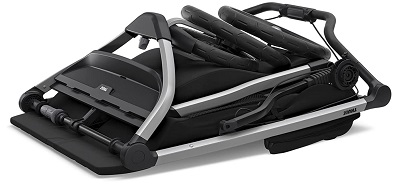 The under-seat storage on the Thule Urban Glide 2 has enough space for a diaper bag, purse, or other essentials. It doesn't have a particularly high weight limit, though, only holding about 10 pounds. The opening is also fairly low, which can make it a bit tricky for some parents to access. One nice feature is the zip closure, helpful for keeping everything contained on bumpy trails. There are also mesh compartments on the back of each seat to keep things like your phone and wallet close at hand. For our all-terrain double strollers buying guide click here.
Thule Urban Glide 2 Review in Summary
The maneuverability and comfort of the Thule Urban Glide 2 are definite points in its favor (>>> Find on PishPoshBaby.com). While it's a bit heavy, it's still easy to transport and store thanks to its compact fold. It is also compatible with other Thule accessories, like the infant bassinet or car seat, which can expand its use down to children younger than 6 months, though these will add to your price, and it's already likely at the upper end of many parents' budgets. Still, while it's not the cheapest stroller, it's worth the money for parents on the go.
FURTHER READING: