For urban parents and families on the go, a lightweight, easy-to-carry stroller is an absolute must. UPPAbaby makes several models that meet these criteria, combining durability with convenience and comfort—and at a very reasonable price.
If you're considering the UPPAbaby Minu vs. G-Luxe, the Minu will be the better choice for most parents, with a larger under-seat storage, a more comfortable seat, and a more portable overall design (>>> Check on PishPoshBaby.com). On the other hand, the G-Luxe is more maneuverable, and can be the superior choice for some. Let's look at the differences in more depth so you can make an informed choice.
UPPAbaby Minu vs G-Luxe Side by Side:
Baby Comfort
The seat of the UPPAbaby G-Luxe is relatively well-padded, and that padding can be removed easily when you need to clean it, which is a nice touch. The adjustable canopy is also a factor here, keeping your baby protected from UV rays while you're out on sunny days.
Comparatively, the seat of the UPPAbaby Minu is roomier, and has a wider range of recline position options, giving you more options for finding the perfect angle. Its 5-point harness also has better padding than the G-Luxe, with a similar canopy to protect your child from the sun. This makes it a more comfortable ride overall.
Better baby comfort: UPPAbaby Minu
Maximum Weight and Age Range
The UPPAbaby Minu can hold babies up to 50 pounds, and you can start using it with kids as young as 3 months. You can also add the UPPAbaby From Birth Kit to use it with newborns or use it with a range of infant car seats.
On the other end, the UPPAbaby G-Luxe has a slightly higher maximum weight capacity, suitable for children up to 55 pounds, which lets you use it a bit longer before your child will age out.
Higher maximum weight: UPPAbaby G-Luxe
Under-seat Storage
The under-seat storage of the UPPAbaby G-Luxe is made of mesh. This allows you to see inside it easily, but it also gives it a relatively low weight capacity, right around 10 pounds. Accessing it from the parent side can also be a bit tricky.
Conversely, the more durable fabric used in the storage basket of the UPPAbaby Minu has about double the weight capacity, with a wider opening that lets you quickly and easily grab whatever you need to.
Better under-seat storage: UPPAbaby Minu
Portability
The lightweight design of both of these strollers is their main strength. Both also include a convenient carrying handle so you can take it with you, and can be folded quickly and easily down to a self-standing unit for storage or transportation. The UPPAbaby Minu takes a slight edge here thanks to its lower weight and smaller wheels, which make it easier to carry with you.
More portable: UPPAbaby Minu
Suspension and Maneuverability
The UPPAbaby Minu uses a spring-action suspension on all 4 wheels. This keeps the ride smooth on paved surfaces, though the relatively small wheels mean it will struggle on more uneven surfaces, and may be a bit of a hassle to get over large curbs.
The wheels on the UPPAbaby G-Luxe are much larger and sturdier, and it has a higher clearance under the storage basket. Along with this, it uses a more sophisticated 4-wheel suspension system that absorbs jolts and bumps before you baby can feel them. While it's still not suited to rural or extremely rough terrains, it performs much better on park paths, high curbs, and other similar surfaces.
Smoother ride: UPPAbaby G-Luxe
---
UPPAbaby Minu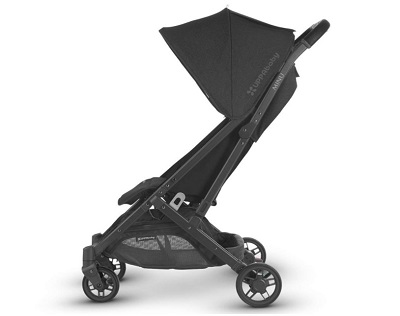 The lightweight and portable UPPAbaby Minu is a great choice for parents on the go. It's remarkably lightweight at less than 15 pounds and folds quickly into a self-standing unit. When you need to carry it, the included shoulder strap makes it a breeze to transport. Once you're on the move, the spring-action suspension keeps the ride smooth and makes it easy to steer and control.
The seat in the UPPAbaby Minu has a good amount of room for your child so they'll stay comfy during the ride. It also has multiple recline positions, from fully upright to laying down, and can accommodate babies from around the age of 3 months until they weigh 50 pounds. The 5-point harness is easy to adjust and well-padded at the shoulder, enhancing the comfort and safety of the seat. Its roomy under-seat storage and extendable canopy are convenient features for both you and baby, too.
For newborns, you can purchase the From Birth Kit, though keep in mind this doesn't come included, The Minu is also compatible with a range of infant car seats, including the UPPAbaby brand Mesa seat and seats from popular brands like Nuna, Cybex, and Maxi-Cosi. This gives it a good amount of versatility for a variety of uses.
Pros
Easy one-step fold
Smooth spring-action all-wheel suspension
Shoulder carrying strap for easy transportation
Large under-seat storage
Compatible with multiple car seat brands
Cons
Newborn kit must be purchased separately
Not as smooth on uneven surfaces
---
UPPAbaby G-Luxe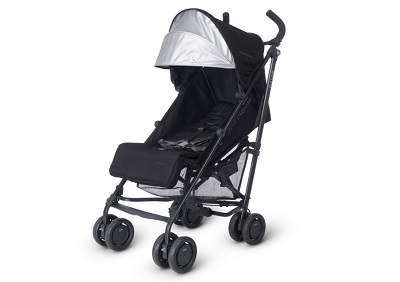 For traveling over rougher surfaces and uneven terrain, the 4-wheel shock-absorbing suspension of the UPPAbaby G-Luxe is very effective, keeping the ride smooth even on surfaces like grass. It also has a one-action brake so you can trust the stroller to stay still when you're stopped, and it's easy to maneuver overall.
While the UPPAbaby G-Luxe is a bit heavier than the Minu, it's still very lightweight at just over 16 pounds. It also has a very quick folding mechanism, and includes the same shoulder strap for transportation. When you're ready to store it, it stands on its own once folded, so it's easy to keep out of the way.
The extendable and adjustable canopy of the G-Luxe offers SPF 50+ protection from the sun to protect your baby's sensitive skin. The seat has a relatively high weight capacity and you can adjust the position with one hand, with 3 positions between upright and laying down. Our only major quibble is the under-seat storage. While it's easy to access, it only has a weight capacity of about 10 pounds, so you can't carry much with you on your trip.
Pros
Easy to fold into self-standing unit
One-hand recline with 3 positions
Shock-absorbing 4-wheel suspension
Seat pad is easy to remove for cleaning
Height-adjustable and extendable SPF 50+ canopy
Cons
Smaller under-seat storage
Harness isn't well padded
---
UPPAbaby Minu vs G-Luxe: The Verdict
Choosing between the UPPAbaby Minu and G-Luxe comes down to what you need from your stroller. For most parents, the comfy seat, ample storage, and easy portability of the UPPAbaby Minu will fit their needs better (>>> Find on PishPoshBaby.com). However, the G-Luxe gives a smoother ride on a wider variety of surfaces and is still very portable and comfortable compared to most strollers. Both models are exceptional performers for urban parents, so you really can't go wrong whichever one you buy.
REFERENCES AND FURTHER READING: