When it comes to convenience, comfort, and adaptability in strollers, the GB Pockit+ series has set new benchmarks. Both the GB Pockit+ All-Terrain and All-City variants offer incredibly compact designs that make them perfect for the modern, mobile family. But how do they differ, and which one is a better pick for you? After rigorous hands-on testing of every feature, we've concluded that the GB Pockit+ All-Terrain is the slightly better choice, offering just a bit more versatility and usability across different environments. Read on as we dissect the features, customer reviews, and real-world utility of these two remarkable strollers to help you make an informed decision.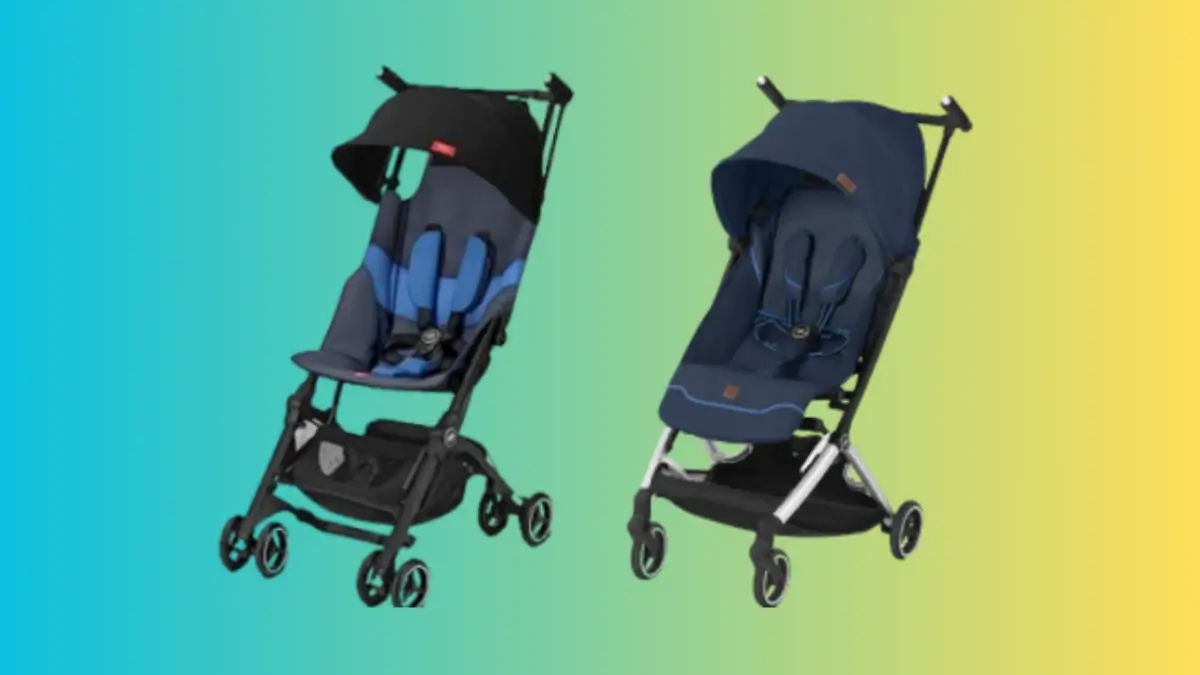 In This Comparison:
GB Pockit+ All-Terrain vs. All-City Side-by-Side:
| | gb pockit+ all terrain | gb pockit+ all city |
| --- | --- | --- |
| | | |
| Weight | 12.3 lbs | 13.2 |
| Weight Capacity | 55 lbs. | 55 lbs. |
| Dimensions (LxWxH) | 28 in x 19.1 in x 39.8 in | 28.7 in x 20.3 in x 40.9 in |
| Folded Dimensions (LxWxH) | 13.4 x 7.9 x 16.5 | 12.6 in x 7.9 in x 18.9 in |
| Airplane Carry-On Compliant | yes | yes |
| Standing Fold | yes | yes |
| Seat Recline | yes | yes |
| Lockable Swivel Front Wheels | yes | no |
| Compatible with Infant Car Seats | yes | yes |
| Sun Canopy | Sun Canopy | XXL UPF50+ Sun Canopy |
| | Find on Amazon | Find on Amazon |
Quick Overview
GB Pockit+ All-Terrain: The Adventurer's Choice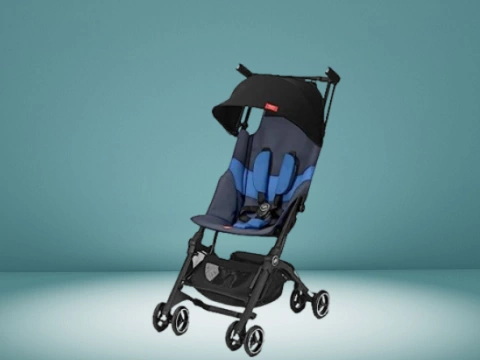 The GB Pockit+ All-Terrain is the epitome of a travel-friendly stroller without sacrificing comfort or functionality. Weighing in at just 12.3 lbs with a weight capacity of 55 lbs, it is a lightweight but robust option for families on the move. The All-Terrain variant features double wheels that make it easier to navigate through challenging terrains, from cobblestones to muddy park trails. Its airplane carry-on compliance ensures that your journeys by air are just as smooth. What sets it apart is its versatility, including a stepless recline function and compatibility with infant car seats. All these features are encapsulated in a stylish package, available in Night Blue, that's as good to look at as it is to use. Check out our in-depth GB Pockit+ All-Terrain review.
Pros
Ultra-compact, airplane carry-on compliant.
Versatile with stepless seat recline.
Double wheels for better maneuverability.
Lockable swivel front wheels.
Compatible with infant car seats.
Cons
Wheels not efficient for tight turns.
Slightly heavier than other ultra-compact models.
---
GB Pockit+ All-City: The Urban Maven
Tailor-made for the city-dweller, the GB Pockit+ All-City weighs 13.2 lbs and also boasts a 55 lb weight capacity. It offers a similar ultra-compact fold, making it an excellent option for parents who have to navigate crowded city streets and public transportation. Unlike its All-Terrain sibling, this stroller features single wheels designed specifically for smoother urban surfaces. Though it lacks the lockable swivel front wheels, its front-wheel suspension offers a comfortable ride. Moreover, its compatibility with Cybex car seats and stepless recline function means your child can nap comfortably while you run errands or explore the city. The All-City model comes in a chic Black Velvet color, aligning well with an urban aesthetic. Check out our in-depth GB Pockit+ All-City review.
Pros
Ultra-compact and airplane-friendly.
Infinite positions for seat recline.
Designed for smooth city surfaces.
Compatible with Cybex car seats.
Front-wheel suspension for comfort.
Cons
No lockable swivel front wheels.
Seat doesn't lay completely flat.
---
Assembly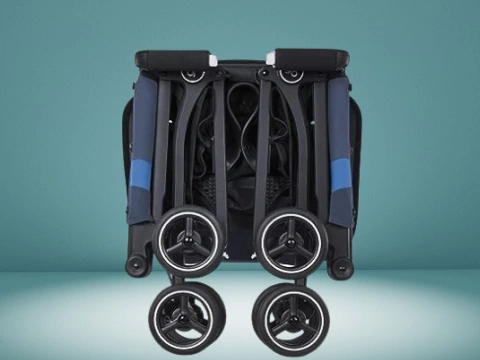 For parents concerned about the assembly process, rest assured that both strollers are designed with user-friendly assembly in mind. With the GB Pockit+ All-Terrain, we found the setup to be incredibly straightforward. The stroller practically came ready to use right out of the box, requiring only a few quick adjustments to secure the wheels and attach the sun canopy. The intuitive design makes it easy to figure out, even for those who tend to shy away from instruction manuals.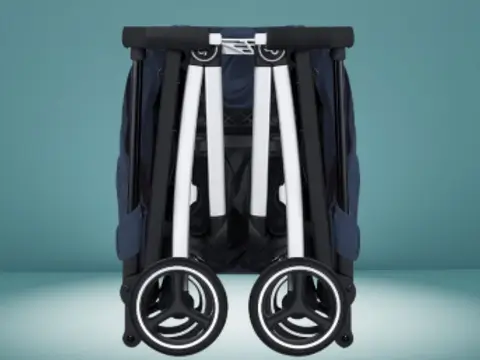 The GB Pockit+ All-City also aims to make the assembly process painless, but we found it had a couple of extra steps for attaching the 3-in-1 travel system components. These extra steps were not particularly difficult but did require a bit more attention to detail. That said, once assembled, switching between the different configurations was simple and quick, thanks to the stroller's customizable nature. Overall, both strollers offer an assembly experience that is well-suited for busy parents who don't have time to fiddle with complicated setups.
Winner: Both
Design and Aesthetics: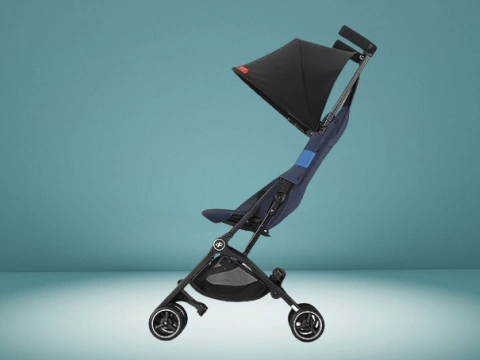 At first glance, both the GB Pockit+ All-Terrain and the GB Pockit+ All-City strollers emanate sophistication and style, but each has its own unique flair. The All-Terrain model we tested came in a captivating "Night Blue," a hue that strikes a balance between timeless elegance and contemporary chic. Meanwhile, the All-City was dressed in a luxurious "Black Velvet" that embodies sleek modernity.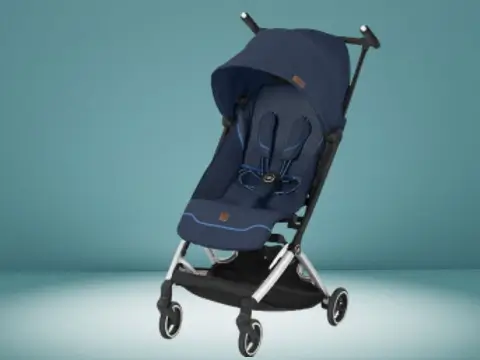 The All-Terrain's design leans more towards an adventure aesthetic with its robust double wheels, designed for versatile outdoor activities. You can easily tell it's built to tackle a variety of surfaces. On the other hand, the All-City's single wheels and slim profile target the cosmopolitan parent, emphasizing maneuverability on smooth city surfaces.
Winner: Both
Size and Measurements
When it comes to size and measurements, both strollers excel in the portability department but differ slightly in dimensions. The GB Pockit+ All-Terrain measures 28 in x 19.1 in x 39.8 in (LxWxH) when unfolded, and it astonishes with its compact folded dimensions of 13.4 in x 7.9 in x 16.5 in. This compactness came in handy when we needed to stow it away in a crowded café or load it into a small car trunk. On the other hand, the GB Pockit+ All-City is slightly larger, with dimensions of 28.7 in x 20.3 in x 40.9 in when open and 12.6 in x 7.9 in x 18.9 in when folded. While the difference might seem marginal, that extra inch in width and height made the All-City slightly less convenient in tight spaces.
Though both strollers are designed to be lightweight—the All-Terrain weighs 12.3 lbs and the All-City comes in at 13.2 lbs—the slight edge in weight and compactness goes to the All-Terrain model. This proved especially useful during travel; we effortlessly lifted it into overhead compartments on airplanes and even fit it into a backpack. The All-City is by no means a heavyweight, but when you're a parent managing a child, a diaper bag, and other essentials, every pound counts.
Winner: GB Pockit+ All-Terrain
Real-Life Testing: Navigating Urban Jungles and Nature Trails
When it comes to real-world application, there's no better way to test a stroller than to take it through a series of varied terrains and everyday situations. With the GB Pockit+ All-Terrain, we were quite impressed by its capability to tackle different surfaces. Its double wheels are designed for just this sort of versatility. We took it through city parks, over cobblestones, and even on gravel paths during our autumn vacation. While it excelled in these scenarios, we must agree with some customer reviews that pinpointed a significant issue: the wheels struggle when it comes to quick and efficient turns. We found that the stroller required a bit more force to navigate corners, especially in tight spaces.
The GB Pockit+ All-City, designed explicitly for urban environments, was put to the test in crowded shopping malls, narrow aisles, and bustling city sidewalks. While the wheels are not lockable, they are narrower and more streamlined, making the stroller more agile in tight corners. The absence of lockable wheels, however, made it less stable when we tried using it on uneven terrains like park paths. On the flip side, its slim profile made it incredibly easy to weave through congested areas. Both strollers fit seamlessly into our lifestyles, but we found that choosing between them would depend largely on where you foresee spending more of your time—out in nature or navigating the concrete jungle.
Winner: GB Pockit+ All-Terrain
Verdict: GB Pockit+ All-Terrain vs All-City
After rigorous real-world testing and comparisons, our verdict is clear: the GB Pockit+ All-Terrain edges out as the slightly better pick over the All-City version. View Today's Top Amazon Deals Now! While both strollers offer ultra-compact, hand luggage compliant features with excellent weight capacities, the All-Terrain offers that extra bit of versatility for families on the go. Its ability to navigate various surfaces makes it more adaptable to diverse lifestyles. If you're looking for a stroller that can effortlessly switch from city sidewalks to nature trails, the GB Pockit+ All-Terrain is the stroller for you.
Editors' Recommendation: