Navigating the bustling streets of the city, the ever-crowded airports or even the tight corners of quaint cafes with a child in tow is no small feat. The ideal solution? A compact, reliable, and effortlessly maneuverable stroller. Amidst a sea of choices, two contenders distinctly shine for city dwellers and seasoned travelers: the Munchkin Sparrow and the gb Pockit Air. Both strollers lay claim to unmatched compactness, user-friendliness, and a design made for the globetrotter.
But when pitted against each other, which one rises to the occasion? After rigorous hands-on testing, the gb Pockit Air emerged as our top pick. Dive into our in-depth comparison to discover why.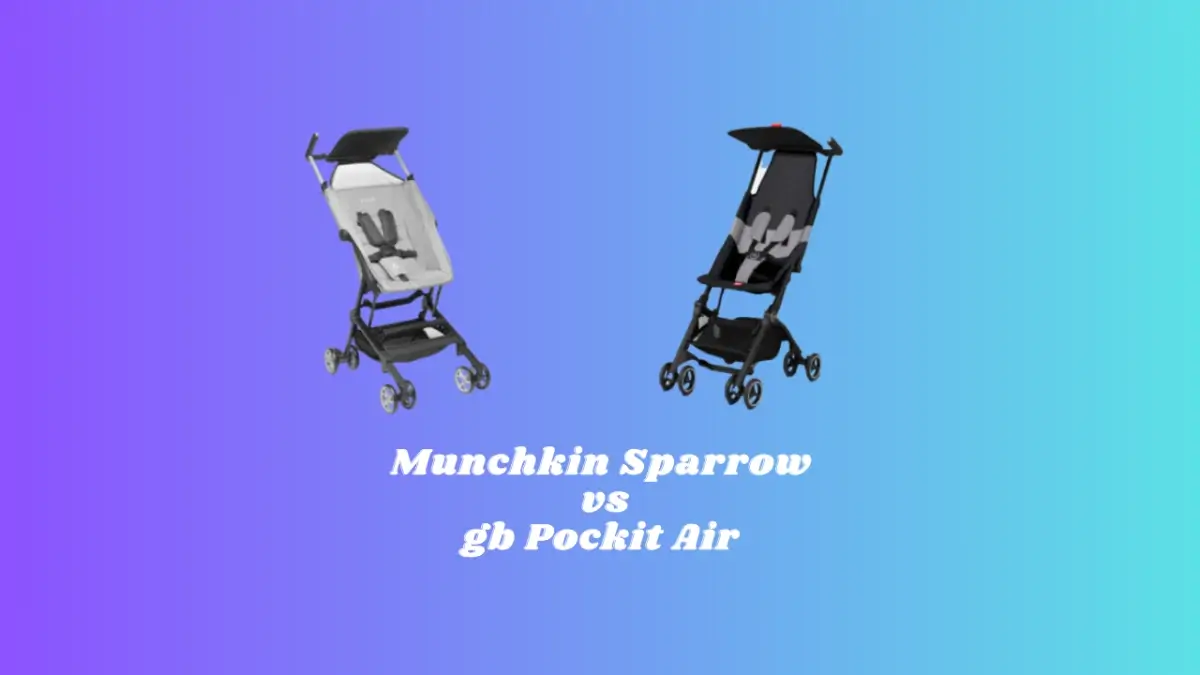 In This Comparison:
Munchkin Sparrow vs. gb Pockit Air Side By Side
| Feature/Specification | Munchkin Sparrow | gb Pockit Air |
| --- | --- | --- |
| | | |
| Product Dimensions | | |
| Unfolded | 39"L x 18.5"W x 28"H | 28"W x 17.5"D x 39.8"H |
| Folded | 15"L x 14"W x 6.25"H | 11.8"W x 7.1"D x 13.8"H |
| Weight | 12.8 lbs | 10.4 lbs |
| Certifications | JPMA certified | Not mentioned |
| Max. Child Weight | 55 lbs | 55 lbs |
| Max. Child Height | 41 in. (104 cm) | Not mentioned |
| Curren Price | Find on Amazon | Find on Amazon |
QUICK OVERVIEWS:
Munchkin Sparrow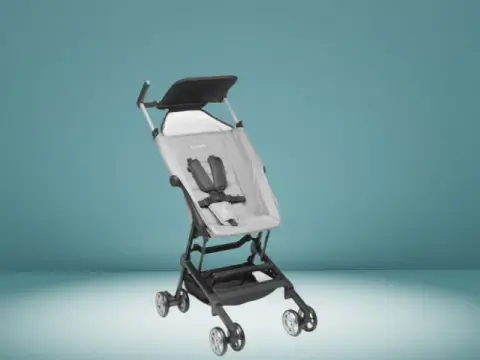 The Munchkin Sparrow stroller beautifully marries style with function. Its ultra-compact design, perfect for jet-setting families, is a breath of fresh air, especially when maneuvering tight spaces or boarding a flight. The intuitive forward fold motion is as seamless as advertised, making setups and pack-downs virtually stress-free. A particularly commendable feature is its 5-point harness system that ensures child safety without compromising comfort.
While it showcases outstanding performance on regular terrains, it slightly falters on more uneven grounds like gravel. Nonetheless, its overall build, combined with the travel bag inclusion, makes it a must-have for urban parents seeking reliability and convenience. Check our in-depth Munchkin Sparrow stroller review.
Pros
Intuitive forward fold motion for quick setup.
Sturdy build offers enhanced stability.
Versatile 5-point harness system for safety.
Ultra-compact design fits overhead airplane compartments.
Included travel bag for easy transport.
Cons
Struggles on gravel and cobblestones.
Sunshade provides limited coverage.
More expensive
---
gb Pockit Air All-Terrain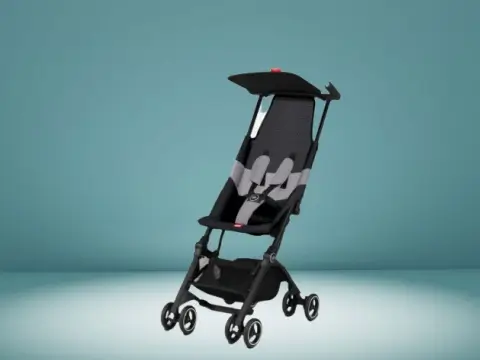 The gb Pockit Air is a testament to what modern engineering can achieve in the realm of baby gear. Its featherlight design is genuinely groundbreaking, ensuring that parents don't have to compromise on comfort or functionality when traveling. One of its shining features is the all-terrain double wheels, making city strolls or off-path adventures equally effortless.
The breathable mesh backrest is another noteworthy mention, ideal for those warmer days where child comfort is paramount. Although it boasts a minimalistic design, potential buyers should be aware of its limited storage capabilities. Regardless, for families constantly on the move, the Pockit Air emerges as a game-changer in portable strollers. Check our in-depth gb Pockit Air All-Terrain review.
Pros
Extremely lightweight at just 10.4 lbs.
All-terrain double wheels enhance maneuverability.
Breathable mesh backrest for cooler days.
Rapidly folds into ultra-compact size.
Hand luggage compliant for easy travel.
Cons
Less steady on extremely bumpy terrains.
Limited storage capacity due to size.
---
An In-depth Look at Design and Build Quality
When it comes to travel strollers, parents often seek a balance of style, functionality, and durability. The Munchkin Sparrow and the gb Pockit Air are prime examples of how different designs cater to these needs.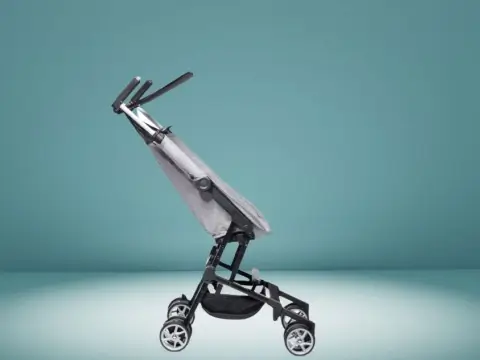 Munchkin Sparrow: The Sparrow's design speaks of modern elegance. With its sleek lines and a compact form factor, it easily integrates into the urban environment while hinting at its ruggedness. Its robust frame is complemented by the breathable mesh headrest and sunshade, reflecting thoughtfulness in design catering to varied climates. The Sparrow doesn't just rely on its aesthetics; its build quality is equally commendable. High-grade materials combined with precise engineering make it sturdy yet lightweight. The intuitive forward-fold mechanism, while enhancing usability, also showcases the brand's attention to detail. One gets the impression that this stroller is built to last while looking good.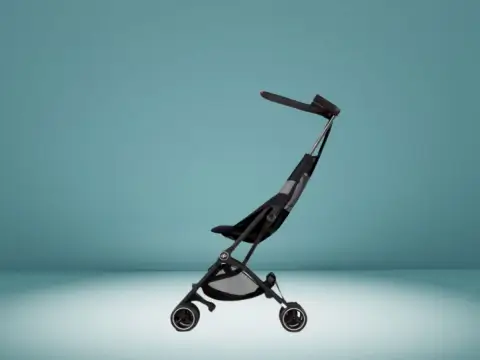 gb Pockit Air: Taking a slightly different approach, the Pockit Air puts portability at the forefront of its design philosophy. Its skeletal frame design accentuates its ultra-lightweight nature, giving it an almost futuristic appearance. Despite its delicate look, the stroller boasts of sturdy construction, prepared to handle the challenges of travel. A special nod goes to its breathable mesh backrest, ensuring comfort in diverse weather conditions. Its all-terrain double wheels further signal the brand's commitment to functionality without compromising on form. When folded, the Pockit Air's ability to stand independently is a masterstroke in design, emphasizing convenience in real-world scenarios.
Munchkin Sparrow vs. gb Pockit Air: Weight and Measurements Face-off
The weight and dimensions of a travel stroller are among the most critical factors for many parents, given the direct impact they have on transportability, storage, and ease of use. When comparing the Munchkin Sparrow to the gb Pockit Air, we see a battle between two contenders that have been designed with these very aspects in mind.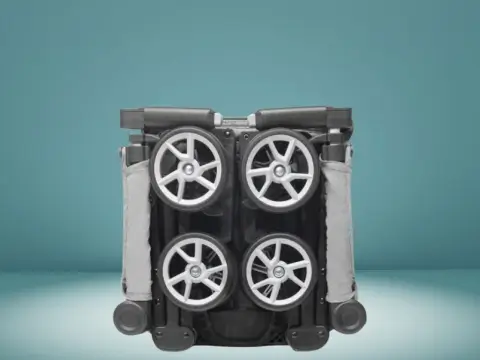 Munchkin Sparrow: The Sparrow's weight is set at 12.8 lbs., which, while being lightweight, offers a stable and robust feel when pushing it around. It's worth noting that the slightly heavier weight might contribute to a smoother ride, especially on uneven surfaces. When it comes to dimensions, the Sparrow stands at 39″(L) × 18.5″(W) × 28″(H) when in use, offering ample space for the child and a comfortable pushing height for the parent. The true charm, however, lies in its folded size. Collapsing to just 15″(L) × 14″(W) × 6.25″(H), it's incredibly compact, making it a breeze to store, whether in a car trunk or an overhead airplane compartment.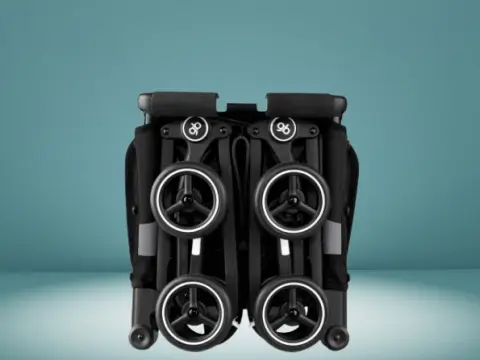 gb Pockit Air: Weighing in at a mere 10.4 lbs., the Pockit Air is the featherweight champion of the two. This makes it incredibly easy to carry around, especially when navigating through airports or hopping in and out of cars. It's designed to be the ultimate travel companion. Its dimensions when unfolded are 28″W x 17.5″D x 39.8″H, slightly slimmer than the Sparrow, which could be beneficial in tight spaces or crowded areas. However, its folded dimensions of 11.8″W x 7.1″D x 13.8″H emphasize its commitment to ultra-portability. This compactness ensures it fits in even the most snug overhead bins or under airplane seats with ease.
Comparing the Features: Munchkin Sparrow vs. gb Pockit Air
When analyzing the feature sets of the Munchkin Sparrow and the gb Pockit Air, it becomes evident that both strollers bring their unique strengths to the table, catering to diverse parenting needs.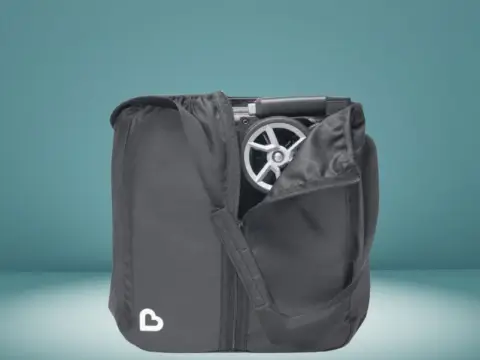 Munchkin Sparrow: A standout feature of the Sparrow is its "Unfold & Go" mechanism, which, as the name suggests, allows for an effortless forward fold, providing a quick and smooth transition from a compact state to ready-to-use. This simplicity is complemented by its ultra-compact design, making it not only suitable for overhead airplane storage but also convenient for those quick hops around town. The Sparrow's travel bag is a thoughtful addition, offering additional protection and ease of carrying. Its 5-point harness system ensures maximum safety, which, when combined with adjustable straps, provides both flexibility and security. Furthermore, the mesh headrest is a boon for hotter climates, ensuring that children remain cool and comfortable during their rides.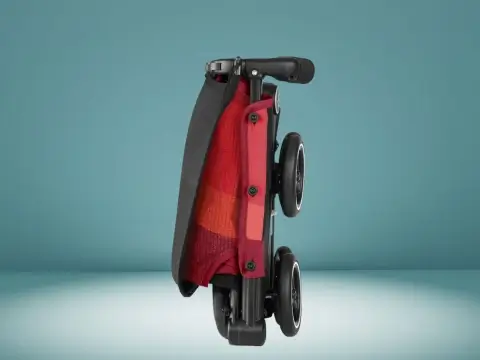 gb Pockit Air: The Pockit Air emphasizes its travel-readiness through features like hand luggage compliance, ensuring peace of mind for air travelers. Weighing just 10.4 lbs, its featherlight design underscores its commitment to being the perfect travel companion. Beyond weight, the breathable mesh fabric on the backrest demonstrates a holistic approach to comfort across various weather conditions. The double wheels designed for all-terrain usability signal a blend of convenience and versatility, ensuring smooth rides on diverse surfaces. Additionally, the sunshade's individual adjustability adds an extra layer of protection against the elements. The stroller's self-standing folded state makes it ideal for on-the-go parents, ensuring convenience in various scenarios, from coffee shops to boarding gates.
---
Performance Comparison
During our hands-on testing of both strollers, we analyzed a variety of aspects, from maneuverability to comfort, and ease of folding to durability. Here's how each stroller fared:
Munchkin Sparrow: Right out of the gate, the Sparrow impresses with its intuitive forward fold motion. This stroller isn't just about good looks; its performance in bustling city streets and crowded spaces speaks volumes. Maneuvering through tight spots felt relatively seamless, thanks to its compact design. The slightly larger weight, compared to the Pockit Air, added a touch of stability, especially when navigating uneven terrains. However, it's worth noting that on surfaces like gravel or cobblestones, the Sparrow took a bit more effort to push. The 5-point harness system was a standout feature during our tests, providing both safety and versatility. One could opt to use the full system or just part of it, accommodating varying child activity levels and parent comfort. The sunshade, although appreciated, did feel like it could benefit from a bit more coverage.
gb Pockit Air: The Pockit Air immediately commands attention with its sheer lightweight nature. This is felt most profoundly when transitioning from carrying it to unfolding it and strolling. Its performance on flat surfaces was impeccable. We could weave through crowds, tight aisles, and narrow doorways with ease. The all-terrain double wheels were particularly impressive on various grounds. Unlike the Sparrow, cobblestones and gravel posed less of a challenge for the Pockit Air. The breathable mesh was a pleasant surprise, particularly on warmer days, providing added comfort to the child. However, when the path gets particularly bumpy, the lightweight frame, although great for transport, felt a bit less steady than the Sparrow.
In the end, both strollers have their moments of brilliance. The Sparrow is a sturdy companion, best suited for urban environments and long strolls, ensuring both safety and comfort. The Pockit Air, on the other hand, shines in its adaptability to various terrains and its unparalleled ease of use for quick transitions and travels. Our experience with both highlighted the fact that each has been designed with specific scenarios in mind, catering to different needs and preferences.
---
Verdict:
In the showdown between the Munchkin Sparrow and the gb Pockit Air, each stroller carves out its niche, resonating with the diverse needs of today's parents. The Munchkin Sparrow appeals with its seamless fusion of elegance, safety, and a remarkably compact design tailored for everyday and travel purposes. Meanwhile, the gb Pockit Air leaps ahead with its unmatched portability, featherlight structure, and versatile adaptability, setting a gold standard in the realm of strollers.
Beyond their individual attributes, the Pockit Air offers another compelling advantage: its cost-effectiveness. Not only does it present top-notch features and reliability, but it also does so at a more accessible price point, delivering outstanding value for money. After meticulous assessment, the gb Pockit Air clinches the title in this matchup. For families in perpetual motion, seeking innovation without the hefty price tag, the gb Pockit Air emerges as a triumph of design and affordability. Whether you're embarking on international adventures or simply conquering the city streets, it offers the perfect blend of performance and price.