In the world of strollers, the gb Pockit Air All-Terrain stands out not just for its innovative design, but also for its impressive utility and convenience. For many parents, finding the perfect stroller is no less challenging than solving a complex puzzle, especially when it comes to city living and frequent traveling. But with the gb Pockit Air, there seems to be a solution that bridges the gap between urban usability and the need for compactness.
Having had the opportunity to test every feature of this stroller, we're eager to delve deep into its specifics, share real-life experiences, and provide a comprehensive assessment. Whether you're planning a trip abroad, navigating the tight aisles of a local café, or simply wanting a lightweight and manageable daily stroller, this Pockit Air All-Terrain review will help you determine if this stroller is the right fit for you.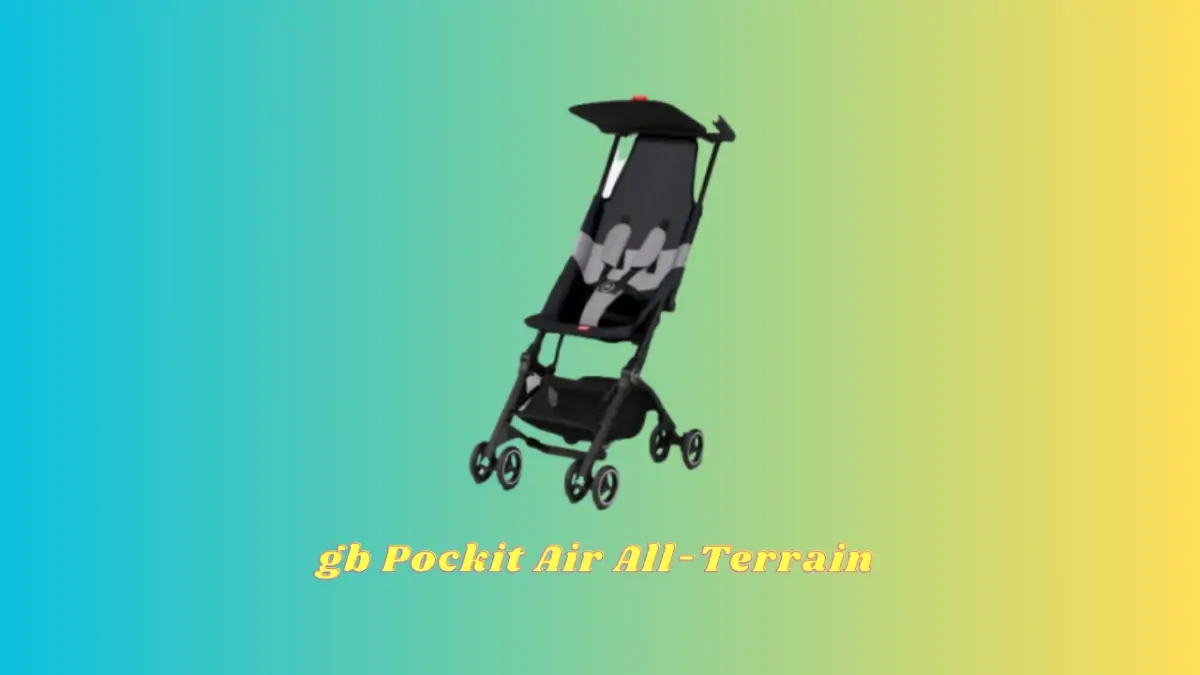 In This Review:
gb Pockit Air All-Terrain Review of Specs:
| Gb pockit air | |
| --- | --- |
| Maximum child weight | 55 lbs |
| Age range | 6 months to 55 lbs |
| Unfolded dimensions | 28"W x 17.5"D x 39.8"H |
| Folded dimensions | 11.8"W in x 7.1"D x 13.8"H |
| Weight | 10.4 lbs |
| Price | Find on Amazon |
Unboxing the gb Pockit Air All-Terrain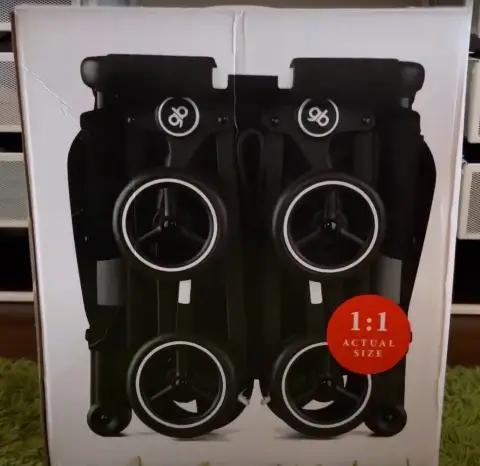 Upon receiving the stroller, the first thing we noticed was its surprisingly compact and neat packaging. This gave us an initial hint at its main selling point: unparalleled compactness. The box was relatively light, resonating with the stroller's advertised featherlight weight. The packaging design was simple and informative, showcasing key features and specifications.
Removing the stroller from the box was a breeze. It was folded neatly and secured with minimal plastic wrapping, which we appreciate from an environmental standpoint. Included in the box was a concise user manual with clear illustrations and step-by-step instructions for setting up and folding the stroller.
Assembly: Simplicity at its Finest
One of the first things parents often dread about purchasing new baby gear is the assembly process. With the gb Pockit Air All-Terrain, this concern is quickly laid to rest. Here's a breakdown of our hands-on assembly experience:
Right out of the box, the gb Pockit Air largely comes pre-assembled. The main frame, seat, and wheels are already attached. This means you're not greeted with a jumble of parts, screws, and an overly complex instruction manual, which is a sigh of relief.
The primary action required is simply unfolding the stroller from its compact form. During our first attempt, it took us a mere minute to get it to its full size. The mechanisms are intuitive, with clear locking and unlocking cues. By the second or third try, the process felt almost automatic.
The Sun Shade installation is equally straightforward. It easily clips onto the frame, and adjusting it for optimal sun protection is a cinch. We did find that it's worth spending a minute understanding the shade's pivot points, ensuring you can quickly adjust it on-the-go as the sun's position changes.
The Front Swivel Wheels, equipped with a locking mechanism, don't need any setup. They're ready to manoeuvre smoothly right out of the box. However, it's beneficial to familiarize oneself with the locking feature, especially if you're transitioning between uneven terrains.
One tip we'd like to share: When unfolding the stroller for the first few times, ensure you're on a flat surface and listen for the "click" sound which indicates the stroller is securely locked in its open position. This ensures maximum safety for your little one.
Design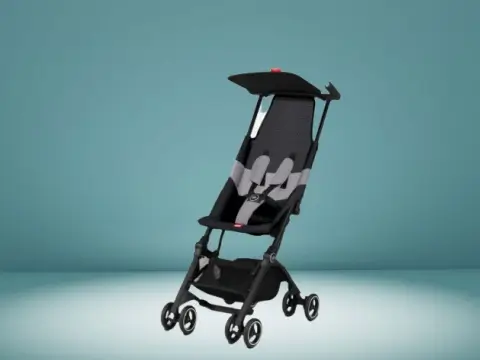 At its core, the gb Pockit Air All-Terrain champions a design that is minimalistic yet functional. It doesn't scream "look at me" but rather blends seamlessly into various settings, be it urban streets, park paths, or bustling airports. The color palette is neutral, which means it doesn't show wear and tear or dirt easily, and complements most outfits, if you're into stroller-fashion coordination.
Measurements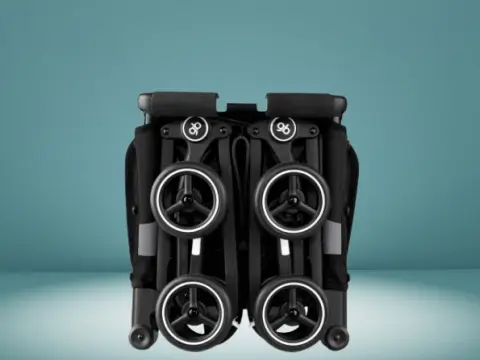 When unfolded, the stroller stands at a comfortable height of 39.8" with a width of 28" and depth of 17.5". This makes for a roomy seat for the child but also ensures that the stroller doesn't take up an excessive amount of space on pavements or in crowded places.
Its folded dimensions are where the magic truly lies. With dimensions of 11.8"W x 7.1"D x 13.8"H, it becomes this compact block that's easy to carry or stow away. Comparing this with other strollers in the market, it is undeniably one of the most compact when folded, making it an ideal travel companion.
Weight:
The stroller's weight, a mere 10.4 lbs, aligns perfectly with its promise of being "featherlight". This weight is ideal, especially when you consider the fact that you might be frequently folding and lifting it on your travels or daily errands. Whether you're hoisting it into an overhead bin, the trunk of your car, or simply carrying it folded over your shoulder using a strap (sold separately, we presume), its lightweight design ensures it's always manageable.
Exploring the Features: Balancing Innovation with Functionality
The gb Pockit Air All-Terrain is packed with features that make it stand out from many of its counterparts. Let's delve into these features one by one, shedding light on our first-hand experience with each: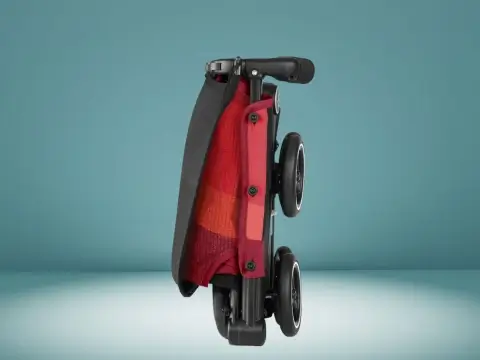 HAND LUGGAGE COMPLIANT: For frequent travelers, this feature is a game-changer. During a domestic flight, we tested this claim by easily stowing the stroller in the overhead bin. No more waiting at the gate-check or risking damage! It's worth noting that while most airlines accept it as hand luggage, it's always a good idea to check an individual airline's size restrictions just to be on the safe side.
FEATHERLIGHT: We can't emphasize enough how its lightweight design made a difference, especially during multi-stop journeys or when juggling other luggage. Even after a long day out, lifting the 10.4 lbs stroller didn't feel like an added chore.
BREATHABLE MESH: On a particularly sunny day out in the park, we noticed our little tester seemed quite comfortable. The breathable mesh backrest ensured adequate air circulation, preventing the child from getting too sweaty. For colder days, the option to add a padded inlay (sold separately) is a thoughtful addition to provide extra warmth.
ALL-TERRAIN DOUBLE WHEELS: Navigating different terrains was genuinely smoother than anticipated. From city sidewalks, gravel paths, to those tricky cobblestones, the double wheels tackled them all impressively. The design minimizes that jolting effect often experienced with lesser strollers on uneven surfaces.
SELF-STANDING WHEN FOLDED: At a local café, we folded the stroller and were pleasantly surprised to see it stand on its own. No more awkwardly leaning it against walls or chairs. It stands independently, making it convenient when you're pausing for a coffee break or waiting for a train.
SUN SHADE: The adjustable Sun Shade came in handy during our sunny outings. We could angle it perfectly to shield our little one's eyes without obstructing their view of the world. Though, for those exceptionally bright days, we felt a slightly larger shade might offer even better coverage.
FRONT SWIVEL WHEELS: Turning corners, weaving through crowds, or making sharp turns became a breeze with the front swivel wheels. The ability to lock them means added stability on longer, straight paths or uneven terrains.
Pros & Cons
Pros
Ultra-compact design makes traveling and storage incredibly convenient.
Lightweight frame simplifies transport, lifting, and maneuvering.
All-Terrain double wheels ensure smooth rides on varied surfaces.
Breathable mesh backrest provides comfort in warmer climates.
Hand luggage compliant for hassle-free air travel.
Great Price
Cons
Limited storage capacity due to compact design.
Sun Shade could offer broader coverage for brighter days.
Pockit Air All-Terrain review: the Verdict
After our in-depth hands-on review, it's clear that the gb Pockit Air All-Terrain is not just another stroller on the market—it's an innovative blend of practicality, style, and thoughtfulness. It redefines what parents can expect from a travel-friendly stroller, without compromising on the essential features needed for day-to-day use.
Its standout compact design, complemented by its lightweight frame, is truly its pièce de résistance, making it an ideal companion for city dwellers, frequent travelers, and those with limited storage space. The all-terrain wheels ensure versatility across various settings, from city streets to nature parks.
gp Pockit Air All-Terrain against other strollers: