When it comes to the fast-paced life of modern parenting, finding a stroller that can keep up is essential. Enter the gb Pockit+ All-Terrain stroller, a product designed to cater to the needs of parents who are always on the go. This lightweight and ultra-compact stroller has been in our testing circuit for a while, and we've had the opportunity to explore every nook and cranny of its design, functionality, and ease of use. Our gb Pockit+ All-Terrain review takes you through airports, cobblestone streets, and cramped spaces to test its purported hand luggage compatibility.
With features like an XXL UPF50+ sun canopy, stepless recline function, and compatibility with CYBEX car seats, it promises a lot. But does it deliver on all fronts? Read on for our comprehensive review, informed by real-world experience and user feedback.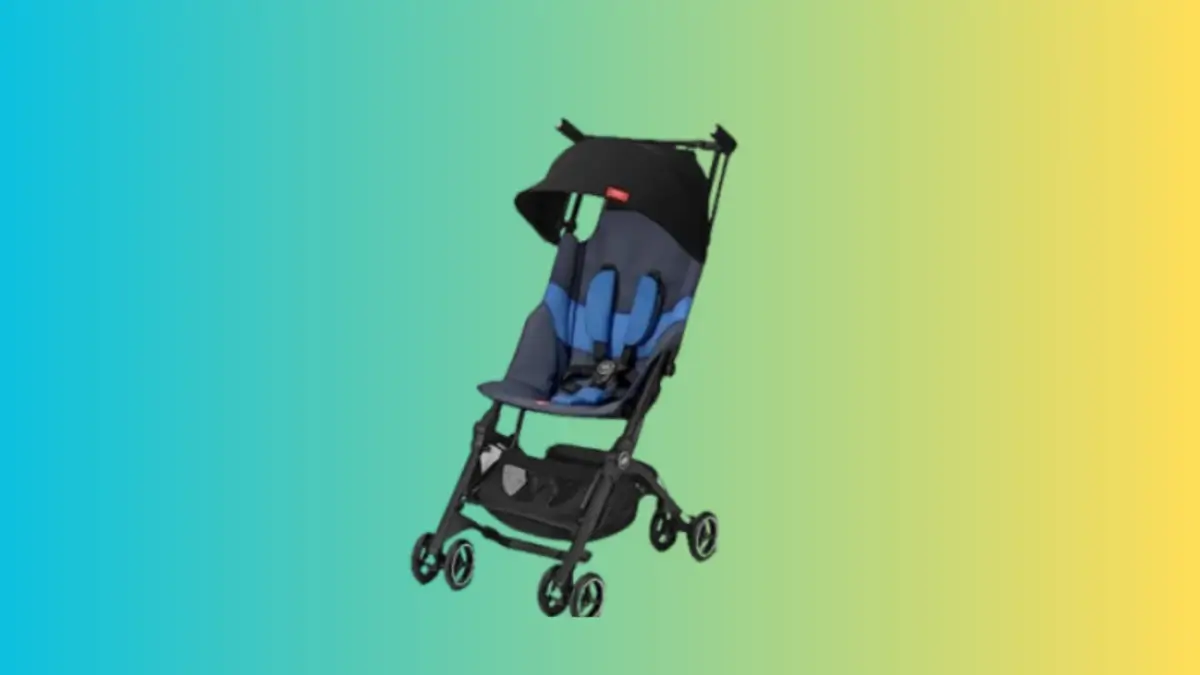 In This Review:
gb Pockit+ All-Terrain Specs:
| gb Pockit+ all Terrain | |
| --- | --- |
| Weight | 12.3 lbs |
| Weight Capacity | 55 lbs. |
| Dimensions (LxWxH) | 28 in x 19.1 in x 39.8 in |
| Folded Dimensions (LxWxH) | 13.4 in x 7.9 in x 16.5 in |
| Airplane Carry-On Compliant | yes |
| Standing Fold | yes |
| Seat Recline | yes |
| Lockable Swivel Front Wheels | yes |
| Compatible with Infant Car Seats | yes |
| Sun Canopy | XXL UPF50+ Sun Canopy |
| | Find on Amazon |
Unboxing and First Impressions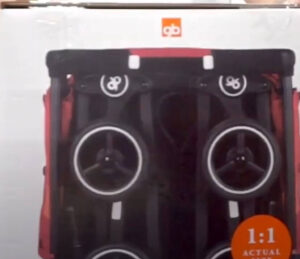 The gb Pockit+ All-Terrain arrives in a fairly compact box, immediately hinting at its space-saving design. Unboxing the stroller is a straightforward process—no tangled mess of wheels and fabric to sort through. Everything is neatly packed, and assembly instructions are clear and easy to follow.
As we took it out of the box, the first thing that struck us was how lightweight it felt. At just 12.3 lbs, the stroller is designed to be carried effortlessly, a feature that was highly appealing right from the start. The frame appeared sturdy, despite its light weight, and the fabric had a quality feel, indicating durability.
Assembly
Assembling the gb Pockit+ All-Terrain was refreshingly simple, with intuitive steps that even a sleep-deprived parent could navigate. The stroller essentially comes pre-assembled; you only need to attach the wheels and the sun canopy. There's a user-friendly manual included, but we found that we barely needed to glance at it. The wheels clicked securely into place, and attaching the sun canopy was just a matter of sliding it onto its designated slots.
Within 10 minutes, the stroller was ready to hit the road. The ease of assembly is a significant plus, especially for parents who may not have the luxury of time to fiddle with complex mechanisms. There were no additional tools required, no screws to misplace, and no confusing parts to decipher. This user-friendly start set the stage for our subsequent experiences with the gb Pockit+ All-Terrain.
Design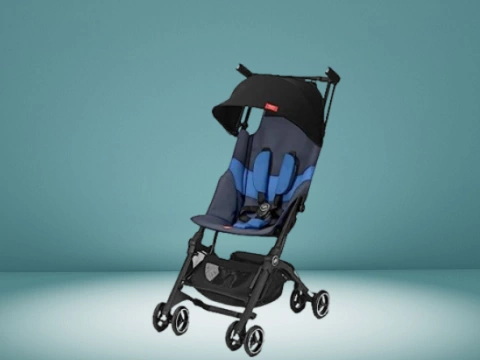 We tested the gb Pockit+ All-Terrain in its Night Blue color, adding a dash of sophistication to its already sleek design. Its dimensions make it a compact stroller without compromising on child comfort or parent convenience. The stroller's folded dimensions of 13.4 x 7.9 x 16.5 inches underline its ultra-compact philosophy, a true space-saver in any travel scenario.
Weighing in at just 12.3 lbs, the gb Pockit+ All-Terrain is a breeze to carry around, a boon for frequent travelers and city dwellers. Despite its lightweight frame, it doesn't skimp on features; the XXL UPF50+ sun canopy and double-wheeled design are standout additions. While it impresses on paper, we took it upon ourselves to rigorously test whether it performs as well in real-world conditions.
Real-Life Testing
Our hands-on experience with the gb Pockit+ All-Terrain took us through a variety of environments to truly test its mettle. The first thing to note was its ease of portability. We carried it up flights of stairs, navigated it through crowded public transport, and even managed to pack it into an overloaded car trunk—all with relative ease. The ultra-compact folding mechanism lived up to its promise, converting the stroller into an incredibly small package that we could tuck away just about anywhere.
Taking it through city streets and parks allowed us to assess its all-terrain capabilities. We were pleasantly surprised at how well it maneuvered on cobblestone paths and grassy areas. However, we must acknowledge some customer feedback about the wheels' inefficiency in turning. In tighter spaces, it did require some extra effort to steer, but it wasn't a deal-breaker for us. On the flip side, we found the stepless recline function particularly useful during longer strolls when our little one needed to nap.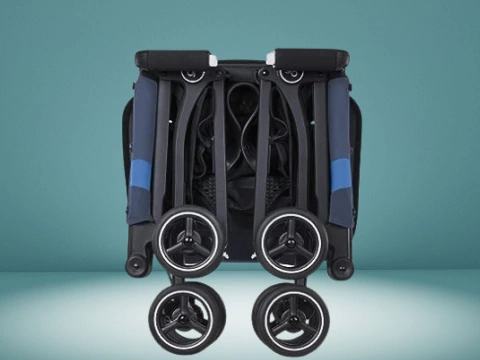 The real test came at the airport. The stroller folded down effortlessly into hand luggage size, allowing us to pass through security and boarding without any hitches. That being said, it does require both hands to fold, something to note if you're traveling solo with your child.
Overall, our real-world testing confirmed many of the stroller's strong points but also revealed areas where there is room for improvement.
Customer Reviews
Customers generally appreciate the gb Pockit+ All-Terrain for its ultra-lightweight design and travel-friendly features. The stroller receives high marks for its ease of portability and its suitability for air travel, underscored by one customer's experience of taking it through 10 flights across three countries. However, there are some concerns about the wheel design, with users finding it challenging to make sharp turns, impacting its ease of use in more confined spaces.
On the flip side, users have pointed out specific design elements that could be improved. Some customers mention that the stroller's light weight causes it to tip over when lifting the child, especially if there's a bag hanging on the handles. There are also critiques about strap placements that can potentially rub against a child's face and the need for both hands to fold the stroller, especially when already managing a child and other luggage. These minor setbacks, however, seem to be overshadowed by its overall convenience and usability.
Pros & Cons
Pros
Ultra-compact fold ideal for travel and tight storage spaces.
Lightweight design makes it easy to carry and navigate.
XXL UPF50+ sun canopy offers excellent sun protection.
Stepless recline function adds comfort for napping on-the-go.
All-terrain double wheels enhance maneuverability.
Cons
Wheel design makes turning in tight spaces challenging.
Requires both hands for folding, not ideal for solo travel.
Verdict
In summary, our gb Pockit+ All-Terrain review reveals a stroller that excels in portability and convenience, making it an ideal choice for travel-savvy and urban parents. Despite minor drawbacks, like wheel maneuverability and the need for both hands during folding, its strengths in weight, foldability, and comfort features make it a strong contender in the compact stroller market. Whether you're navigating city sidewalks or jet-setting across continents, the gb Pockit+ All-Terrain proves to be a versatile and reliable companion for your little one.
Comparisons Against Other Strollers: