Navigating the vast world of strollers, parents are often overwhelmed by the myriad of choices available. Our quest for the perfect travel companion led us to the Munchkin Sparrow Stroller. Intrigued by its promise of compactness and travel readiness, we embarked on an in-depth Munchkin Sparrow stroller review to see if it truly delivers on its claims.
The Sparrow positions itself as a beacon of hope for parents who are always on the move. Be it jet-setting across continents, taking a scenic cross-country road trip, or simply navigating the bustling urban pathways, this stroller aims to be your reliable sidekick. With anticipation, we put the Sparrow through its paces to see if it lives up to the hype.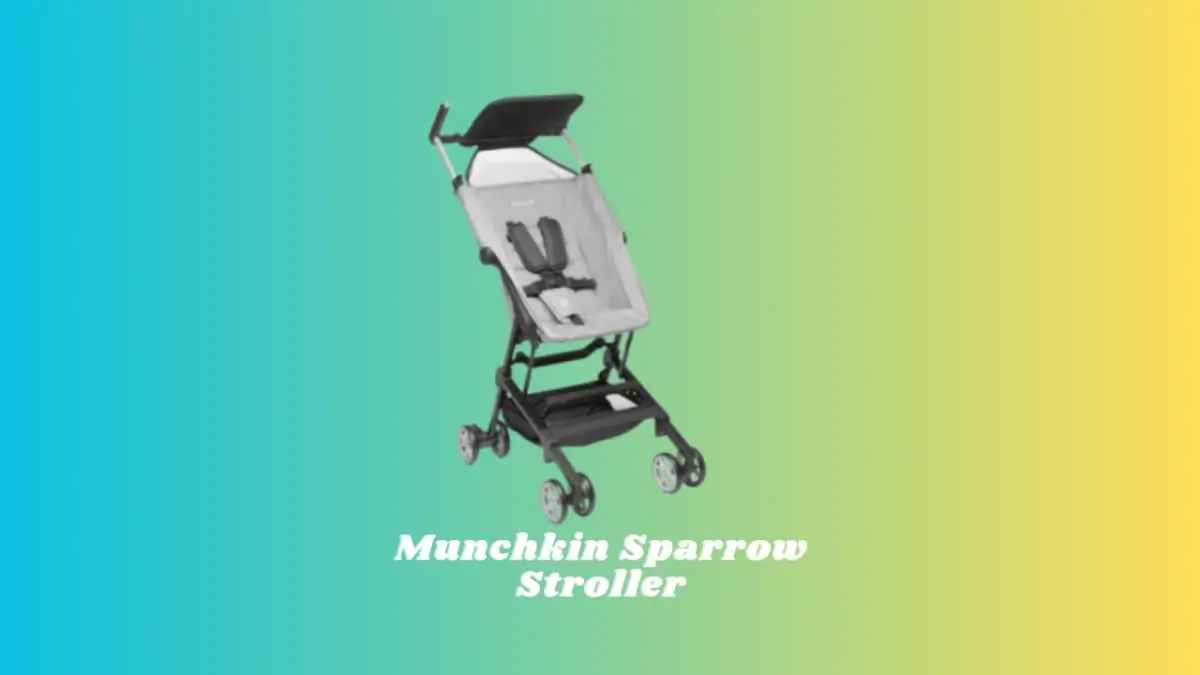 In This Review:
Munchkin Sparrow Stroller – Review of Specs:
| Munchkin Sparrow | |
| --- | --- |
| Dimensions (In Use) | 39"(L) × 18.5"(W) × 28"(H) |
| Dimensions (Folded) | 15"(L) × 14"(W) × 6.25"(H) |
| Weight | 12.8 lbs |
| Certifications | JPMA certified |
| Recommended Area for Use | Travel and normal outings (walking pace only) |
| Weight Limit | 55 lbs. (25 kg) |
| Height Limit | 41 in. (104 cm) |
| How to Clean | Wipe with damp cloth (No bleach/iron/machine wash) |
| Key Features | |
| Unfold & Go | Forward fold for easy open and close |
| Travel Bag | Includes easy-zip carrying case |
| Maximum Safety | 5-point harness system with adjustable straps |
| Cool & Comfy | Mesh headrest and sun shade for comfort |
| Price | Find on Amazon |
Unboxing and First Impressions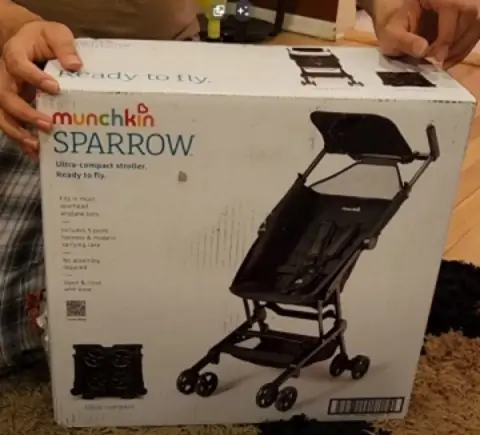 Upon receiving the Munchkin Sparrow Stroller, the packaging was neat, and it seemed to emphasize the product's compact and travel-friendly nature. As we lifted it out of the box, we were immediately impressed by its lightweight design. At just under 13 lbs, it's clear that this stroller was built with portability in mind.
Assembly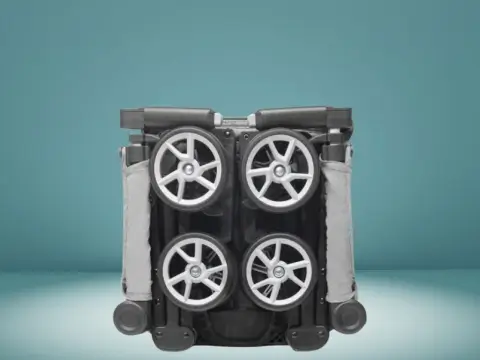 To our delight, there was no assembly required. The Sparrow came fully set up, eliminating the often tedious and time-consuming process of piecing together a new stroller. This ease of use was further demonstrated when we unfolded the stroller for the first time. The forward fold mechanism was indeed as intuitive as the brand claims. With a simple press of the handle, it smoothly popped open and clicked into place. The unfolding process was practically a three-step dance: press, pop, click.
Included in the box was the promised easy-zip carrying bag. It's a thoughtful addition that not only ensures protection for the stroller but also makes it easier to carry when not in use. The bag is of good quality and seems durable enough for regular use.
Design and Build Quality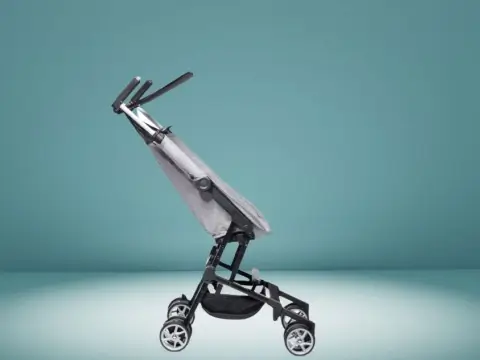 Our Munchkin Sparrow Stroller arrived in a muted, elegant grey shade. This color choice, while understated, radiated a sense of sophistication and modernity. It's versatile enough to match most outfits and won't easily show stains or wear, a practical aspect that parents will surely appreciate.
The stroller's frame boasts clean lines and a minimalist design, which aligns with contemporary tastes. It's evident that functionality didn't compromise aesthetics. Even though it's a compact travel stroller, the Sparrow doesn't skimp on visual appeal.
Upon a closer look, the build quality of the Sparrow seemed sturdy. The 5-point harness, often a concern for many parents, appeared reliable and well-constructed. The mesh headrest and sunshade, though minimal, added a touch of comfort to the design.
Exploring the Features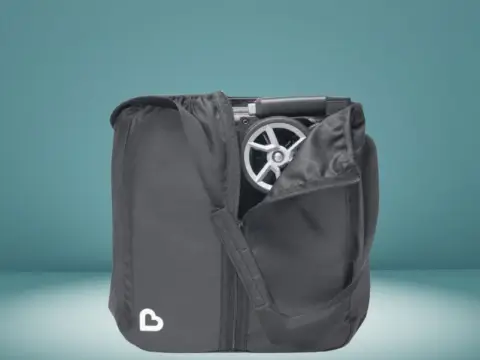 The Munchkin Sparrow Stroller isn't just about looks; it's feature-packed, making it a serious contender in the travel stroller market.
Unfold & Go Mechanism: Arguably the most attractive feature, the 'Unfold & Go' mechanism is a dream for parents. No longer do you need to fiddle around trying to get a stroller to open. With its forward fold, opening and closing the Sparrow feels intuitive and effortless. From our experience, it genuinely is as easy as 1-2-3.
Ultra-Compact When Folded: The Sparrow's ability to fold into such a compact size is nothing short of impressive. Having personally tried it, the stroller easily fits into overhead compartments of most airplanes. For parents weary of gate-checking their strollers, this feature is a lifesaver.
Travel Bag: The inclusion of the easy-zip carrying case is both thoughtful and practical. It's perfect for parents on the move, ensuring the stroller remains clean and protected. Moreover, its design and build quality make it feel like a premium accessory rather than an afterthought.
Lightweight Design: Weighing under 13 lbs, the Sparrow stands out as one of the lightest travel strollers in its class. This feature is vital, especially when you find yourself carrying the stroller over extended distances or quickly moving between transport modes.
Maximum Safety: Safety is paramount when it comes to baby products. The Sparrow's 5-point harness system reassured us of its commitment to safety. The adjustable straps accommodate growing children, ensuring a snug fit. From our tests, even the most energetic of toddlers found it difficult to break free.
Comfort Features: Despite its compact design, the Sparrow doesn't neglect comfort. The mesh headrest provides ample ventilation, ensuring little ones remain cool during their ride. Though the sunshade is minimalistic, it offers some relief against direct sunlight, especially when angled correctly.
Incorporating these features into such a compact stroller is a testament to Munchkin's innovation. They've successfully combined convenience with essential features, creating a product that doesn't just look good but also delivers on its promises.
Performance During Testing
Taking the Munchkin Sparrow Stroller out for a spin allowed us to truly understand its capabilities and areas of improvement.
Maneuverability: Right off the bat, the Sparrow handles beautifully on smooth surfaces. Whether in shopping malls, airports, or smooth sidewalks, it glides seamlessly. Its lightweight nature combined with its ergonomic design makes pushing it a breeze. However, when we ventured onto more challenging terrains, like gravel or cobblestone streets reminiscent of many European cities, the wheels struggled a bit. While it's not designed to be an all-terrain stroller, a bit of patience and some skillful maneuvering did get us through, echoing the sentiments of the traveler who took it to Paris and Edinburgh.
Folding and Unfolding: As highlighted by the product's features, folding and unfolding the Sparrow is its pièce de résistance. Throughout our testing phase, this feature remained consistent. However, as one customer pointed out, occasionally the wheels didn't fold in perfectly every single time. With a slight adjustment, the issue was quickly resolved, but it's something to note if you're in a rush.
Comfort for the Child: While we couldn't personally sit in the stroller, we observed children during our test runs. The mesh headrest proved to be an excellent addition, especially on warmer days, offering decent ventilation. The 5-point harness system held children securely, and from their reactions, they seemed quite comfortable and content. The sunshade, while minimalistic, did its job when positioned correctly, though we understand why some parents might desire a larger canopy.
Portability: The Sparrow truly shines in this aspect. Whether folded and slung over a shoulder using the carrying case or being rushed through busy terminals, its compact and lightweight design is unparalleled. Fitting it into overhead compartments of planes and trains was as easy as advertised.
Durability: Throughout our testing period, the stroller held up well. Despite its lightweight design, the frame is sturdy. It comfortably held children near its weight limit without showing signs of strain. We also didn't notice any significant wear and tear on the wheels or the fabric during our tests.
In conclusion, the Munchkin Sparrow Stroller performed commendably during our hands-on testing. While it has minor areas that could benefit from improvement, its strengths, particularly in portability and ease of use, make it a compelling choice for parents on the move.
Pros & Cons
Pros
Ultra-compact design ideal for travel and overhead compartments.
Intuitive 'Unfold & Go' mechanism ensures quick setup.
Lightweight build enhances portability for on-the-go parents.
Sturdy 5-point harness system offers superior child safety.
Mesh headrest ensures ventilation and child comfort.
Cons
Struggles on rough terrains like gravel and cobblestone.
Sunshade size may not provide adequate coverage.
Munchkin Sparrow Stroller Review – The Verdict
After thorough analysis, hands-on testing, and consideration of customer feedback, our verdict is clear: The Munchkin Sparrow Stroller is a strong contender in the travel stroller market.
Its crowning jewel is undeniably its ultra-compact design. For families constantly on the move, whether jet-setting across continents or navigating through bustling city streets, the Sparrow provides a blend of convenience and functionality that few strollers in its class can match.
Furthermore, its pricing is competitive. In a market where prices can skyrocket based on brand recognition or unnecessary add-ons, the Sparrow offers genuine value. It's an investment that pays dividends in the form of portability, ease of use, and peace of mind during travels.
Comparisons against other strollers: