The transition from crawling to walking is one of the most significant milestones in a child's early years. But what comes next? How about introducing your little one to their very first wheels? The Joovy Tricycoo 4.1 is designed to be that perfect bridge, supporting your child from the wobbly days of being 10 months old to the confident strides and rides when they hit 30 months. This tricycle isn't just a toy; it's an adaptive learning tool, one that grows with your child, offering stages of development that can be adjusted according to your child's pace. We took a close, hands-on look at the Tricycoo 4.1, testing every feature to provide you with a comprehensive review. Let's delve into what this tricycle offers and whether it lives up to its promise.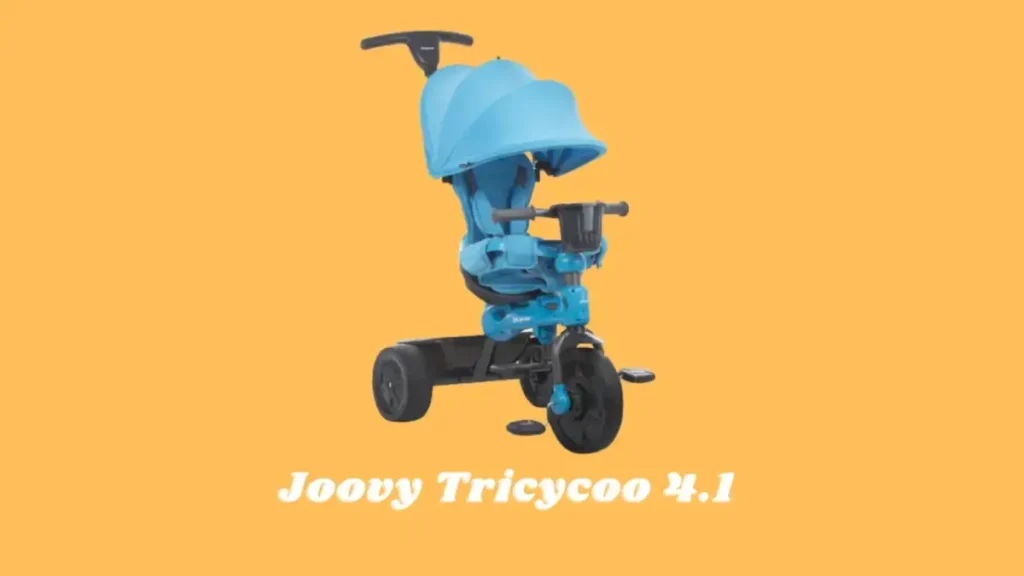 Joovy Tricycoo 4.1 Specs:
| | Joovy Tricycoo 4.1 |
| --- | --- |
| | |
| Specification | Value |
| Assembled dimensions w/ Parent Handle | 37″x20″x39″ |
| Assembled dimensions w/o Parent Handle | 29″x20″x35.50″ |
| Height without canopy | 22.5″ |
| Tricycle weight | 14.4 lbs |
| Minimum age | 10 months |
| Maximum childs weight | 44 lbs |
| Today's best price | Find on Amazon |
Unboxing and First Impressions
Right out of the box, the Joovy Tricycoo 4.1 makes a good impression. The packaging is sturdy, ensuring all parts are kept safe and undamaged. Each component is well-wrapped, and it's clear from the outset that attention has been paid to every little detail.
The design is both sleek and child-friendly. With a mix of muted and vibrant colors, the tricycle manages to be appealing to both parents and children. The overall structure showcases a blend of durability and style, with clean lines and an intuitive assembly layout.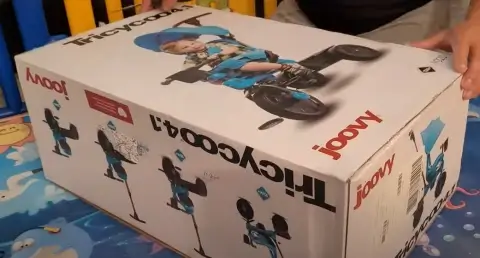 Now, let's talk measurements. The assembled dimensions with the parent handle are 37″x20″x39″, which makes it spacious enough for a growing child but still compact enough for easy maneuverability. Without the parent handle, its dimensions come down to 29″x20″x35.50″. And for those sunny days when you might want to ditch the canopy, the height reduces to 22.5″.
The weight of the product is one of its standout features. At just 14.4 lbs, the Tricycoo 4.1 is lightweight enough for parents to carry it easily, yet sturdy enough to support a child weighing up to 44 lbs. This balance of weight and strength is commendable, ensuring that the tricycle is both portable and robust. The relatively light weight makes it ideal for parents who might need to lift it into a car trunk or carry it up a flight of stairs.
Assembly Process and Components Overview
Assembling the Joovy Tricycoo 4.1 is straightforward, though it's essential to lay out all the components before diving in. Here's our experience and breakdown of the elements involved.
Instruction Manual: Clear and concise, the included guide offers step-by-step instructions with illustrations that are easy to follow. The manual breaks down the assembly process for each of the four stages, ensuring that the tricycle can be adjusted to suit the child's age and developmental stage.
Main Frame and Tires: The frame is robust, with an extra-wide front tire that facilitates easy pedaling, even for little feet. The wide tire design is thoughtful, allowing better balance and reducing the chances of tipping.
Seat with Harness: A padded seat ensures that your little one remains comfortable. The machine-washable seat pad is a boon for parents, allowing for easy cleaning. The tricycle also comes with a removable safety harness. We found the 3-point harness easy to adjust, ensuring a snug fit that keeps the child secure yet comfy.
Parent Handle: This removable and adjustable handle is one of the standout features of the Tricycoo 4.1. It allows parents to remain in control during the earlier stages when the child is still getting the hang of riding.
Sun Canopy: The mega-sized UPF 50 sun canopy is designed to shield little ones from harmful UV rays. It's both removable and adjustable, ensuring versatility in different weather conditions.
Additional Features: The Tricycoo 4.1 is packed with thoughtful extras. There's a swivel mode which puts the parent in charge, particularly useful when navigating busier areas. Then there's the cup holder and rear basket, ideal for storing small items or the child's favorite toy. It's these little additions that speak volumes about Joovy's understanding of a child's (and parent's) needs.
While assembling, each component fit seamlessly with the next. Though the process is intuitive, it's crucial to pay attention to the details, especially when setting up for a particular stage. One helpful tip from our experience: Always ensure that all nuts and bolts are tightly secured, checking them periodically as your child uses the tricycle.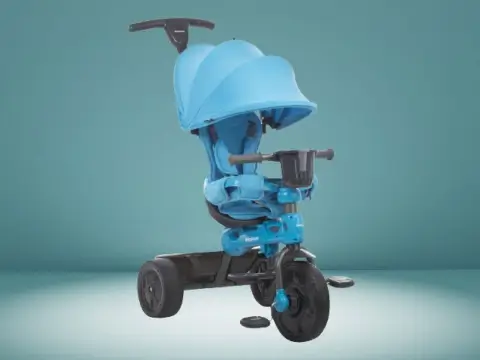 Adjustable Stages of the Joovy Tricycoo 4.1
The Joovy Tricycoo 4.1 has been designed to grow with your child, transitioning seamlessly from one developmental stage to the next. Its four adjustable stages cater to the varying needs of a child from 10 months to 30 months and beyond. Let's delve deeper into each of these stages and our hands-on experience with them.
Stage 1: 10 months + Push Trike Stage
At this stage, your child is just beginning to explore their surroundings. The Tricycoo 4.1 provides a supportive environment with its padded seat, 3-point safety harness, and a large UPF 50 sun canopy.
Stage 2: 18 months + Push Trike Stage
As your child grows and becomes more active, this stage offers a bit more freedom. The removable seat pad can be taken off, and the footrest can be flipped down to allow them to practice pedaling.
Stage 3: 24 months + Training Trike Stage
By now, your child is ready for more independence. The Tricycoo 4.1 facilitates this by allowing the removal of the enclosed armrests and canopy, offering more space and freedom.
Stage 4: 30 months + Trike Stage
At this stage, your child is likely ready for full independence. The Tricycoo 4.1 transforms into a full-fledged tricycle by allowing the removal of the parent handle. Additionally, the seat can be adjusted for longer legs, and there's a handy water bottle storage.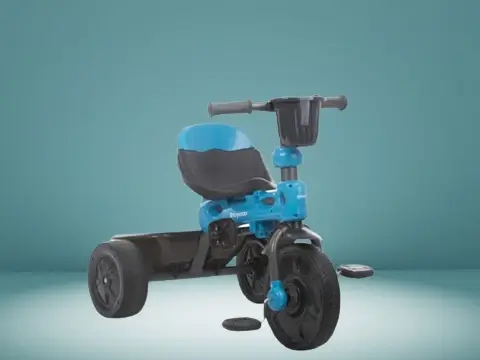 Comfort and the Joovy Tricycoo 4.1
At the heart of any child-centric product, comfort plays a pivotal role. After all, if the child is uncomfortable, they are unlikely to use the product for extended periods. When evaluating the Joovy Tricycoo 4.1, we particularly focused on the comfort aspects that this tricycle brings to the table. Check our best toddler tricycle round-up review.
Padded Seat: The Tricycoo 4.1 comes equipped with a cushioned seat designed to support your child's posture. In our tests, the seat seemed to mold well to different body types, ensuring a snug yet comfy fit. The machine-washable nature of the seat pad is an added bonus, allowing for regular cleaning and ensuring your child always has a fresh seat.
Safety Harness: Beyond security, the adjustable 3-point harness is designed with comfort in mind. The straps are adequately padded, so they don't dig into the child's skin. The ability to adjust the tightness ensures that the child remains comfortably secured without feeling restricted.
Wide Front Tire: The extra-wide front tire plays a role in comfort too. By providing additional stability, it ensures a smoother ride for the child, reducing jolts and sudden jerks.
Parent Handle: This feature, while primarily for parental control, indirectly adds to the child's comfort. The handle allows for smooth steering, ensuring the ride isn't jerky or unstable, especially during those initial months when the child is just getting used to the tricycle.
Sun Canopy: We found the UPF 50 sun canopy to be an excellent addition, especially for sunny days. It provides ample shade, ensuring that the child remains cool and protected from harmful UV rays.
Footrest: During the early stages, the footrest ensures that the child's feet are comfortably placed, preventing them from dangling or dragging on the ground. This feature is particularly useful for younger children who aren't pedaling yet.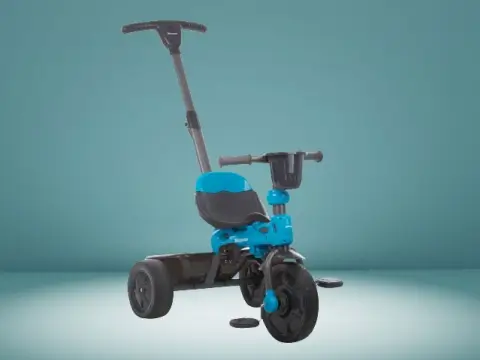 Folding and Unfolding the Joovy Tricycoo 4.1
One of the aspects we were keen on examining in-depth was the ease of folding and unfolding the Joovy Tricycoo 4.1. This is an essential feature for many parents, as a tricycle that can be quickly packed away or set up can make all the difference during outings or when storing.
Folding: The Tricycoo 4.1 doesn't fully collapse like some strollers, but it's designed for partial disassembly, which is relatively straightforward. Starting with the parent handle, a push-button mechanism allows it to be detached easily. The sun canopy can also be removed with a simple tug, making the tricycle more compact. The rear basket and cup holder, given their snap-on design, can be popped off without much effort. Once these components are removed, the main frame is slim enough to fit into most car trunks or be stored in a garage or closet.
Unfolding/Setting Up: Reassembling or setting up the tricycle for use is just as intuitive. Starting with the main frame, the parent handle clicks into place securely. The sun canopy can be reattached, offering adjustable shading depending on the sun's position. The rear basket and cup holder snap back onto their respective positions, ready to hold any essentials.
Customer Reviews Summarized: Joovy Tricycoo 4.1
The Joovy Tricycoo 4.1, while appreciated by many for its adaptive design, has elicited a variety of feedback from its users. A recurring sentiment among customers is the product's commendable adaptability. One buyer was so impressed with its multifunctional features and ease of assembly that they repurchased it for another grandchild. This speaks volumes about the tricycle's appeal to those seeking longevity and value for money.
However, it's not without its challenges. Some users expressed concerns about its structural aspects. There were reports of a slightly counterintuitive wheel lock system, a parent handle that tends to collapse upon encountering minor bumps, and accessory components like the cup holder and rear basket that could easily detach. Additionally, concerns about the absence of brakes and the reliability of certain fasteners were raised. While the Tricycoo 4.1 remains a favorite for many, these constructive criticisms highlight areas of potential refinement for Joovy in future iterations.
Pros & Cons
Pros
Adaptive design grows with child from 10 months to 30+ months.
Easy assembly enhances user experience.
Lightweight structure facilitates hassle-free transportation.
Included UPF 50 sun canopy protects against harmful rays.
Four adjustable stages promote developmental growth.
Cons
Parent handle collapses easily with minor bumps.
Lack of brakes raises safety concerns.
The Verdict
The Joovy Tricycoo 4.1 stands out as a thoughtfully designed product that evolves with a child's developmental stages, promising longevity and adaptability. Its features, such as the adjustable stages and the UPF 50 sun canopy, are testaments to Joovy's attention to both functionality and safety. While it excels in many aspects, there are areas, like the sturdiness of the parent handle and the lack of brakes, that warrant attention in future designs. Overall, for parents seeking a reliable tricycle that offers more than just a ride but a developmental journey, the Tricycoo 4.1 is undoubtedly a noteworthy consideration.