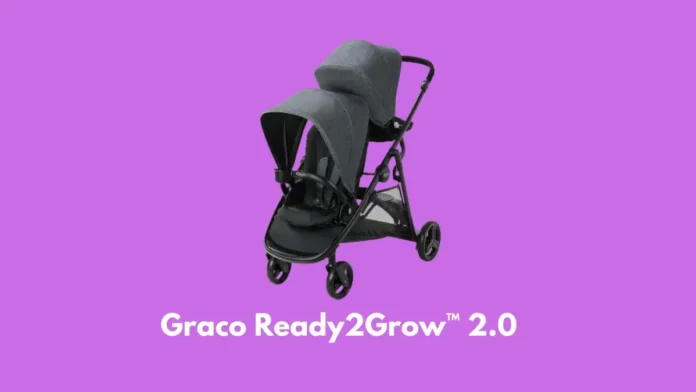 Having personally experienced the trials and tribulations of managing two little ones on the go, I've learned that finding the perfect stroller is no simple task. After putting the Graco Ready2Grow 2.0 Double Stroller through its paces, I'm excited to share my insights into its design, functionality, and adaptability to help other parents make an informed choice.
Key Specifications
| | Graco Ready2Grow 2.0 |
| --- | --- |
| | |
| Width | 25.6 in |
| Height | 47.4 in |
| Weight | 32 lb |
| Front Seat Weight Limit | 50 lb |
| Rear Seat Weight Limit | 40 lb |
| Price | Find on Amazon |
With a product width of 25.6 inches and a height of 47.4 inches, the Ready2Grow 2.0 presents a practical design that fits in most standard doorways while maintaining comfortable seating space for two kids. The stroller's weight of 32 lbs is commendable given its double-seating capacity. It is capable of comfortably accommodating a child weighing up to 50 lbs in the front seat, and 40 lbs in the rear seat, ensuring years of comfortable strolling.
Design and Aesthetics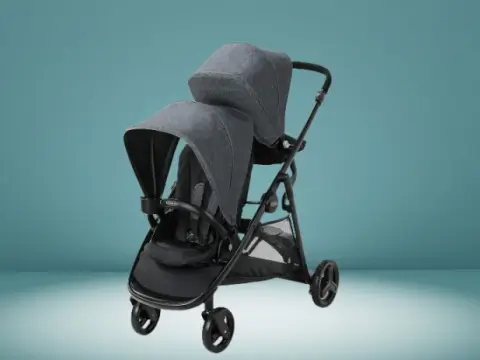 Graco has certainly evolved the look of the Ready2Grow, presenting a sleek and modern design that still manages to remain practical and child-friendly. The full-sized canopies provide excellent coverage, while the seating layout optimizes space and comfort. The two-position reclining front seat adds an extra layer of convenience, ensuring that the stroller adapts to your child's needs.
Pros
Accommodates two Graco car seats simultaneously.
Large storage basket with easy access.
Versatile seating with standing platform.
Lightweight design with smooth maneuverability.
Easy to clean materials and design.
Cons
Seat functionality limitations in certain configurations.
Non-adjustable rear seat recline.
Versatility & Adaptability
The stroller's convertible 3 or 5-point harness with covers comfortably grows with your child, which is an invaluable feature for parents like us who seek long-term usage. This adaptability extends to the seating arrangement as well. It can accommodate two Graco infant car seats simultaneously – a feature that one customer found perfect for her twins. This design provides excellent utility for siblings close in age as well.
The Unique Standing Platform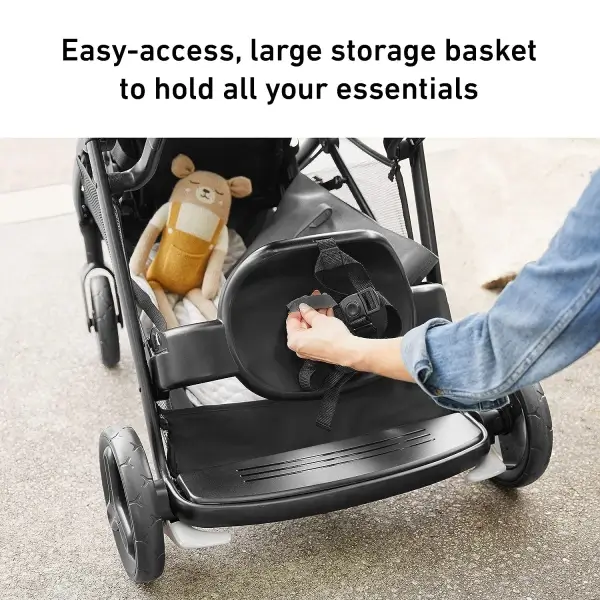 One of the standout features of the Graco Ready2Grow 2.0 is the unique standing platform, which provides an exciting option for older children. As parents, we understand that toddlers and young children often resist sitting for long periods – they're explorers at heart. This standing platform caters perfectly to this adventurous spirit, granting your older child the freedom to hop on and off as they please. Additionally, this feature comes into its own during long walks or day trips, when your older child may tire and need a rest from walking. Not only does it provide them a break, but it also gives them a unique "big kid" experience that distinguishes them from their younger sibling. In our testing, we found that this feature was not only practical but also brought a great deal of fun and enjoyment to the stroller experience. The standing platform is a testament to Graco's commitment to innovation and adaptability in their products, ensuring that the Ready2Grow 2.0 continues to serve your family's needs as your children grow.
Easy Access and Storage
For busy parents, storage solutions can be a lifesaver, and Graco does not disappoint here. The bench seat pulls out for easy access to the large storage basket, which comfortably holds baby and parent essentials. For parents on the go, the removable parent cup holder and the child armbar with cup holder are neat additions. One customer particularly appreciated the ease with which the stroller folded and fit into their small trunk (Mazda3 with about a 36″ opening).
Mobility and Comfort
Good wheels can make or break a stroller's practicality. Several customers praised the Ready2Grow 2.0 for its lightweight design and ease of maneuverability. Additionally, the one-step, self-standing fold simplifies storage and transportation. As one customer aptly noted, the Ready2Grow 2.0 rides like a double stroller but folds like a single.
Interactive Seating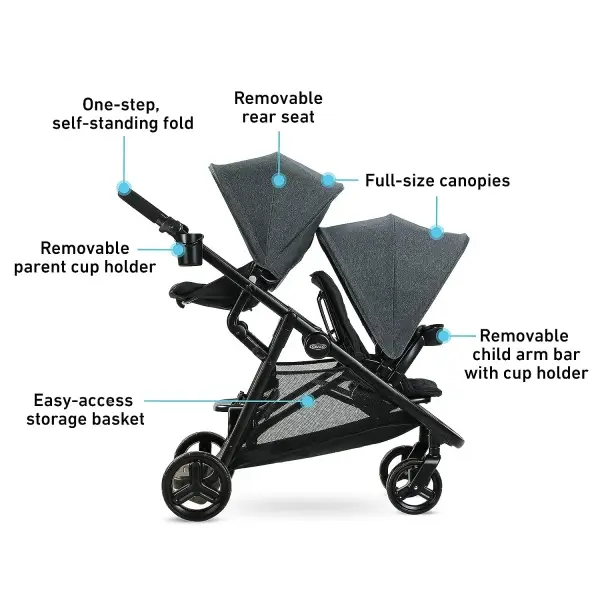 The rear stroller seat is easily removable to provide extra space on the bench seat or a standing platform for older children. The lower rear seat's design promotes a closer connection with the baby, and the optimal height of the front seat makes it easy for toddlers to get in and out.
Ease of Cleaning
The Ready2Grow 2.0's materials and design make it easy to clean – a feature that shouldn't be underestimated when strolling with kids. A customer also noted that the cup holders could comfortably hold large water cups, making it even more practical for outdoor use.
Potential Limitations
Despite its many impressive features, the Graco Ready2Grow 2.0 is not without its minor issues. One customer noted some limitations with seat functionality. Specifically, the front seat couldn't be reclined with the back seat in place, and the bench seat couldn't be used while the front seat was reclined. While this could potentially restrict some seating configurations, the stroller's other versatile features and practical design compensate significantly for this minor drawback.
Concluding Thoughts
All things considered, the Graco Ready2Grow 2.0 offers an impressive balance between design, functionality, and adaptability. While there are minor trade-offs in terms of seat functionality, these are vastly outweighed by the stroller's numerous strengths, such as its adaptability, storage solutions, and practicality. The Ready2Grow 2.0 not only supports your children's growth but also adapts to their changing needs, which is why it comes highly recommended for parents with twins or siblings of close age. In my own experience, a stroller is not just a tool for mobility; it's an integral part of our daily life and a companion in our parenting journey. The Graco Ready2Grow 2.0 successfully fits this role, making it a worthy investment for growing families. It's been a delight to test and review, bringing a refreshing mix of comfort, functionality, and convenience.
FAQs:
Can the Graco Ready2Grow 2.0 accommodate two car seats simultaneously?
Yes, the Graco Ready2Grow 2.0 can simultaneously accommodate two Graco infant car seats, making it an ideal choice for twins or siblings close in age.
Does the stroller's design allow for easy storage and transportation?
Absolutely. The Ready2Grow 2.0 features a one-step, self-standing fold that simplifies storage and transportation, fitting into smaller spaces like a single stroller.
Are there any limitations to the seat functionality in the Graco Ready2Grow 2.0?
While versatile, the stroller has minor limitations, such as not being able to recline the front seat with the back seat in place or use the bench when the front seat is reclined.