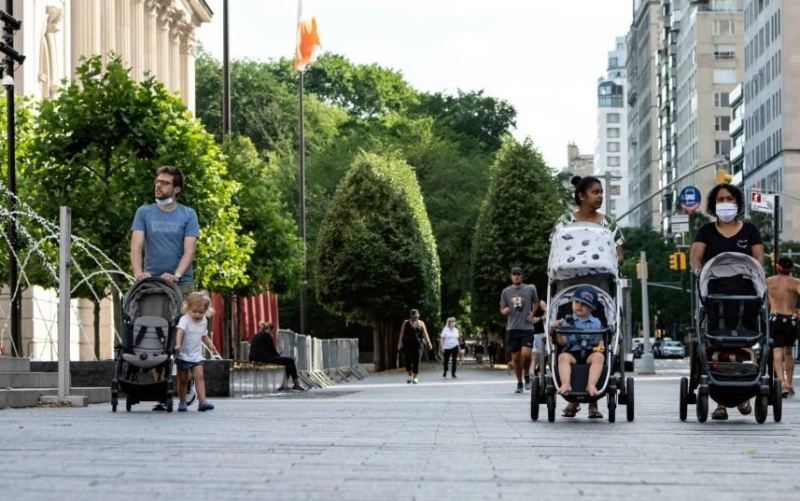 Parents who live in large cities face a unique set of challenges. They're more likely to live in apartments and smaller homes, for one thing, which means less space to store baby gear. Along with this, they need a stroller that can handle crowded or narrow sidewalks, and a model that's easy to use when riding public transportation is a plus, too.
That's why we've rounded up this list of the best strollers for NYC. The UPPAbaby MINU V2 is the top performer overall, with a relatively compact and lightweight design, a shock-absorbing suspension, and durable, easy-to-clean materials (>>> Check on Pishposhbaby). That said, it's not the winner in every category, and all of these strollers will work beautifully in large urban areas. Read on to see how they stack up side by side.
Best Strollers for NYC (and Other Big Cities) – Top Picks 2022:
Size and Portability
Space is at a premium in large urban areas. A stroller that folds up quickly is both easier to store in small homes and easier to carry from place to place, especially those models that have straps for hands-free carrying. A compact overall footprint, meanwhile, makes it easier to navigate in cramped or crowded spaces.
The two lightest strollers on the list are the Nuna TRVL and the Babyzen YOYO2, each of which weighs only 13.6 pounds. Of the two, the Babyzen YOYO2 is the most compact, with a width of just 17.3 inches that makes it a great choice for city-dwellers.
Most compact stroller: Babyzen YOYO2
Multi-Seat Capability
Strollers with a modular design are great for growing families, letting you customize the stroller to meet your current needs. The Baby Jogger City Select 2 and Graco Modes Nest2Grow both have the option to add a second seat, or to use a combination of toddler seat and infant bassinet or car seat. The City Select 2 takes a slight edge thanks to its optional gliding board, which allows a third child to ride along from the rear.
Best multi-seat capability: Baby Jogger City Select 2
Wheels and Suspension
The UPPAbaby MINU V2 has the most advanced suspension on the list, and will give you the smoothest ride on paved, flat surfaces. For going off paved paths, though, you'll want a stroller that has larger rear wheels and all-terrain tread. You'll get that with the Baby Jogger City Sights, Baby Jogger City Select 2, and Graco Modes Nest2Grow. Of the three, the Baby Jogger City Sights is the easiest to navigate on grass, gravel paths, and other tricky surfaces.
Best suspension system: UPPAbaby MINU V2
Best for all-terrain use: Baby Jogger City Sights
---
Baby Jogger City Sights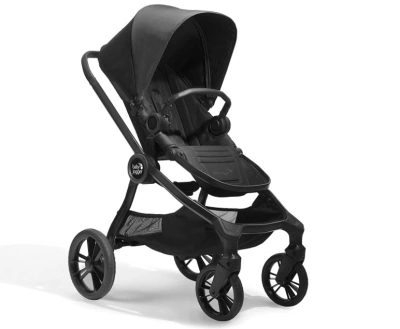 The Baby Jogger City Sights stroller is among the most compact 4-wheel modular strollers you'll find. Its lightweight frame makes it a breeze to push and carry. When it's time to store it, you only need one hand to collapse it down to a super-compact form that many parents can carry easily with one hand.
You're not limited to city environments with the Baby Jogger City Sights, either. Its large rear wheels and front-wheel suspension give a smooth ride even over uneven surfaces like brick paths or cobblestone streets. It can also handle curbs, park lawns, and other obstacles, so it's a great go-anywhere option.
Out of the box, the Baby Jogger City Sights can be used with babies around 3-4 months and older. Its modular design also means you can add a bassinet or pram for infants, though you'll need to buy these separately. This modular design also gives you a lot of customization options. It's reversible with multiple incline levels and an adjustable leg rest, while the large canopy keeps baby protected from the sun and elements.
Pros
Compact one-handed, one-piece fold
Reversible seat with adjustable recline and calf support
Large, easy-access under-seat storage basket
Wheels can handle a variety of terrains
Good range of available accessories
Compatible with car seats from most major brands
Extendable canopy provides UV50 protection
Cons
No newborn option out of the box (bassinet and pram sold separately)
---
Baby Jogger City Select 2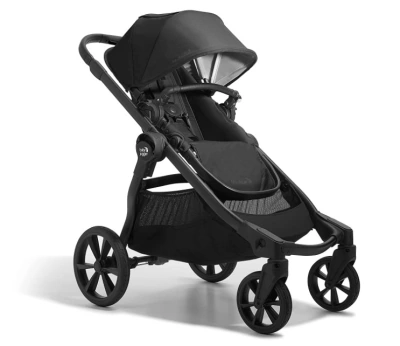 As your family grows, navigating city streets can get even more complicated. The Baby Jogger City Select 2 expands on the modular design of their other strollers and can be converted into a double stroller, or even fit 3 kids with the ride-along glider board. One thing to note is that it only comes with a single toddler seat out of the box. You have lots of options to expand it, though, and both seat areas will fit a bassinet, infant car seat, or full-sized seat.
Now, this expandable design does necessitate a larger frame than single strollers, and it is one of the heavier options on this list. It's still quite compact for a double stroller, however, and offers the same one-step fold. The wheels are also well-designed, with all-terrain tires and a front-wheel suspension that keep parents in control and let you navigate curbs and obstacles, even when the stroller is fully-loaded.
Some modular strollers sacrifice storage space for that extra seat, but that's not the case with the Baby Jogger City Select 2. You can use its large under-seat basket even with both seats in place, and its mesh sides and large opening make it easy to find and grab what you need on the go.
Pros
Modular design with more than 2 dozen combinations
Fits up to 3 children at once with accessories
Easy to fold into a one-piece self-standing unit
All-terrain tires with front-wheel suspension
Extendable UV 50+ canopy
Large under-seat storage holds up to 15 pounds
Cons
Extra seats must be purchased separately
Not as compact when folded as other options
---
UPPAbaby MINU V2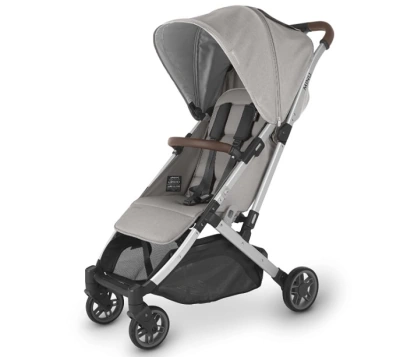 The UPPAbaby MINU V2 is designed for on-the-go families and traveling, and that also makes it a top choice for cities. It only weighs about 17 pounds and is just over 20 inches wide, giving it the lightweight design and narrow profile you need in tight, crowded spaces. Once folded, it's small and light enough to carry over your shoulder using the built-in strap.
The wheel design of the UPPAbaby MINU V2 gives it one of the smoothest rides on the list. It uses an all-wheel suspension with shock absorption technology, so baby can sleep peacefully even when you're going over cracked sidewalks or uneven paths. While it excels in city environments, though, this isn't the best choice for non-paved surfaces. It can handle parks and lawns, but its relatively small wheels will struggle on soft or rough terrains.
The UPPAbaby MINU V2 includes a well-padded toddler seat with multiple recline levels and an adjustable leg rest. Its five-point no-rethread harness makes it easy to strap your child in comfortably and securely. The stroller also works with UPPAbaby's MESA car seat or bassinet for infants, though like with other options these will need to be purchased separately. Find our more detailed review of this stroller here.
Pros
Lightweight design with narrow footprint
Multi-position recline with adjustable leg rest
Shock-absorbing all-wheel suspension
From-birth use with addition of MESA car seat or UPPAbaby bassinet
Extendable UPF 50+ canopy with peekaboo window
Deep, easy-access storage basket with 20-pound capacity
Cons
Not a great choice for all-terrain use
Infant seats not included
---
Babyzen YOYO2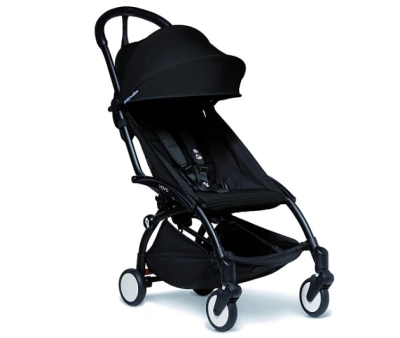 The Babyzen YOYO2 was designed with commuters and travelers in mind. Its frame folds down to airline standards for overhead bins, which also means plenty small enough to store even in cramped homes and apartments. The integrated strap also makes it easy to carry when it's not in use, especially since it weighs under 14 pounds.
We also love the overall design of the Babyzen YOYO2. Its spacious seat features an improved buckle and harness that are both more secure and more comfortable for kids. All the fabric pieces are washable and resist tears and other damage. Parents will appreciate the zippered pocket on the seat, keeping things like your phone or wallet close at hand.
Our only quibble with the Babyzen YOYO2 is its wheels. The all-wheel suspension keeps the ride smooth in city environments, but getting the stroller up onto curbs can be a challenge, and it doesn't do well on soft surfaces like grass or mulch. Click here for our full review of the YOYO2.
Pros
Super-compact in both folded and full forms
Lightest option on the list
Roomy seat with multi-position recline
Durable and easy-to-clean materials
Underseat basket and zippered pocket on seat
Anti-UV canopy with peekaboo window
4-wheel suspension
Cons
Small, hard wheels not suitable to uneven terrain
No from-birth options
---
Graco Modes Nest2Grow
If you're looking for the best big city stroller on a budget, the Graco Modes Nest2Grow is one you'll want to check out. It uses a modular design with over 15 configurations, including the option for a double stroller. It also works with Graco car seats and the Carry Cot for infants. While these don't come in the box, its affordable price means you'll likely still pay less for the whole set than the price of just the stroller with costlier options.
Along with being modular, the Graco Modes Nest2Grow is customizable in other ways. The seats can be reversed, moved up and down, or reclined to a range of positions. The handlebar height is also easy to adjust and has a convenient built-in cupholder. You'll have plenty of storage for your other things under the stroller, with a large mesh-sided basket that has a large, upward-facing opening for easy access.
The Graco Modes Nest2Grow is also a go-anywhere stroller. Its large, well-treaded wheels can handle any terrain, along with obstacles like curbs and sidewalk cracks, without the need to struggle and strain.
Pros
Modular design includes a 2-seat option
Reversible, height-adjustable seats with multi-position recline
Extra-large underseat basket
One-step fold into self-standing unit
Suitable for all-terrain use
Expandable canopy
Excellent value
Cons
Wider than other strollers
---
Nuna TRVL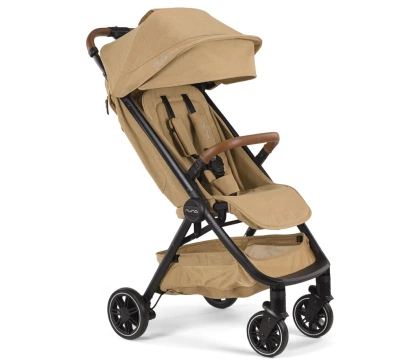 At 13.6 pounds, the Nuna TRVL ties for the title of lightest stroller in our round-up. It's made for easy travel and even comes with a bag so you can carry it hands-free. Along with this, it's one of the most compact options in both is full and collapsed forms, with a narrow footprint for easy navigation of tight spaces.
We also appreciate how easy it is to steer and control the Nuna TRVL. Its advanced front- and rear-wheel suspension smooths out bumps and jolts. The one-button brakes on the handlebar give parents an extra level of control on sloped terrains. That said, its wheels aren't made for all-terrain use, so it can be harder to push and steer in parks and other off-road environments.
The seat that's included with the Nuna TRVL has all the features you need for a safe and comfy ride. This includes a no-rethread quick-release harness with a self-guiding magnetic buckle, a water-repellant sun canopy with multiple ventilation windows, and a one-handed recline adjustment. You can also use it with other Nuna equipment, like their PIPA car seat, without needing an adapter.
Pros
Lightweight and easy to carry in included travel bag
Easy to fold and store
One-touch rear wheel brakes
Multi-position recline with adjustable calf support
All-wheel suspension
Water-repellant UPF 50+ canopy
Compatible with Nuna car seats with no adapter
Cons
Small under-seat storage can be tricky to access
Not the best choice for soft or difficult terrain
---
Choosing Between the Best Strollers for NY
Every family has unique needs from a stroller. For use primarily in cities, the features of the UPPAbaby MINU V2 make it the best all-around performer (>>> Find on Babycubby). That said, the multi-child capability of the Baby Jogger City Select 2 is great for growing families, while the compact Babyzen YOYO2 is perfect for travelers. We hope this comparison has helped you find the best match for your family!