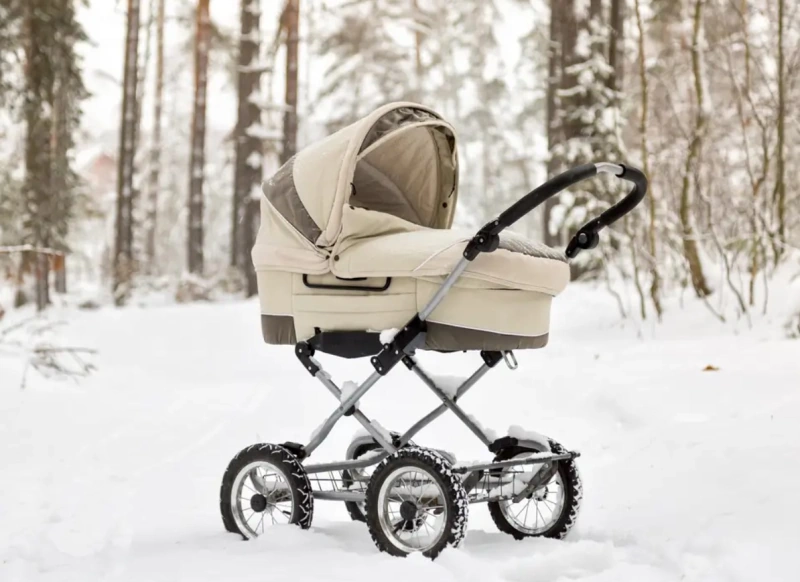 A stroller is a must-have for keeping your kids safe and comfy while you're out and about, but not just any stroller can handle wintery weather. Snow is one of the most demanding terrains for vehicles to navigate, requiring tread that grips slick surfaces and wheels big enough to power through soft, fresh snowfall.
Based on its overall performance, the Bugaboo Donkey 5 is the best stroller for snow, with a unique Beach Mode ideal for traveling on snowy streets and sidewalks (>>> Check on Babycubby). That doesn't necessarily mean it's the best option for your family, though, and all of the strollers reviewed here can keep your family on the move in any season. Read on to figure out which one will be your new go-to stroller.
Best Stroller for Snow – Top Picks for Winter 2022:
Wheel Size and Design
This is the most important consideration when you're looking for a stroller for snowy weather. Large wheels with all-terrain tread can navigate snow-covered paths without slipping or getting stuck, making them both safer and easier to push and control.
The wheels on all of these strollers meet those requirements. The unique 3-wheeled design of the Thule Urban Glide 2 makes it easy to push over a variety of terrains, including tricky ones like snow. However, the Bugaboo Donkey 5 takes the edge thanks to its unique 2-wheel Beach Mode. All 4 wheels on the Donkey 5 are also foam-filled to prevent flats, with the width and tread you need to conquer any difficult surface.
Best wheels and wheel design: Bugaboo Donkey 5
Size and Weight
Having two seat options is convenient for growing families, but it also makes the stroller bulkier and heavier. The streamlined one-seat UPPAbaby Cruz V2 is both the lightest and most compact option on the list, navigating narrow spaces with ease, and folds up into an even smaller package that can stand on its own in storage or fit into bins and trunks while traveling.
Smallest and lightest stroller: UPPAbaby Cruz V2
Child Comfort
In the winter, you need a stroller that will protect your child from the elements. A weather-proofed canopy can be a big help here. It's also useful if the seat reverses, giving your child some extra protection from wind. The all-season seats of the Nuna Mixx Next make it ideal for winter travel, keeping your child warmer than other seats when the weather is cold.
Most comfortable: Nuna Mixx Next
---
Thule Urban Glide 2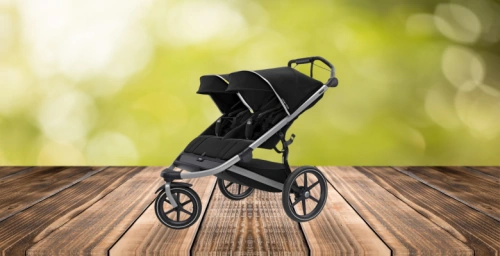 The Thule Urban Glide 2 uses a three-wheeled design, with large 16-inch rear wheels and an advanced suspension system. The front wheel swivels for easier navigation of turns and tight corners, and can lock into place for safety when you're jogging. There is also a hand brake on the handle so parents can control the stroller's speed more precisely. All of these factors together make the Urban Glide 2 a breeze to push across any surface, including snow or sand.
The rest of the Thule Urban Glide 2 reflects that same attention to detail you'll see on the wheels. Both seats are roomy and well-padded, with a reclining back and a 5-point harness. It's also compatible with accessories like Thule's infant bassinet, giving it even more versatility for growing families. It also has a large cargo basket under the seats, with a cover that zips closed to keep everything secure while you're on the go.
The main downside of the Thule Urban Glide 2 is that it is a hefty stroller. It weighs over 30 pounds and its two-seat design gives it a larger footprint than single strollers. That said, it collapses down to a surprisingly compact form, and the one-handed folding mechanism makes it easy to do so.
Pros
Two reclining seats
Large all-terrain wheels can handle any surface
Smooth all-wheel suspension
One-handed fold
Adjustable handlebar with twist-style hand brake
Large zip-close underseat storage
Cons
Larger and heavier than other strollers
No from birth capability out of the box
Read the full review: Thule Urban Glide 2
---
Nuna Mixx Next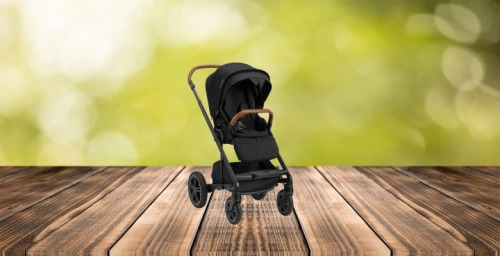 The modular Nuna Mixx Next is a top choice if you want a stroller that can grow with your child. Out of the box, it's a sleek and sophisticated stroller with a reversible seat that has five recline levels. Adjusting the seat is simple, and the quick-release 5-point harness has a self-guiding magnetic buckle that locks in place automatically. It's also compatible with a Nuna bassinet or PIPA infant car seat, expanding its use to newborns.
The foam-filled rubber tires on the Nuna Mixx Next are durable and won't go flat if you run over a rock or other sharp object on your travels. They also have a good width and tread for all-terrain applications, and are less likely to get caught in snowbanks than smaller, narrower wheels. A Free Flex rear suspension and progressive front wheel suspension keep the ride smooth even over bumps and make it easier to navigate on uneven terrains. The one-touch rear wheel brake helps here, too, keeping parents in full control even on slopes and hills.
The wheels aren't the only thing that's all-weather ready on the Nuna Mixx Next. The all-season seats have a removable cover that makes them cozier in the winter and can be removed to keep baby cooler in the summer. The extendable canopy repels water and provides UPF 50+ protection, so you'll be ready for any weather with the Nuna Mixx Next.
Pros
Durable rubber foam filled tires
Free Flex rear and progressive front suspension
Modular design with four seat modes
Easy to adjust harness and seat recline
Two-compartment storage basket with zippered pocket
Responsive one-touch brakes
One-piece self-standing fold
Cons
Needs extra accessories to use with newborns
A bit bulky, even when folded
Read the full review: Nuna Mixx Next
---
Bugaboo Donkey 5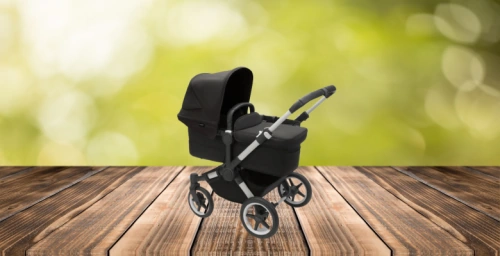 The Bugaboo Donkey 5 is one of the most versatile strollers out there. In Mono form, it's a single stroller with tons of storage space, including a side pocket beside the seat as well as the under-seat basket. Adding the Duo Extension Set converts it into a side-by-side double stroller or twin stroller, depending on whether you add a second full seat or a bassinet. However it's set up, both seats are reversible with a one-hand recline adjustment. They're comfortable, too, with an aerated 3D mesh mattress and machine-washable soft touch fabrics.
What makes the Bugaboo Donkey 5 most impressive for use on snow is its 2-wheel Beach Mode. This pushes the rear wheels toward the front so it can be pulled through soft terrains, and while it's designed for sand it works just as well for powering through snowbanks. Even in standard mode it does an exceptional job on difficult terrains, with foam-filled tires that will never go flat, a wide, well-textured tread, and an anti-shimmy system on its all-wheel suspension.
The Bugaboo Donkey 5 is slimmer than most side-by-side strollers, but it's still on the large side. It also may be out of some parents' budgets, costing nearly twice as much as the single strollers on this list even without the Duo Expansion. That said, its versatility and high-quality construction make it worth the investment, especially for growing families.
Pros
Functions as a single or double stroller
Includes a bassinet for newborns
Puncture-proof all-terrain wheels
2-wheel mode for snow or sand
Plush, easy to clean fabrics
Tons of on-stroller storage, especially in Mono mode
No adapter needed to use with Bugaboo car seats
Cons
High cost
Relatively large, even when folded
Read the full review: Bugaboo Donkey 5
---
Baby Jogger City Select 2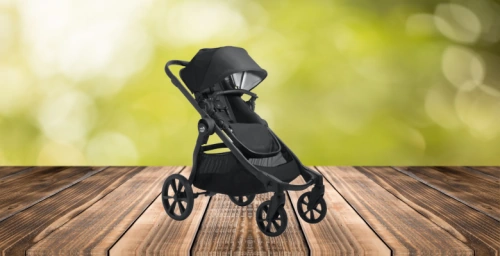 Those who need a modular stroller that's a bit more compact should consider the Baby Jogger City Select 2. With 24 potential configurations, including both single- and double-seat versions, the City Select 2 can adapt to any family's needs. You can even add space for a third child to tag along with the optional glider board, or pair it with infant car seats from brands like UPPAbaby, Britax, and Nuna to make it a full travel system.
The seat itself is customizable, too. Both the calf support and the seat back can be adjusted, and there's still plenty of leg room between them when you're using it as a double stroller. The TENCEL fabric used for the seat doesn't just feel plush, it also has temperature regulation and anti-bacterial properties, ideal for keeping baby safe and comfortable.
The all-terrain tires on the Baby Jogger City Select 2 are foam filled, meaning they'll never go flat, and large enough to handle curbs and other obstacles. A front-wheel suspension system ensures a smooth ride while the telescoping handlebar keep parents comfortably in control.
Pros
Modular design with 24 configurations
Smaller and lighter than most double strollers
Compact one-step fold
Large never-flat wheels with front-wheel suspension
Glider board adds 3-kid capability
Soft and breathable fabric
Massive storage basket
Cons
Not suitable for newborns without accessories
Seats may feel cramped for taller toddlers
---
UPPAbaby Cruz V2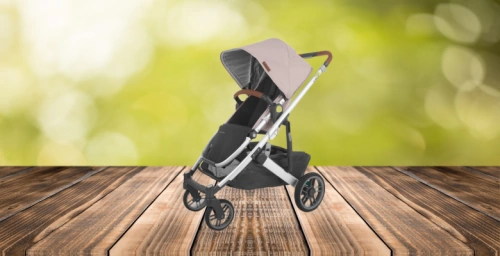 The dual-action rear suspension of the UPPAbaby Cruz V2 gives it one of the smoothest rides you'll get from a stroller, something you'll especially notice going over surfaces like snow or gravel. The large tires help here, too, and they have the tread you need for difficult terrains. When it's time to stop, the front wheels lock for extra safety.
The main advantage of the UPPAbaby Cruz V2 is its compact size. It's the lightest and narrowest stroller on the list, making it a top choice for cities and crowded spaces. It also has two ways to fold it, as a self-standing one-piece fold or a more compact two-piece version. This is great news for travelers as well as apartment livers, or anyone for whom space is at a premium.
The material and build quality is another plus of UPPAbaby strollers, and you can both see and feel that quality in the Cruz V2. From the plush cushioning inside the reversible seat to the leather accents, every detail of the Cruz V2 is designed to keep kids safe and comfy while you're on the go, and to look good doing it. Click here, if you want to read our more detailed review of the UPPAbaby Cruz V2.
Pros
Compact and lightweight
Roomy and reversible seat with one-hand recline adjustment
Sophisticated all-wheel suspension system
One-step, self-standing fold
Extra-large storage with 30-pound capacity
From birth capability with MESA car seat or Infant SnugSeat
Cons
No multi-child capability
---
So What's the Best Stroller for Snow?
While the Bugaboo Donkey 5 is the best option based purely on its performance in snowy weather, it's also the most expensive option on the list, with a modular design that may be more stroller than some families need (>>> Find on Pishposhbaby). The truth is, all of these strollers have the combination of all-terrain wheels and high-quality materials you need for snowy weather. We hope this review has helped you decide on the best one for you!
---
FAQs
How do I keep my baby warm in a stroller in the winter?
The easiest and cheapest answer to this is the same as it would be for an adult: dress them in plenty of layers, with an insulating base layer like a cotton footed onesie, and a weather-proof top layer like a winter coat. You can also buy accessories like the UPPAbaby Cozy Ganoosh, which adds a zip-up fleece layer to the seat of any compatible stroller for extra warmth in winter.
What's the best stroller for icy sidewalks and other slick surfaces?
You want the same things on ice that you do on snow, namely a grippy tread and a steering system that lets you stay fully in control. The Thule Urban Glide 2 is an excellent choice for icy paths thanks to its stable 3-wheel design and the handlebar brake that keeps parents fully in control.
What's the best single stroller for snow?
Based on our research, we'd say the Nuna Mixx Next is the best single-seat stroller for wintery weather. Its foam-filled tires have an advanced suspension system and one-touch brakes, making it easy to steer safely across any terrain. The removable winter seat liner is another plus, adding an extra layer of warmth for your child in the winter.