Nuna makes some of the most stylish baby strollers on the market, and there's more to their impressive baby gear than just looks. In this Nuna Mixx Next review we'll look at a model that's perfect for modern active parents, with its high-quality construction, large materials, and convenient customizability. (>>> Check on Pishposhbaby)
Nuna Mixx Next Review of Specifications:
Nuna Mixx Next
Maximum child weight
50 lbs
Age range
Birth to 50 lbs
Unfolded dimensions
32.7" x 23.6" x 45.3"
Folded dimensions
19" x 27.5" x 23.6"
Weight
28.3 lbs
Price

Pishposhbaby.com





BabyCubby.com
Seat Comfort and Design
The Nuna Mixx Next comes with a toddler seat that's designed for ultimate comfort. The plush padding can be removed to reveal a mesh layer that's more breathable during the summer. The harness is well-padded, as well, and uses a no-rethread adjustment system so you can easily get an ideal fit for your child. You can also recline the seat with one hand, with 5 positions from fully-upright to true-flat for sleeping, and it can be reversed to face you or out at the world. The arm bar allows plenty of room for growing babies, and can be removed if you'd prefer. We also appreciate the leg area, which has adjustable calf support and a built-in footrest, with ample leg room for taller toddlers.
The canopy over the seat is worth mentioning, as well. Like on most strollers, the canopy can be extended, offers UPF 50+ sun protection, and has a mesh window for extra ventilation. Where it stands out is its water repellant coating, keeping your kid dry on rainy days and making the Mixx Next a true all-weather stroller.
Accessories and Other Seats
The Nuna Mixx Next can also be used with Nuna infant bassinets, or their PIPA infant car seat using the included ring adapter. Keep in mind neither of these come included, so you'll need to leave room in your budget for them if you want to use the stroller with a child younger than around 4 months. You'll also need to use Nuna-brand seats with this stroller since it doesn't fit car seats from other brands reliably, even if you buy an adapter.
Pros
Roomy and reversible all-weather seat
5 seat recline positions, including true flat recline
Smooth suspension and brake system
Rubber foam-filled tires suitable for all terrains
Compact and self-standing with lock-in-place fold
Compatible with infant bassinet and PIPA car seat
Ample built-in storage areas
Cons
Infant seat must be purchased separately
Limited compatibility with other car seat brands
Steering and Maneuverability
The Nuna Mixx Next uses large foam-filled rubber tires with a solid tread and good wheel width. This lets them handle obstacles like curbs, as well as uneven terrain including grass or gravel, without worrying about punctures or getting stuck. The all-wheel suspension system uses Free Flex suspension on the rear wheels, with progressive suspension technology on the front wheels, which combine for a smooth ride even on bumpy paths.
From the parents' perspective, the Mixx Next is a breeze to steer and control. You can adjust the height of the leatherette push bar to find your most comfortable position. We also appreciate the one-touch rear wheel brakes, a handy safety feature when you need to stop on an incline.
Folding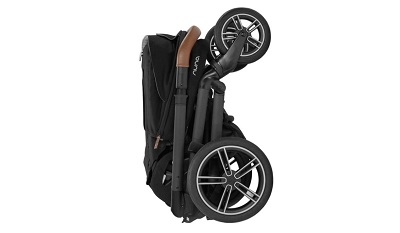 Folding the Mixx Next is as easy as steering it. It collapses down quickly and easily without needing to remove any components thanks to the fold-away axel. Once folded, the automatic quick-click lock keeps it that way, and it can be rolled around like a trolley, too, making it very easy to maneuver and load when you want to travel with it or store it.
Built-in Storage
The under-seat storage on the Nuna Mixx Next is fairly large, with a broad opening that makes it easy for parents to access. It has two compartments to help you organize your things, along with a secret zippered pocket for smaller items. An additional cell phone pocket on the back of the seat lets you keep necessary items close at hand while you're on the go.
The Bottom Line: Nuna Mixx Next Review
While it's not the cheapest stroller on the market, the Nuna Mixx Next has all the features most parents look for, and its high-quality construction and durability make it worth the investment. The only thing to keep in mind is that it's designed to work exclusively with other Nuna equipment, so if you already have a favorite car seat from another brand you may need a different stroller to use with it. This issue aside, its superior seat comfort, all-terrain capable wheels, and easy folding are strong points in its favor. (>>> Find on Pishposhbaby)
REFERENCES AND FURTHER READING: