You want your baby to sleep comfortably at night, and it starts with the right mattress. Parents have plenty of options, but not all crib mattresses are created equal. Along with comfort, you want a mattress that lasts. It's also nice if the mattress is eco-friendly.
Among the various options, the Moonlight Slumber Little Dreamer Crib Mattress stands out for a few good reasons. It's Green Guard certified, incredibly lightweight, waterproof, and has dual sides for infants and toddlers. Ready to learn more? Keep reading to find out if this mattress is right for your baby. (>>> Check on Amazon)
Moonlight Slumber Little Dreamer Crib Mattress Review of Specifications:
| | Moonlight Slumber Little Dreamer Crib Mattress |
| --- | --- |
| | |
| Age range | Newborns and toddlers |
| Construction Type | Foam Construction |
| Dimensions | 52" x 27.5" x 5" |
| Weight | 11.73 pounds |
| Price | Find on Amazon |
Comfort
You know when your baby isn't sleeping comfortably, but it's not an issue with this crib mattress. The mattress is waterproof, keeping your baby drier at night. It also makes it easier to keep the mattress clean and sanitary. Add in its hypoallergenic properties, and you don't have to worry about skin sensitivity.
A stretchy knit fabric protects the mattress from moisture, along with the tightly sewn seams. Water and other liquids won't penetrate the mattress's interior.
Convenience
Parents may not think about convenience when they're choosing a crib mattress until they get it home. The Little Dreamer is surprisingly lightweight, around 8lbs, making it easy to get it into the crib. You aren't going to strain a muscle lifting the mattress.
Its lightweight design comes in handy when it's time to flip the mattress. The Little Dreamer is a dual-sided mattress for infants and toddlers. One side uses high-density foam to give infants the support they need, while the other has plush foam so toddlers can sleep comfortably. Arrows on the mattress make it easy to differentiate between the two sides.
Pros
Dual-sided for infants and toddlers
Durable, waterproof construction
Lightweight
Waterproof
Affordable price
Cons
The mattress is not ventilated and can cause babies and toddlers to sleep uncomfortably hot at night
Ease of Care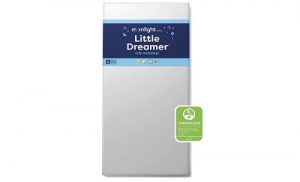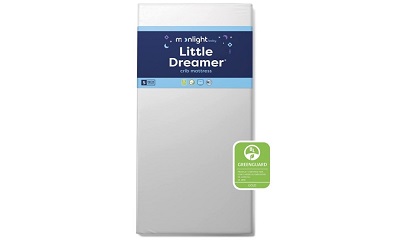 It doesn't matter how careful you are, crib mattresses need occasional cleaning, and it's not a hassle with the Little Dreamer. Be careful what you use to clean the mattress you don't want harsh chemicals next to your little one's skin.
Cleaning the mattress is a breeze. Just use warm water and a gentle soap. Gently wipe the mattress clean and use a towel to absorb any remaining moisture. Chances are, you won't even have to take the mattress out of the crib.
Consumer Impressions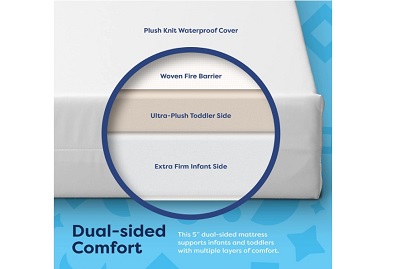 One of the first aspects consumers notice is the Green Guard seal on the packaging. It indicates the mattress is free from harsh chemicals, and it's certified safe for children and infants. Its lightweight construction is something else parents like, along with the waterproof design. Some parents wish the mattress was breathable and a little less firm support on the toddler side. Overall, parents are happy with the Little Dreamer, especially its affordable price.
Conclusion
The Moonlight Slumber Little Dreamer Crib Mattress has plenty of features parents, and their little ones will love (>>> Find on Amazon). It comes at a lower price than some other comparable mattresses and is just as durable. Parents can also use it longer, helping them save money.
One side is designed for infants, providing plenty of support. When your baby is older, flip the mattress over to the toddler's side. Convenient arrows on the mattress make it easy to know which side to use. Add in its waterproof properties, lightweight design, and Green Guard certification, and you have a crib mattress everyone will love.
There is a downside to consider. The mattress lacks breathability, which can affect how comfortably your child sleeps at night.