Nuna was founded in 2010 with a mission to bring practical, functional, and durable gear to parents. Their line of strollers delivers on this promise, using quality materials and a convenient, forward-thinking design based in the latest stroller technology.
In this review we'll compare two of the brand's most popular stroller designs, the Nuna Mixx Next vs Demi Grow. While the Mixx Next comes out slightly ahead as a single-child stroller (>>> Check on Pishposhbaby), the double-seat capability of the Demi Grow makes it an excellent value for growing families. Let's take a closer look!
Nuna Mixx Next vs Demi Grow Side by Side:
| | Nuna Mixx Next | Nuna Demi Grow |
| --- | --- | --- |
| | | |
| Maximum child weight | 50 lbs | 50 lbs |
| Age range | Birth to 50 lbs | Birth to toddler |
| Unfolded dimensions | 32.7" x 23.6" x 45.3" | 24" X 39.5" X 43.5" |
| Folded dimensions | 19" x 27.5" x 23.6" | 24" X 23.5" X 35" |
| Weight | 28.3 lbs | 27.4 lbs |
| Price | Pishposhbaby.com | Pishposhbaby.com |
Customizability
The Nuna Mixx Next has 4 configuration modes. The toddler seat can be either forward- or parent-facing, while the ring adapter system provides seamless compatibility with Nuna-brand bassinets or their PIPA-series infant car seats.
You'll get all of these options and then some with the Nuna Demi Grow. Along with the upper seat, its under-seat storage area can be replaced by a second seat, with the same options of toddler seat, bassinet, or infant car seat. That gives it 23 configuration modes in all, and tons of versatility for growing families.
More customizable: Nuna Demi Grow
Wheels and Steering
The wheel and suspension design of these two strollers is almost identical. Both use puncture-proof rubber tires with large rear wheels that can handle rough terrains. The front wheels swivel and lock, using progressive suspension technology, while the rear wheels use Nuna's proprietary Free Flex suspension system and have a one-touch brake for safety.
When used as single strollers, both these Nuna models can be steered safely with one hand, and can handle uneven surfaces like grass or dirt paths. However, the extra weight of the second seat makes the Demi Grow harder to push when you're using that capability, and more so if you're traveling on rougher terrain.
Easier steering: Nuna Mixx Next
On-Stroller Storage
The two compartment under-seat storage of the Nuna Mixx Next is both spacious and easy to access, and includes a zippered pocket for valuables and small items. There's also a convenient cell phone pocket on the back of the seat.
The Nuna Demi Grow has a relatively large under-seat storage area, as well, but there's a catch: this is also where the second seat goes. That means there's no storage if you're taking advantage of its dual-seat capability, and it also lacks the cell phone pocket found on the Mixx Next.
Better on-stroller storage: Nuna Mixx Next
---
Nuna Mixx Next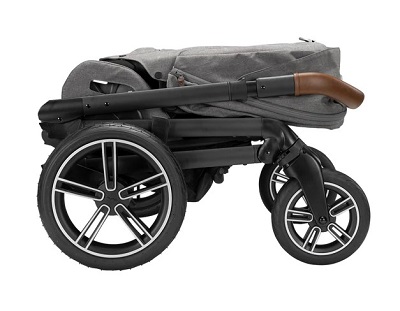 The stylish Nuna Mixx Next is an excellent stroller for modern active parents. It's easy to steer, with foam-filled rubber tires that grip any terrain and a sophisticated suspension system that uses Free Flex rear-wheel suspension and a progressive front-wheel suspension. The one-touch rear wheel brakes are responsive and the push bar is height adjustable, so it's easy for parents to maintain control of the stroller in any environment.
The toddler seat that comes with the Nuna Mixx Next has a no-rethread padded harness and a removable bamboo blend seat insert. This keeps your kid warm and cozy in the winter, while the breathable mesh underneath is ideal for summer travel. There are also 5 recline positions, from fully upright to fully flat, and the seat can be either parent- or world-facing. Over the seat is an extendable water-repelling canopy, so you can count on your baby's comfort in any weather with this stroller. For infants, you can easily replace the seat with a bassinet or PIPA car seat.
The Mixx Next is just as easy to use when you're ready to store it. It uses a fold-away axle for a no-fuss fold, collapsing down into a very compact unit that can stand up on its own. It also locks once it's folded, helpful for loading into car trunks or other storage areas. All told, it checks all the boxes that most parents look for in a high-end stroller.
Pros
Reversible seat with removable plush padding
Compatible with bassinet and PIPA infant car seat
One-handed seat recline
Smooth steering and control on all terrains
Compact self-standing fold
Water-repellant UPF 50+ canopy
Multiple storage options
Cons
No multi-child capability
Not compatible with many other car seat brands
---
Nuna Demi Grow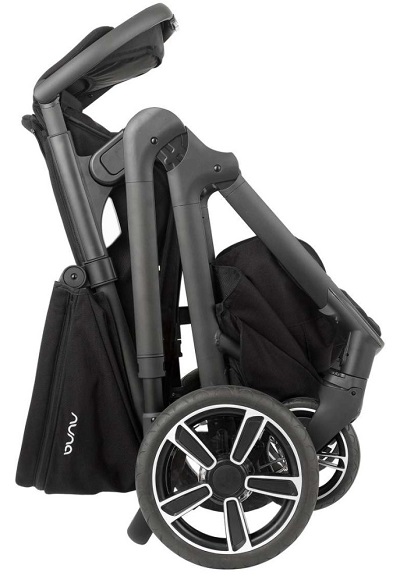 The Demi Grow shares a lot of strengths with the Nuna Mixx Next. It's similarly well-made and stylish, with an adjustable leatherette push bar and an all-wheel suspension on the foam-filled rubber tires. The ride is smooth enough parents can push with one hand when using it in single-seat configurations, and the lockable swiveling wheels and one-touch rear-wheel brakes give you firm control.
The main place the Demi Grow stands out is its two-seat capability. The toddler seat that comes included can be reversed or reclined, and uses a similar all-season removable seat padding to the Mixx Next. This seat can be swapped out for a bassinet or PIPA car seat. What's more, you can add a second seat below the main seating area, perfect for parents with twins or other two-child families. The main disadvantage of the second seat option is it eliminates the under-seat storage area. Adding a second seat also makes the stroller more difficult to push, though the low center of gravity keeps it nice and stable even when you're using both seats. There also aren't as many customization options for each seat. The lower seat has only one position option, and while the upper can be reversed or reclined, it only offers 3 recline positions (as opposed to the 5 of the Mixx Next).
While the Demi Grow is still impressively lightweight for its capabilities, it is a larger stroller, even when folded. That said, it still stands on its own and locks into place once it's collapsed down, and it's smaller and lighter than most double strollers on the market.
Pros
Option of adding second seat (23 total configuration modes)
All-weather seats with removable sun canopy
One-hand recline and calf support adjustment
Foam-filled tires with all-wheel suspension
Compatible with infant bassinet or car seat
One-touch rear wheel brakes and locking swiveling front wheels
Cons
No on-stroller storage when using second seat
Fewer recline positions
---
The Verdict: Nuna Mixx Next vs Demi Grow
The size of your family is the biggest thing to consider when choosing between the Mixx Next and the Demi Grow. If you have two kids (or plan to grow your family in the future), the customizability of the Demi Grow makes it an exceptional value at the price. That said, the Mixx Next is a bit cheaper, with more storage and more adjustment options on its toddler seat, and is the better option if you don't plan to use the second seating area (>>> Check on Pishposhbaby).