Experienced parents will tell you choosing a stroller is harder than most people think. There's a lot to consider beyond your baby's safety and comfort. You want a stroller that fits your busy and active lifestyle.
Chicco manufacturers an extensive line of strollers that includes the Viaro and Bravo. But which stroller is right for your family? Comparing the Chicco Viaro vs the Bravo highlights their similarities. Both have a travel system design and are car seat compatible. The Viaro is easier to maneuver with its three-wheel design, but you get more stability with the Bravo (>>> Find on Pishposhbaby.com). It also comes with a height-adjustable handle.
Need to know more before deciding on a stroller? Keep reading to learn more about each model.
Chicco Viaro vs Bravo Side by Side:
| | Chicco Viaro | Chicco Bravo |
| --- | --- | --- |
| | | |
| Maximum child weight | 50 lbs | 50 lbs |
| Age range | From 4 to 30 lbs and up to 30" | Newborn to toddler |
| Unfolded dimensions | 38.0"L x 25.5"H x 41.25"W | 35.5"L x 21.75"H x 43"W |
| Folded dimensions | 13.5"L x 25.5"H x 33.25"W | 16"L x 21.75"H x 28"W |
| Weight | 18 lbs | 23 lbs |
| Price | Find on Amazon | Find on Amazon |
Maneuverability
Using a stroller that's hard to push or maneuver around corners is frustrating for parents. It's also not a problem with either of these Chicco strollers. Both strollers are a breeze to push, but the Viaro is easier.
Unlike the Bravo that comes with the traditional four wheels, the Viaro only has three. It's a breeze to control and maneuver around tight corners. It's also about six pounds lighter than the Bravo, making it easier to push one-handed. Having three wheels also doesn't affect Viaro's balance.
Easiest to Maneuver: Chicco Viaro
Compatibility
You can use a Chicco car seat with either stroller. The strollers come with a built-in mechanism that securely locks the car seat in place. There's no need to buy adaptors, everything you need is on the strollers. The four wheels on the Bravo are more stable than the three on the Viaro, but neither stroller easily tips over.
The primary difference is the strollers' design with a car seat. You can remove the seat from the Bravo, but not on the Viaro. The removable toddler seat makes it easier to attach the car seat. It also takes some of the weight off, ensuring it's still a breeze to push around town.
Best in Compatibility: Chicco Bravo
Comfort
Comfy, padded seats keep little ones happy and content on long and short strollers. The Bravo's seat only has three positions, while the Viaro is fully reclining. The shade canopy is larger on the Bravo. It can make a difference depending on where you live.
The Viaro also comes with a snack tray. It's an additional purchase with the Bravo. Having a snack tray with two cup holders can make the difference between a happy and upset child.
Best in Comfort: Chicco Viaro
Convenience
When it comes to convenience, it's hard to beat the Bravo. Unlike the Viaro, the Chicco Bravo folds down and locks. The stroller won't open up during storage or when you're carrying it through a busy airport.
The Viaro does fold down, but it can reopen if it's not lying flat.
Best in Convenience: Chicco Bravo
---
Chicco Viaro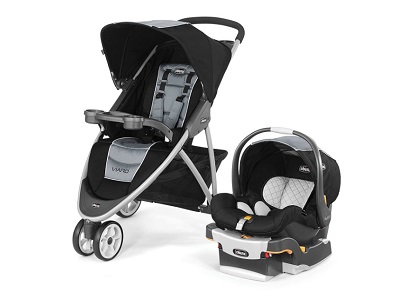 The Chicco Viaro stands out for more than its design. It comes with three wheels, instead of the standard four. Not only does it help keep some weight off the stroller, but it also makes maneuverability a breeze. The swiveling front wheel takes corners with ease. You will also appreciate the stroller's compact size in crowded places.
Front-wheel suspension helps ensure a smoother ride. You can also lock the back wheels separately or together. The Viaro does not come with a connected braking system. You press a tab on each wheel.
It is a travel system stroller, so you can start with a car seat and graduate to the fully reclining stroller seat. You can easily connect any Chicco brand car seat. The adaptors are built into the stroller. You don't need to make an extra purchase.
Pros
Lightweight aluminum frame
Three-wheel design
Multi-position reclining seat
Large, front-opening storage basket
Snack tray with dual cup holders included
Cons
The stroller does not lock when closed and can reopen when not laying flat
---
Chicco Bravo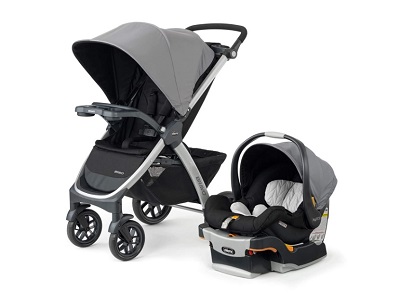 The Chicco Bravo can go from an infant to a toddler stroller with ease. The toddler seat is removable, making it easier to attach a Chicco brand car seat. You can also remove the extra-large three-panel sunshade. When your little one is ready for the toddler seat it attaches easily.
Four-wheel suspension prevents bumpy terrain from disturbing your baby. The seat only has three reclining positions, but it's enough to provide a comfortable ride for sleeping and awake toddlers.
Storing the stroller is a breeze. It has a one-hand folding design with a lock. The stroller isn't going to reopen when you're carrying it. The locking mechanism also lets you store the stroller standing up.
Pros
Four-wheel suspension
Locking, folding design
Interconnected locking rear brakes
Swiveling front wheels
Three-position reclining seat
Cons
The stroller does not come with a snack tray or cup holders. It is an additional purchase
---
Conclusion
It's hard not to notice the similarities as you're comparing the Chicco Viaro vs the Bravo. Both are travel system strollers with built-in car seat adaptors.
The Chicco has a narrower design, thanks to its three wheels. It's also a breeze to maneuver. The Bravo is a little heavier with its four wheels, but it also locks in the folding position (>>> Find on Pishposhbaby.com). It's something to consider if you are constantly pulling the stroller out of your vehicle.
FURTHER READING: