A three-wheeled double stroller strikes an excellent balance between capacity and maneuverability. Their slim, easy-to-steer design gives them an edge in crowded areas or tight spaces, and makes them perfect for travelers and active families.
At first glance, it can be hard to see the differences comparing the Thule Urban Glide 2 vs BOB Revolution Flex 3.0 (>>> Check on PishPoshBaby.com). Both offer all-terrain capability, with a swiveling front wheel that locks for better control when you're jogging. They're also comparable when it comes to the seat comfort, using comfortable seat materials and a 5-point harness that's easy to adjust to get a precise fit.
So what's the difference between these strollers—and which one is best for you? Let's look more closely at where each excels.
Thule Urban Glide 2 vs BOB Revolution Flex 3.0 Side by Side:
Thule Urban Glide 2
BOB Revolution Flex 3.0
Maximum child weight
98 lbs (49 lbs per seat)
100 lbs (50 lbs per seat)
Age range
6 months - toddler
Birth to toddler
Unfolded dimensions
41.1"L X 27.2"W X 40"H
46"L X 25"W X 45"H
Folded dimensions
34.2"L X 27.2"W X 13.3"H
38"L X 25"W X 16"H
Weight
34.2lbs
33.1lbs
Price

Pishposhbaby.com





Find on Amazon

BabyCubby.com





Pishposhbaby.com





Find on Amazon
Steering and Control
The BOB Revolution Flex 3.0 is easy to maneuver around tight turns, and gives parents good control when they're jogging with the stroller. The wide height range for the handlebar helps here, ensuring you can find a comfortable position for your stature.
While the BOB Gear stroller performs well in this regard, the handlebar brake of the Thule Urban Glide 2 gives it the edge. This adds another level of control for parents, letting you adjust the speed and stop more quickly in an emergency. There is a brake on the Revolution Flex 3.0 but it's foot-activated, making it harder to toggle when you're in motion.
Easier to control: Thule Urban Glide 2
Child Age Range
The Thule Urban Glide 2 is designed for use with kids that are 6 months or older. While it can fit toddlers as tall as 43", the relatively narrow footrest can make it less comfortable for larger kids, too, which limits its usable age to a fairly small range.
The BOB Revolution Flex 3.0 is compatible with a wide variety of infant car seats, which get a secure fit into the frame using their adapter. The seats are also a bit roomier for older children, so you can use it longer before your kids age out.
Wider age range: BOB Revolution Flex 3.0
On-Stroller Storage
The zip closure on the under-seat basket of the Thule Urban Glide 2 is a handy feature, preventing items from bouncing out or getting lost while you're on the go. The basket itself is fairly small, however, with a maximum weight load of around 10 pounds. It can also be a bit of a hassle to get into.
With the BOB Revolution Flex 3.0, you'll get a roomier under-seat basket as well as a variety of pockets on the seat backs for storing things like your wallet or phone close at hand. Not only does it have more storage, it's easier to access the on-stroller storage, even while you're in motion.
Better storage: BOB Revolution Flex 3.0
Sun and Rain Protection
Both these strollers have extendable canopies over the seats and offer UPF 50+ protection from the sun. The BOB Revolution Flex 3.0 does it better, though. Its canopies are much larger, for one thing, and come down further in front to provide better protection from all angles. It's also made of a water-resistant canvas so your kids will be protected from all the elements while you're on the go.
Better sun canopy: BOB Revolution Flex 3.0
---
Thule Urban Glide 2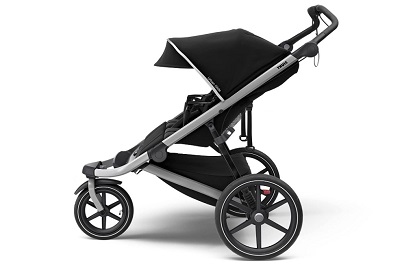 The wheel design of the Thule Urban Glide 2 is top notch. Its large 16" wheels use an all-terrain tread that can handle any surface you encounter without getting stuck or losing control. The all-wheel suspension system ensures a smooth ride for your kids, and it's easy to keep them safe, too. Not only can you lock the front wheel into place when you need to, the handlebar brake includes a speed control option, a very helpful feature when you're going over hills or sloped paths.
Each seat of the Thule Urban Glide 2 has a range of recline positions, from fully upright to nearly flat. The footrest is somewhat narrow, but the rest of the seat is spacious enough for toddlers up to 50 pounds, and the harness system is easy to adjust. Each seat also has a top sunshade with an extendable visor for sunny days, as well as a smaller sunshade by the foot for when you're using the seats in their fully-reclined position.
The Thule Urban Glide 2 is also an excellent choice for parents who travel often. It can be collapsed with one hand, folding down into a very compact package that's easy to lift into a car trunk or overhead storage bin. Once you're at your destination, the zip closure of the under-seat storage makes sure you won't lose anything important while you're out and about. For our more in-depth review of this double stroller, click here.
Pros
Smooth ride thanks to large wheels and suspension system
Independent seats with multiple recline levels
Extendable sun canopy with peek-a-boo window
Under-seat storage with zip closure
Easy one-handed fold
Handlebar brake with speed control
Cons
Not suitable for use with children 6 months or younger
Fewer storage options
---
BOB Revolution Flex 3.0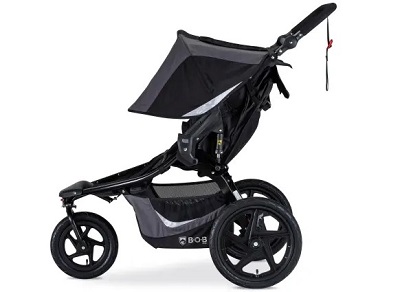 The BOB Revolution Flex 3.0 is comfortable and easy to steer for parents. Its adjustable handlebar has a wide range of height settings, from 34.5" to 48", so parents won't need to stoop or reach. There is also a brake, though it's a foot pedal style rather than a hand brake. Still, it's quick and easy to activate, and can be put on easily even when you're wearing flip flops.
The toddler seats that come with the BOB Revolution Flex 3.0 are roomy and well-padded, with a more spacious footrest than the one on the Urban Glide 3. Each also comes with a large water-resistant sun canopy that provides full coverage from the sun when extended. It's also compatible with infant car seats from the top baby gear brands, extending its use to even newborn babies, though bear in mind you'll need to buy the car seat and adapter separately since neither comes included.
With its large under-seat basket and 10 separate storage pockets, you'll have room to stash all your gear on the BOB Revolution Flex 3.0. It's also all-terrain ready, with treaded air-filled tires, 16" rear wheels, and a pivoting and locking front wheel. The mountain bike style suspension system does a great job keeping the ride smooth even on bumpy surfaces, with extra shocks mounted by the seats so your kids can ride in comfort no matter where you're traveling.
Pros
Wide range of handlebar height adjustments
Water-resistant UPF 50+ canopy
Comfortable seat and harness system
10 storage pockets plus large under-seat basket
Swiveling and locking front wheel
Large air-filled tires with suspension system
Cons
Infant seat must be purchased separately
No on-handle speed control
---
The Verdict: Thule Urban Glide 2 vs. BOB Revolution Flex 3.0
Each of these strollers has its strengths. The Thule Urban Glide 2 is overall easier to control, with a smoother steering system and handlebar brake for fast stops. On the other hand, the BOB Revolution Flex 3.0 is more convenient for many parents (>>> Find on PishPoshBaby.com), with a wider handlebar height range, more storage options, and more compatibility with infant car seats. Ultimately, choosing the right one for your family comes down to what you need out of your stroller. Whichever one you buy, you'll get a high-quality stroller that's travel-ready and can keep the ride smooth even when you're going over bumpy ground.
FURTHER READING: