For parents who like to run, hike, or otherwise stay active with their kids, it helps to have a stroller that's built to move with you. The best all-terrain double stroller has a solid suspension system, all-terrain wheels, and seats that will keep your kids both safe and comfortable while you're in motion.
There are a lot of factors to consider when you're buying a stroller, and no one of the models on the list is a clear winner across categories. Each one of them has its strengths, though, and will be the best choice for a certain kind of family. Let's take a look at how they compare on key features before we get into the full reviews.
Best All-Terrain Double Stroller 2022 – Top Picks:
BOB Gear Revolution Flex
Baby Jogger City Mini GT2
Thule Urban Glide 2
Baby Jogger City Select Double
Joovy Zoom X2 Double
Contours Curve Tandem
Maximum child weight
50lbs
50lbs
50lbs
45lbs
50lbs
40lbs
Age range
Birth to toddler
Birth to toddler
Birth to toddler
6 months to toddler
6 months to toddler
Birth to toddler
Collapsed dimensions
25.5"W X 15.3"H X 37.8"L
25.6"W X 10"H X 31.8"L
27.1"W X 35"H X 13"L
25.5"W X 14.5"H X 43.5"L
30.5"W X 21.5"H X 35"L
27"W X 50"H X 25"L
Unfolded dimensions
25.5"W X 45"H X 46"L
25.6"W X 40.7"H X 42.3"L
25"W X 42.9"H X 44"L
25.6"W X 43.1"H X 46.1"L
31.5"W X 42"H X 55"L
25"W X 44.5"H X 54"L
Weight
27.3lbs
22.7lbs
34.2lbs
28lbs
28lbs
39lbs
Price

Pishposhbaby.com





BabyCubby.com





Find on Amazon

Pishposhbaby.com





BabyCubby.com





Find on Amazon

Pishposhbaby.com





Find on Amazon

Find on Amazon

Find on Amazon

Find on Amazon
Steering and Maneuverability
The slim width of the Contours Curve Tandem makes it a better choice for narrow park paths or busy city streets. It also has a unique curb assist feature as well as all-wheel suspension and all-terrain rubber-coated wheels. All of this combines to make it the tightest-turning and most maneuverable of the options on the list.
Easiest steering: Contours Curve Tandem
Stroller Weight
If you'll need to lift your stroller into a car trunk, airplane overhead compartment, or other storage areas while you're moving from place to place, it helps if it's not too heavy. A double stroller can weigh as much as 40 pounds depending on its design and build materials—heavier than most want to lift on their own. At just under 23 pounds, the Baby Jogger City Mini GT2 is much more reasonable, light enough for nearly any parent to pick up and carry around.
Lightest stroller: Baby Jogger City Mini GT2
On-Stroller Storage
When you're out jogging, you probably don't have pockets on your clothes for things like your keys and phone, and you don't want to lug a diaper bag over your shoulder, either. This makes ample on-stroller storage a necessity.
While you'll get some kind of storage option on all of these strollers, there are two stand-outs. The 10 pockets and large cargo basket on the BOB Gear Revolution Flex give you lots of options for not just carrying your things but keeping them organized, too. Similarly, the parent organizer and seatback pockets of the Joovy Zoom X2 Double are a nice complement to its under-seat basket, with two spots for water bottles along with ample spaces for other items.
Best on-stroller storage: BOB Gear Revolution Flex, Joovy Zoom X2 Double
Accessory Compatibility
Most of these strollers can be used with a selection of car seats or infant bassinets, along with the toddler seats that come included. The Baby Jogger City Select Double goes a step further, with accessory options ranging from infant seats to a riding platform for older toddlers. Buying these accessories expands its configurations to more than 20 seat combinations.
Best Accessory Options: Baby Jogger City Select Double
---
BOB Gear Revolution Flex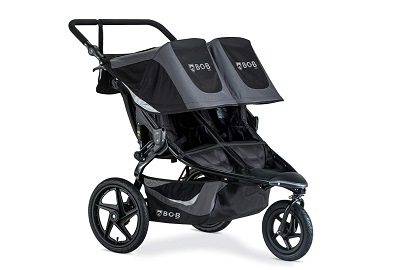 The BOB Gear Revolution Flex is a convenient choice for active families. The adjustable handlebar makes it comfortable to push for parents of all heights. It's also ideal for runners and joggers, with a large under-seat cargo basket and 10 pockets for things like your keys and wallet.
As far as the ride, it's very smooth and comfortable with the BOB Gear Revolution Flex. Its large all-terrain tires and advanced suspension system can handle all surfaces with ease. It's also incredibly easy to steer and maneuver, with a 360° swiveling front wheel that locks into place when you're jogging. The seats themselves are well-padded and each has its own large extendable canopy, which provides UPF 50+ protection and has a magnetic mesh window so you can peek in on your kids as you go.
While the BOB Revolution Flex isn't excessively large while in use, it's not the most compact option when it's folded. It also weighs close to 30 pounds, which may be an issue for lifting into your trunk, or the overhead compartment of an airplane when you're traveling. On the plus side, it can be converted into its own travel system with the infant car seat adapter, which is compatible with car seats from most major brands.
Pros
Smooth ride with suspension system and air-filled tires
Adjustable handlebar height
Tons of on-stroller storage
Compatible with most car seats with adapter
Usable with newborns with infant car seat adapter
No-rethread 5-point harness
Large extendable canopy on both seats
Cons
Large and heavy, even when folded
Air-filled tires may be prone to punctures
---
Baby Jogger City Mini GT2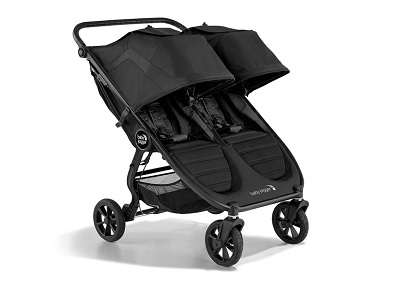 The versatility of the Baby Jogger City Mini GT2 is its main strength. Either of the toddler seats can be replaced with an infant pram or car seat, and it's compatible with popular brands like Maxi Cosi, Britax, and Cybex without an adapter (or many more if you do buy an adapter). The seats are comfortable for babies up to around 50 pounds, and the sun canopies are fully adjustable with a large peek-a-boo mesh window.
The Baby Jogger City Mini GT2 is also one of the easiest double strollers to transport. It uses a one-step fold system, collapsing to a very compact and manageable unit even with the seats on. The weight is reasonable, too, at about 23lbs. That makes it a breeze to both push and lift, while the rubber tires won't go flat if you run over sharp objects. The suspension system handles a variety of terrains well, though the 4-wheel design isn't quite as maneuverable as other options, and the handlebar brakes are helpful when you're stopped on uneven surfaces.
Our only quibble with the GT2 is its on-stroller storage. The under-seat basket has mesh sides, nice for seeing what's inside but not great for weight capacity, and it can only hold about 10 pounds. The seats themselves can handle kids up to 50 pounds, though, and are well-padded with good leg room for taller toddlers.
Pros
Well-padded seats with nice sun canopy
Quick and easy one-step fold
Rubber tires with all-wheel suspension
Adjustable handlebar with hand-operated brake
Good range of available accessories
Compatible with several car seat brands with no adapter
Cons
Not as easy to steer as three-wheel models
Low weight limit on under-seat storage
---
Thule Urban Glide 2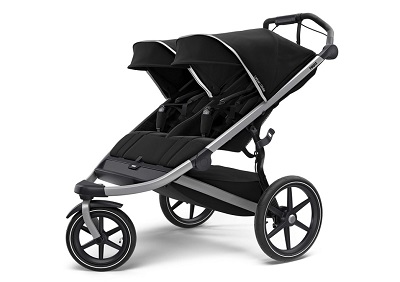 The Thule Urban Glide 2 has everything active urban parents need in a stroller. Its dual seats can recline fully and use a 5-point harness system that's easy to adjust for a secure fit. The handlebar height is simple to adjust, and includes a twist-style brake to secure the wheels when you're stopped. For your bag and other gear, the under-seat storage is large and easy to access, with a zip-shut cover to keep your things secure when you're on the go.
With its swiveling front wheel, the Thule Urban Glide 2 is a breeze to steer even around relatively tight turns. You can also lock it into place when you're jogging so it doesn't veer when you don't want it to. The large wheels can handle grass, dirt paths, and other uneven surfaces, with a suspension system that keeps the ride relatively smooth on all of them.
The seats themselves are roomy with a high-quality canopy, and can be replaced with a Thule infant car seat for newborns (though you'll need to buy the bassinet and adapter separately). It also folds up into a compact package when you need to store or transport it, although bear in mind it's heavier than you might prefer for lifting—one of the heftier options on the list at about 35 pounds. Click here for our more in-depth Thule Urban Glide 2 Review.
Pros
Reclining seats with padded 5-point harness
Maneuverable 3-wheel design with suspension
Swiveling and locking front wheel
Adjustable handlebar height with twist hand brake
Easy one-hand fold
Roomy under-seat storage basket
Cons
Not compatible with as many car seat brands
On the heavier side
---
Baby Jogger City Select Double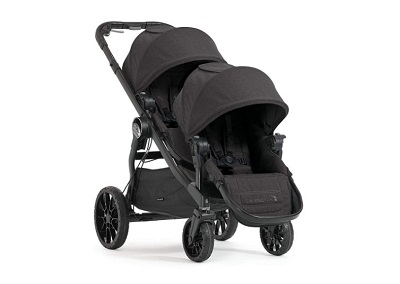 Most double strollers use a side-by-side seat design. With the Baby Jogger City Select Double, the seats are in-line, saving a lot of space in terms of its width. This makes it a better choice for going down narrow park paths or through smaller doorways. It also folds down easily into a very compact package, and can be folded with both seats attached, though it's definitely easier to fold with just one seat.
The two toddler seats that come with the Baby Jogger City Select Double give kids a comfy ride. Both seats can be reclined or reversed, and you can add accessories like an infant pram or ride-along bar for more than 20 configurations total. You will need to buy those extra accessories separately, however. Each seat has its own extendable canopy, which include a window for ventilation or checking in, though the stroller design makes it tricky to check in on the front child from behind the stroller.
The all-wheel suspension on the Baby Jogger City Select means a smooth ride on most surfaces. Its front wheels swivel for easier turns, and can be locked in place while you're jogging. The telescoping handlebar can be adjusted, though its height range is fairly narrow. There's a decent amount of storage, too, with a roomy basket under the seats and pockets on each seatback for smaller items like keys, phones, and wallets.
Pros
Narrower than other options
All-wheel suspension with swiveling, locking front wheels
Reversible and reclinable seats with rotating calf support
Ample storage with under-seat baskets and seatback pockets
Compact when folded, even with second seat attached
Full sun canopies with peek-a-boo windows on both seats
Cons
Not ideal for babies younger than 6 months
Handlebar doesn't have a wide adjustment range
---
Joovy Zoom X2 Double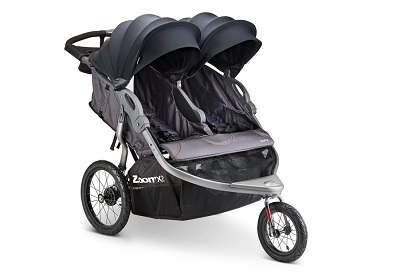 Here's another excellent 3-wheel option for parents who need a stroller that's easy to control and capable of making tight turns. Its tires are large with all-terrain tread, though they are air-filled and can go flat if punctured. While it comes with a tire pump to refill them, that doesn't help if you get a flat while you're out and about.
There are multiple storage areas on the Joovy Zoom X2 Double. The under-seat storage has a 15-pound storage capacity—not the largest, but big enough for most parents. There's also a very helpful organizer on the handlebar, with two water bottle holders and a middle compartment for phones or keys. Additional mesh seatback pockets let you keep all your things secure and organized.
The seats of the Joovy Zoom X2 are ideal for toddlers, with a strap-style reclining system and a nicely padded interior. Each seat has a canopy that's waterproof along with offering excellent sun protection, making this a great option for going out in all types of weather.
Pros
Extra-large under-seat storage and handlebar pocket
Maneuverable with swiveling, locking front tire
Dual waterproof, UPF 50+ sun canopies
Comes with a pump for the tires
Tall handlebar height for taller parents
Fully-adjustable seat recline
Cons
Air-filled tires could be prone to flats
Not suitable for babies younger than 6 months
---
Contours Curve Tandem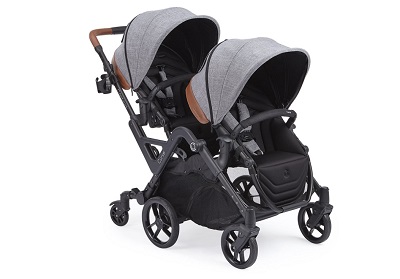 The Contours Curve Tandem is another great option for those who need a narrower stroller. Its in-line design offers a variety of configurations, with both areas compatible with infant car seats from brands like Chicco, Maxi Cosi, and Britax, along with the included toddler seats. Both can also recline almost to fully-flat and can be reversed 360°, giving you lots of options to find the most comfortable position for your kids.
The wheels of the Contours Curve Tandem stroller make it an ideal choice for urban parents. It has extra smaller wheels behind the rear wheels to help it get over curbs, along with a suspension system on all 4 main wheels to ensure a smooth ride. It's also engineered to move smoothly when both seats are occupied and can take tight turns without a problem.
The under-seat storage of the Contours Curve Tandem has a unique design, accessible from both the rear or the side thanks to its zipper-closing flap. It also has a cupholder built into the handlebar so you can grab a drink quickly while you're on the go. The only unfortunate thing is that it's quite heavy, nearly 40 pounds, which can make it more of a pain to lift or load into a car trunk.
Pros
Reversible, reclinable seats
All-wheel suspension with curb assist
Narrower profile with tight turning radius
Sandal-friendly foot brake
Large storage basket with zippable side entry
Compatible with multiple car seat brands
Cons
Lower per-seat weight limit
Highest stroller weight on the list
---
Best All-Terrain Double Stroller: The Verdict
As you can see from this comparison, each of these strollers excels in at least one key area. It all comes down to what you need in a stroller. We hope this review has helped you decide which one is the perfect fit for your family!
FURTHER READING: