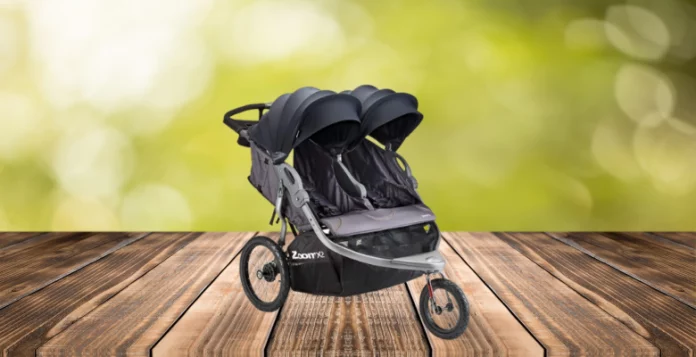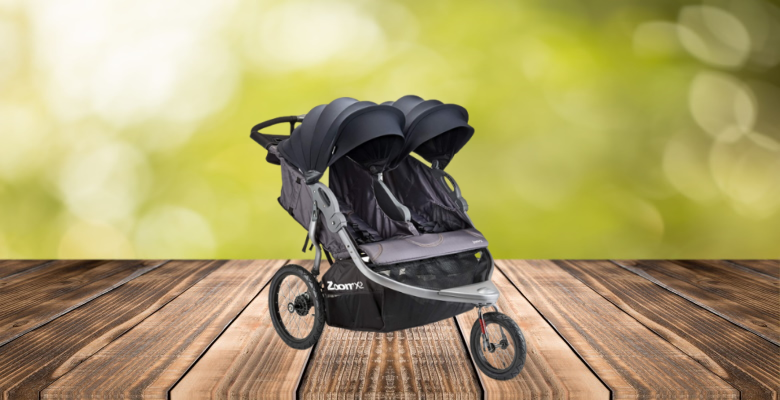 Parents with multiple little ones need all the help they can get. Whether it's twins or two toddlers close in age, you need a double stroller that can keep up.
The Zoom X2 from Joovy is an affordable double-jogging stroller with plenty of features. It's advertised as being lightweight, convenient to use, and able to accommodate the different comfort needs of two children.
In this Joovy Zoom X2 review, we'll see if the double jogging stroller lives up to consumer expectations (>>> Check on Amazon).
Joovy Zoom X2 Review of Specifications:
| | Joovy Zoom X2 |
| --- | --- |
| | |
| Maximum child weight | 100 lbs (50 lbs per seat) |
| Age range | From 6 months to 100 lbs |
| Unfolded dimensions (L W H) | 55.5" x 31.5" x 42" |
| Folded dimensions(L W H) | 35" x 30.5" x 21.5" |
| Weight | 28 lbs |
| Price | Find on Amazon |
Maneuverability
Double strollers aren't always known for their manageable sizes. You worry about fitting down aisles and maneuvering around corners. Even though the Zoom X2 is noticeably wider than an umbrella or tandem stroller, it's still easy to maneuver in urban settings.
Large, swiveling front wheels tackle corners with ease. The stroller also has a width of around 30 inches, so you can make it down aisles without bumping other shoppers. Even crowded airport terminals aren't a problem. The smooth-rolling wheels ensure the stroller keeps moving. Check another option by Joovy, the Kooper X2.
Comfort
Parents will give up a lot to ensure their child's comfort. They don't have to give up anything with the Zoom X2. Each padded seat separately reclines. One child can nap while the other takes in the sights. Each seat can support up to 45lbs, giving you years of use.
An extra-large sun canopy keeps your young ones cool and comfortable. It also comes with a peek-a-boo window so you can keep an eye on your toddlers. It also has an adjustable bumper bar. You can use it at chest level for added protection or in a lower position for leg support. Parents get dual cup holders to keep them hydrated on their outdoor excursions.
Pros
The bumper bar is removable and adjustable
Dual parent cup holders and zippered storage pockets
Large shade canopy with peek-a-boo window
Five-point safety harness for each seat
The seats recline and adjust positions separately
Cons
The stroller is not car seat compatible with or without adaptors. It is not suitable for newborns or infants
Storage
With two children, you need plenty of storage, and the Zoom X2 delivers. It has an extra-large storage basket underneath the two seats. You can fit a couple of diaper bags, along with some small toys or groceries.
Zippered pockets on the seatbacks are perfect for holding your keys and wallet.
Convenience
Not only is the Zoom X2 easy to maneuver, but it's also convenient to use. Even though it's a double stroller, it only weighs around 30lbs. The stroller is a little bulky folded down. It will take up a lot of trunk space but remember it's a double stroller. Find more options if you're looking for the best all-terrain double stroller.
The stroller folds easily down. It comes with a one-hand folding design. It's also just as easy to open back up. You only need one hand, keeping the other free for your children.
Customer Impressions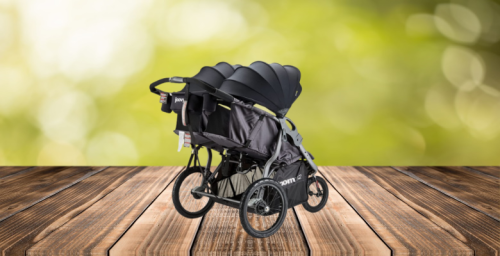 Consumers like the lightweight and compact design. Not only can they use it for outdoor jogs, but also errands. Its large storage basket is another bonus, along with the dual cup holders. Parents also like the larger front wheels that improve maneuverability. Their only complaint is the stroller does not handle bumpy terrain.
Conclusion
The Joovy Zoom X2 comes at a surprisingly affordable price considering what it offers (>>> Find on Amazon). It is a lightweight and compact double stroller designed for parents that like an outdoor lifestyle. The jogging stroller is a breeze to push and maneuver. It's also convenient to use. Best of all, it keeps two little ones comfortable on long and short treks.
It also has a few disadvantages. It is not suited for infants. You are also a little limited on where you can go with the stroller. The wheels are not designed for rough or bumpy terrain. With that being said, it is a great double stroller for urban parents.