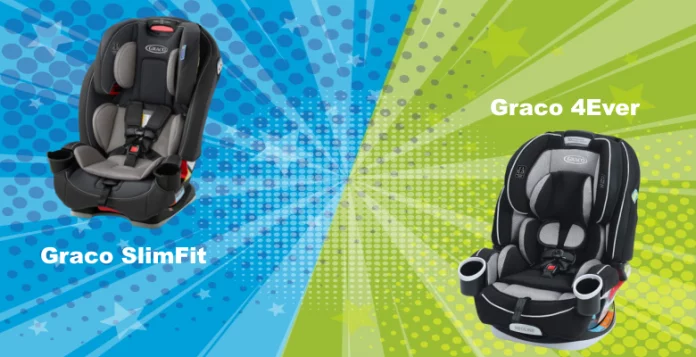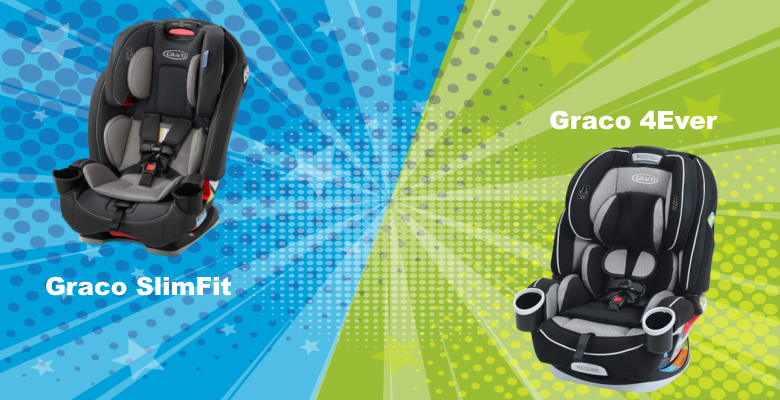 Kids don't stop needing protection during car trips when the outgrow a car seat. Thanks to Graco's line of convertible car seats, you won't need to worry about buying a booster seat for your toddler when they're too big for a rear-facing seat. Instead, you can buy a single piece of gear that does it all.
Looking at the Graco SlimFit vs 4Ever, you'll see they're very similar in both look and functionality. Comparing them side by side, the Graco 4Ever will be the best option for most parents (>>> Check on Amazon), though the SlimFit does still have its strengths. Let's take a closer look at how they stack up side by side.
Graco SlimFit vs 4Ever Side by Side:
| | Graco SlimFit | Graco 4Ever |
| --- | --- | --- |
| | | |
| Child weight | 5-100 pounds | 4-120 pounds |
| Max child height | 57" | 57" |
| Dimensions | 19.9"W X 25.5"H X 21.5"D | 20"W X 24"H X 21.5"D |
| Weight | 19.5lbs | 20lbs |
| Price | Find on Amazon | Find on Amazon |
Convertible Design
The Graco SlimFit has three modes for parents. It starts as a rear-facing car seat that's suitable for children from 5-40 pounds, then shifts into a front-facing harness suitable for kids from 22-65 pounds. Finally, it can be turned into a high-backed booster seat with a weight capacity of up to 100 pounds. In short, it can keep your kid safe during car rides until they're ready to ride with just a seat belt.
The Graco 4Ever shares these same three modes with the SlimFit and adds a fourth, with the option of removing the seat's back entirely and using it as a standard booster seat. Thanks to that, it truly lives up to its forever name.
Most conversion options: Graco 4Ever
Child Comfort
The interior of the Graco SlimFit is well-padded, from the adjustable headrest down to the booster seat. You can also adjust the angle of the seat back, with four positions to choose from, making it easy to get your child comfortably situated.
As comfortable as the SlimFit is, the Graco 4Ever goes just a bit further. It has a bit of extra padding compared to the SlimFit, and those pads can be removed for easier cleaning. It also expands the recline angle options to six, giving parents more precision for finding the ideal comfort zone for their children.
Most comfortable: Graco 4Ever
Value
Even if you find it on sale, the Graco 4Ever typically costs over $200. While its long usable life makes it worth the investment for many, the Graco SlimFit is normally priced at $150 or lower, and offers similar convertability and convenience. This means you'll get even more bang for your buck when you go with the SlimFit.
Better value: Graco SlimFit
---
Graco SlimFit
The 3-in-1 Graco SlimFit is a convenient choice for parents. It starts off as a rear-facing seat for infants as small as 5 pounds, then converts into a front-facing harness and, finally, a highback booster seat that can fit kids up to 100 pounds. All of this is packed into a slim design that's less than 20 inches across, allowing for 3 to fit across in most vehicle back seats. Related comparison: https://babygearabc.com/graco-slimfit-vs-triride/
You can also customize the seat to fit your child perfectly. The seatback has 4 recline positions, making it easy to get the ideal angle. The headrest is also adjustable, with 10 different positions, while the no-rethread harness system lets parents adjust the harness seamlessly at the same time they're adjusting the headrest.
The safety protections on the Graco SlimFit are another point in its favor. It has a steel reinforced core with an Eva foam shell, all of which are ProtectPlus Engineered and put through rigorous crash tests.
Something else parents love about the Graco SlimFit is how easy it is to install in your vehicle, and not just because of the slim design. The push-button LATCH system can be attached in seconds, connecting with an audible click so you can rest assured your child is secure. Check comparison vs. Slimfit LX
Pros
Modular 3-in-1 design
Slim enough to fit 3 across in most seats
Multiple recline and headrest adjustment options
Excellent impact protection
Easy to install
Cons
---
Graco 4Ever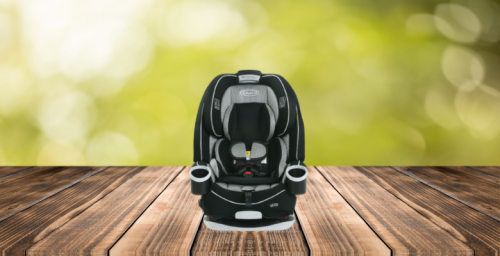 While the modular design of the SlimFit is impressive, the Graco 4Ever goes a step further. It has four seat modes. This includes the rear-facing harness, forward-facing harness, and highback booster seat modes of the SlimFit, along with a backless booster mode that can be used with kids up to 120 pounds, further expanding its capabilities.
The Graco 4Ever uses a similar headrest, with 10 recline positions, and offers even more seatback angles than the SlimFit, with 6 recline levels to choose from. That extra capability doesn't add much bulk, either. The Graco 4Ever is nearly as slim as the SlimFit at 20 inches wide, and weighs about the same, too.
Something else we love about the Graco 4Ever is how plush and comfy the interior is for kids. The removable inserts have multiple layers of padding to ensure your child is comfortable during their ride, and are easy to wash, too. The integrated cupholders are the icing on the cake, giving your kids a convenient place to store their snacks and drinks while you're on the go.
Pros
4-in-1 modular design
Padding is comfortable and easy to clean
6 recline angle options
Easy to install and adjust
Excellent impact protection
Cons
---
Graco SlimFit vs 4Ever: The Bottom Line
The additional backless booster mode and extra recline angle options are the main advantages of the Graco 4Ever, giving parents lots of ways to customize the seat to their child's needs (>>> Find on Amazon). While this will make it the better choice for most, the Graco SlimFit is still a great car seat. Its lower cost is a plus for parents on a budget, and it's also a bit smaller and lighter for those with limited space in their vehicle. Whichever one you get, you can count on it to keep your child secure throughout their childhood.