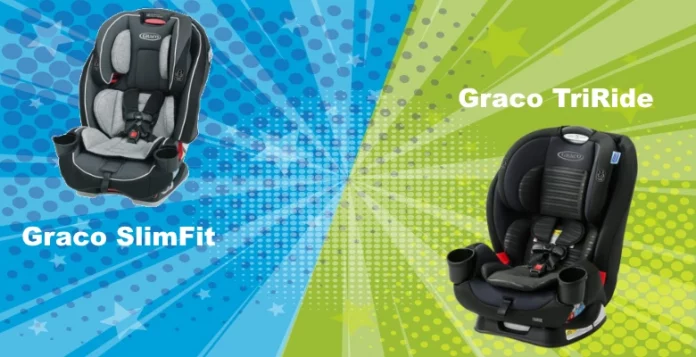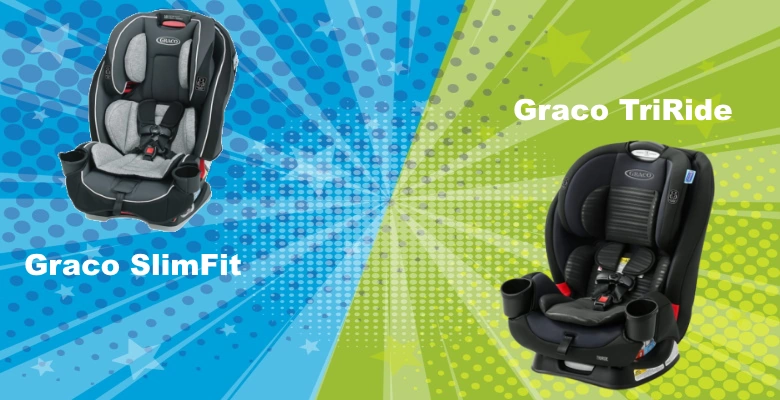 Every parent wants to keep their child safe and comfortable, and a car seat is a great way to do so. Baby gear can get expensive, though, and for parents on a budget, it's hard to justify that expense for something you'll only use a couple of years.
That's what makes Graco car seats such a great option. Their multiple modes extend the usable life of the seat, letting you use them from the day your baby is born until they're old enough to sit in the car without a booster. Looking at the Graco SlimFit vs. TriRide side-by-side, you'll see they're evenly matched when it comes to comfort, value, and safety, but the TriRide takes the edge when it comes to convenience, as you'll see in this side-by-side comparison (>>> Check on Amazon).
Graco SlimFit vs TriRide Side by Side:
| | Graco SlimFit | Graco TriRide |
| --- | --- | --- |
| | | |
| Child weight | 5-100 pounds | 5-100lbs |
| Max child height | 57" | 57" |
| Dimensions | 19.9"W X 25.5"H X 21.5"D | 19"W X 23.25"H X 20"D |
| Weight | 19.5lbs | 18.5lbs |
| Price | Find on Amazon | Find on Amazon |
Seat Size
The Graco SlimFit is already more compact than the typical car seat, and isn't too heavy, either, at around 20 pounds including the base. The Graco TriRide is actually smaller in every dimension, though, saving about an inch in the width, enough you could potentially fit 3 across in most vehicle back seats.
Smaller seat: Graco TriRide
Adjustment Options
Both of these car seats have a convertible design to fit kids of different sizes and ages. They also both offer an adjustable headrest to support your child's head as they grow. The SlimFit only has 4 recline positions, though, as compared to the 6 offered by the TriRide. This makes it easier to find the ideal angle for maximum comfort with the TriRide.
More adjustable: Graco TriRide
Installation Ease
The LATCH system used by both these Graco car seats gives them a fast and simple installation. The TriRide also adds open-loop guides for a car seat belt, making it easier to secure when it's in booster seat mode.
Easier to install: Graco TriRide
---
Graco SlimFit
The Graco SlimFit is a car seat made to grow with your child. In rear-facing mode, it's suitable for newborns as small as 5 pounds. Its front-facing harness mode will keep babies secure until they're old enough to swap the harness for the car's seat belt, at which point you can convert the SlimFit into a booster seat. Whichever mode you're using, the no-rethread harness, 10 headrest heights and 4 recline angles makes it easy to find the ideal position for your baby.
It's also easy to get the Graco SlimFit into and out of your vehicle. As the name suggests, it's about 10% slimmer than most car seats. It also comes with a LATCH base that makes it a snap to load and unload the car seat—quite literally. Not only does it attach in seconds, but it clicks audibly so parents know it's secure. Check related comparison: Graco SlimFit vs SlimFit LX
The steel reinforced frame of the Graco SlimFit helps protect children from whatever happens while they're strapped in. It performs well in crash tests for side, front, rear, and rollover impact protection, whether you're using the front- or rear-facing installations. Check comparison vs. Graco 4ever
Pros
3-in-1 functionality
Slim design fits in any vehicle seat
Adjustable headrest and recline
Steel reinforced frame with high impact protection
Easy LATCH system installation
No-rethread harness is easy to adjust
Cons
Fewer seat adjustment options
Not as easy to secure in booster seat mode
---
Graco TriRide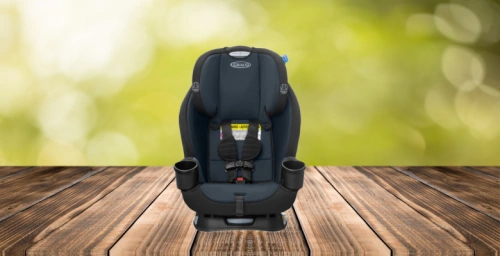 Like the SlimFit, the Graco TriRide has 3-in-1 capability, with rear- and front-facing harness options as well as the choice to use it as a booster seat. It also has the same 10-position headrest and no-rethread harness, though it expands on the adjustment options with a 6-position recline. It also has convenient features like dual cupholders for snacks and drinks, along with integrated storage for the harness when you're not using it.
Installing the Graco TriRide is equally simple, too. It uses a similar LATCH system for the base, with an easy-to-read level indicator on the side. Once converted into booster seat mode, the open loop seatbelt guides make it just as easy to secure the seat as when you use the harness. While it doesn't have "slim" in the name, it's still very compact—almost an inch narrower than the SlimFit, in fact, and about a pound lighter, as well.
The Graco TriRide uses the company's ProtectPlus engineering to ensure maximum protection from crashes, impacts, and rollovers. It also shares the SlimFit's steel reinforced frame, giving it the durability to last for 10 years or more. It's easy to keep clean, too, thanks to the machine washable seat pad.
Pros
3 modes let it grow with your child
6 seat recline positions
Easy to install in all modes
Engineered for safety with steel frame
Dual cupholders built in
Compact design easy to fit in vehicles
Cons
Harness straps are trickier to tighten
---
Graco SlimFit vs TriRide: The Verdict
The Graco SlimFit is a fine car seat, no question. The Graco TriRide matches or exceeds its performance in every category, though, and also costs a little bit less at most stores (>>> Find on Amazon). In our opinion, that makes it the clear winner.
REFERENCES: