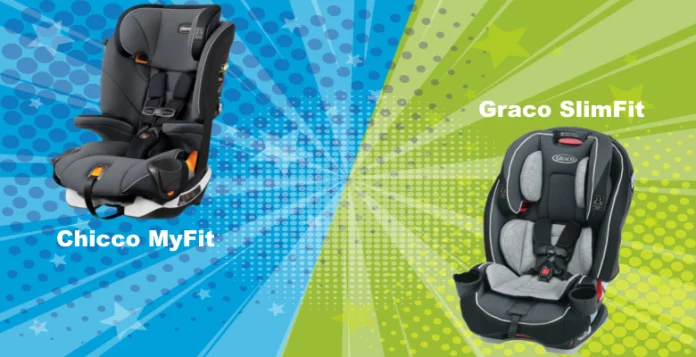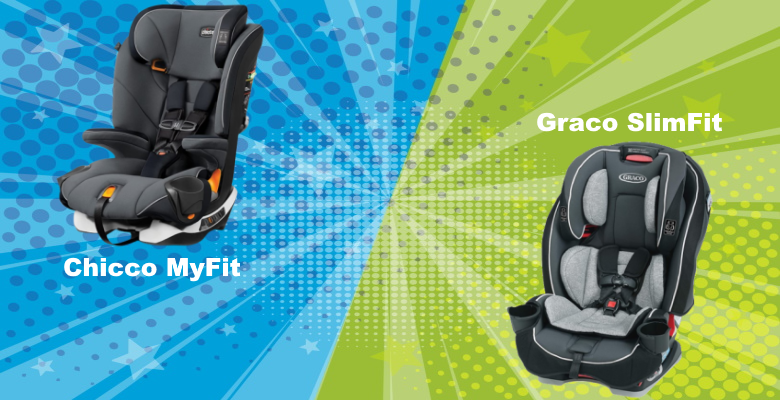 Choosing a car seat can be a complicated process. While comfort and safety features are crucial, you also want a car seat that is easy to install and grows with your baby. Two models capturing parents' attention are the Myfit from Chicco and Graco's SlimFit car seat.
Both come with a lot of the features on parents' wish lists. However, they have differences that can make one a better option for your child.
The Myfit is a two-in-one car seat, while the SlimFit is advertised as a three-in-one. Both models are easy to install, but the SlimFit is a few pounds lighter (>>> Check on Amazon). In this review, we'll take a look at both car seats so you can compare the Chicco Myfit vs the Graco SlimFit.
Chicco Myfit vs Graco SlimFit Side by Side:
| | Chicco Myfit | Graco SlimFit |
| --- | --- | --- |
| | | |
| Child weight | 25-100 pounds | 5-100 pounds |
| Max child height | 54" | 57" |
| Dimensions | 18.75 x 17 x 27 inches | 19.9"W X 25.5"H X 21.5"D |
| Weight | 25lbs | 19.5lbs |
| Price | Find on Amazon | Find on Amazon |
Safety Features
Their child's safety in the car is something every parent worries about. Even a minor accident can have disastrous results when a car seat is not designed to withstand impact shock.
Both car seats come with five-point locking harnesses and steel frames. The sturdy material provides exceptional impact protection without increasing the car seats' size. The Myfit uses two layers of protection. It has a rigid shell and EPS foam, providing plenty of protection.
The SlimFit takes safety one step further. It undergoes Graco's combination of crash tests. It uses ProtectPlus Engineering to protect your child in front, rear, side, and rollover accidents.
Best in Safety: Graco SlimFit
Comfort
When your child isn't comfortable, no one has an enjoyable car ride. Thankfully, it's not an issue with either car seat.
The Myfit comes with a padded harness and a deep ErgoBoost seat. The dual-density foam padding is contoured to provide maximum comfort. Four reclining positions ensure your child is properly supported and comfortable, whether napping or awake.
You'll notice the padding on the SlimFit. It's enough to keep little ones comfy on short and long trips. Like the Myfit, the SlimFit also has a four-position recline. The various reclining positions also make it easier to install the car seat in different types of vehicles.
Best in Comfort: Chico Myfit
Ease of Installation
Something new parents often forget, is a car seat is not a permanent addition to their vehicle. Even families with one vehicle still need to take the car seat out for cleaning. You want a car seat that's a breeze to install in any vehicle.
Myfit uses LATCH connectors, along with the LockSure belt-tightening system. It allows you to easily install the car seat using the vehicle's harness or seat belt. RideRight bubble levers and ReclineSure leveling system make it easy to get a secure fit.
The SlimFit car seat uses the Inright Latch system. The push button design ensures easy use, and the audible click lets you know when the car seat is securely installed. It also helps that the SlimFit is incredibly lightweight. It's a few pounds lighter than the Myfit.
Easiest to Install: Graco SlimFit
Compatibility
A car seat is an investment, and it's nothing something you want to replace every time your child gains some weight or grows a couple of inches.
Myfit is a two-in-one forward-facing car seat that turns into a booster seat when your child is ready. As a car seat, it's rated for use for children 25 lbs. and over. The booster seat can support weights up to 100 lbs. It's designed to grow with your child.
The SlimFit car seat is a three-in-one model. It starts as a rear-facing car seat and changes to a front-facing one. It also turns into a booster seat. In the rear-facing position, it can safely support children around 5 lbs. The booster seat can be used for up to 100 lbs.
Best in Compatibility: Graco SlimFit
---
Chicco MyFit Review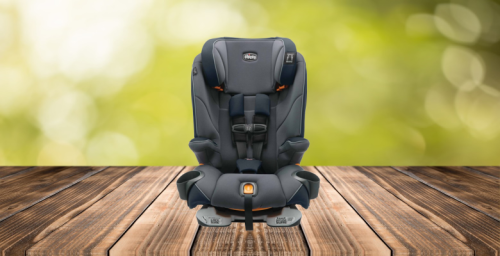 The Chicco MyFit is an extended-use car seat. In the front-facing position it supports children 25 lbs. and up. When your child is ready, the car seat can turn into a booster seat capable of supporting weights up to 100 lbs. The five-point safety harness converts into the belt position for easy installation.
Duoguard technology provides plenty of protection from impact shock, along with the reinforced steel frame. The car seat is also a breeze to install, thanks to the premium latch connectors.
A nine-position headrest ensures your child's continued comfort as they grow. It also has four reclining positions for added comfort, and to make installation a little easier.
The MyFit is a slim car seat, measuring around 18.75 x 17 x 27 inches. It also has a convenient space-saving feature. The dual cup holders are removable with the press of a button. It also makes it easier when it's time for cleaning. The cup holders are dishwasher safe and you can toss the car seat cover into the washing machine.
Pros
Lightweight and slim design
Reinforced steel frame
Dual removable cup holders
Transitions into a booster seat
Nine headrest and four reclining positions
Cons
The car seat is not rated for infants, only children weighing 25 lbs. or more
---
Graco SlimFit Review
Measuring around 21.5 x 19.9 x 25.5 inches, the Graco SlimFit is a little wider than the MyFit. However, it is a few pounds lighter at 19.47 pounds. Add in the push-button Inright latch system and it's a breeze to install in any vehicle. When you need more space in the backseat, the dual cup holders rotate away from the car seat.
Unlike some other car seats, the SlimFit is designed for infants, toddlers, and big kids. It supports weights from 5 lbs. up to 100 lbs. It's a rear and forward-facing car seat that transitions into a booster seat.
A 10-position headrest ensures maximum comfort, along with four reclining positions. The car seat also comes with a harness storage compart when it's being used as a booster seat. Relevant comparison vs. Graco 4ever
---
Conclusion
Comparing the Chicco MyFit vs the Graco SlimFit highlights their similarities and differences. The MyFit is a little slimmer and easy to keep clean, it also turns into a booster seat. The SlimFit is a little more versatile (>>> Find on Amazon). It's a three-in-one car seat. You can use it from birth up to 100 lbs. As you are comparing the two models, think about what your little one needs before making a decision.
Comparisons of Related Child Seats: