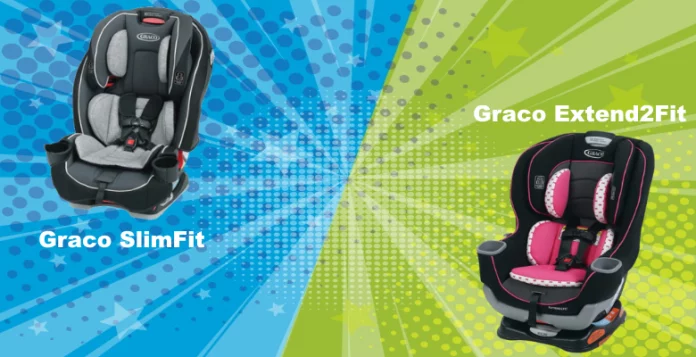 The long usable lifespan of Graco modular car seats makes them an excellent value for parents. That's not their only advantage, either. The option to adjust the seat to your child's height, weight, and age means they'll be more comfortable and secure when you're on the go, and ensures they're fully protected from whatever you encounter on the road.
Looking at the Graco SlimFit vs Extend2Fit, the SlimFit represents the best value for parents thanks to its longer usable lifespan (>>> Check on Amazon). The Extend2Fit has its strengths too, though. Let's take a look at where these two seats differ so you can decide which one is ideal for your family.
Graco SlimFit vs Extend2Fit Side by Side:
| | Graco SlimFit | Graco Extend2Fit |
| --- | --- | --- |
| | | |
| Child weight | 5-100 pounds | 4-65 pounds |
| Max child height | 57" | 49" |
| Dimensions | 19.9"W X 25.5"H X 21.5"D | 19.5"W X 23.5"H X 21.5"D |
| Weight | 19.5lbs | 19lbs |
| Price | Find on Amazon | Find on Amazon |
Child Age Range
The Graco Extend2Fit has two modes of use: rear-facing harness and forward-facing harness. It also comes with padding inserts that make it suitable for newborns as small as 4 pounds. Even with its headrest and angle adjustments, though, it can only fit kids until they're around 65 pounds or 49 inches tall.
The Graco SlimFit adds a booster seat mode to the options of the Extend2Fit. In this mode, the harness is removed so you can thread the car's seatbelt through the belt guide at the headrest's base. This ensures a secure and comfortable ride for kids who are too big for a car seat, but not quite old enough to use just the car's seat belt. This extends its use up until kids are 100 pounds or 57 inches tall.
Wider age range: Graco SlimFit
Rear-facing Performance
The data shows a rear-facing seat is safer for young children, and the longer you can keep them in that position, the better. The rear-facing mode of the Graco SlimFit is suitable for kids up to about 40 pounds, but after that they'll need to switch to forward-facing harness mode.
The extension panel and 6 recline angles of the Extend2Fit keep kids comfortable longer in the rear-facing position. Along with this, it has a higher recommended weight limit of 50 pounds for this mode, so kids can safely ride rear-facing longer than with other car seats.
Better Rear-facing Performance: Graco Extend2Fit
Installation
Both the SlimFit and Extend2Fit use the LATCH system for installation, and in that regard they're equally easy to install in vehicles. However, the SlimFit does take the advantage here by a slim margin. Not only is it a bit easier to install the base, but features like the rotating cupholders, Simply Safe no-rethread harness system, and seat belt guide in booster mode make it quick and simple to adjust the seat or load and unload kids.
Easier to Install: Graco SlimFit
---
Graco SlimFit
With its 3-in-1 design, the Graco SlimFit gives your kids a lot of room to grow. It starts off as a rear-facing car seat for babies up to around 40 pounds. Next, you can flip it around into a forward-facing harness, then remove the harness to turn it into a booster seat. In short, your child can use it clear up until it's safe to just use the car's seat belt. Its high-quality steel frame, foam shell, and polyester interior are all durable enough to hold up to a decade of daily use. Check related comparison vs. Chicco Myfit
You can customize the Graco SlimFit in other ways, too. The headrest has 10 height adjustment options to keep your child's head supported as they grow. A choice of 4 recline positions makes it easy to find the perfect angle, and the no-rethread harness is quick to adjust, as well.
Another strength of the Graco SlimFit is that it can fit in just about any vehicle. In fact, you can fit up to 3 across in most back seats. It takes just seconds to get the seat loaded using the push.button LATCH system, which clicks into place audibly so you know it's secure. The integrated dual cupholders also rotate outwards for easier loading and unloading, and gives kids a convenient place to hold snacks and drinks.
Pros
3-in-1 design
ProtectPlus Engineered for high impact protection
Durable with steel-reinforced frame
No-rethread harness adjusts in tandem with the headrest
Compact and easy to install
Integrated rotating cupholders
Cons
Can't be used as long in rear-facing mode
---
Graco Extend2Fit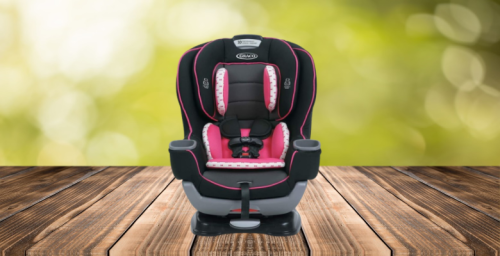 The Graco Extend2Fit lives up to its name. Its 4-position extension panel adds up to 5 inches of extra legroom in rear-facing mode, with 6 recline angles to find the perfect position. It also has a higher weight limit for the rear-facing harness, suitable for kids up to 50 pounds, letting them stay in this safer position for longer before you switch to the front-facing installation. It's also ProtectPlus engineered, undergoing front, side, rear, and rollover crash tests to ensure full protection in the case of an accident.
You'll have adjustment options in front-facing mode, too, including a 10-position headrest to ensure full neck support. The Simply Safe no-rethread harness uses a unique system that lets you adjust both the headrest and harness at the same time, making it a much faster process to find the ideal fit for your child. When the seat's not in use, you can tuck the harness away right into the seat.
Like other Graco seats, the Extend2Fit uses a LATCH installation system with an easy-to-read level indicator on the base. It's also similarly slim to the SlimFit, and though its cupholders are secured in place they're positioned well to allow easy access to the seat. The removable head and body cushion inserts are another nice touch. Not only do these give you more padding to cradle smaller infants, they can also be machine washed, so it's easy to keep the seat clean.
Pros
2-in-1 design with multiple adjustment options
Can be used rear-facing for longer than most car seats
No-rethread harness with built-in harness storage
Easy to install in most vehicles
Removable and machine-washable inserts
Integrated cupholders
Cons
---
The Verdict: Graco SlimFit vs Extend2Fit
The SlimFit costs a bit less than the Extend2Fit from most retailers, and can be used by kids longer before they outgrow it (>>> Find on Amazon). These two factors make it an overall better value for parents, one reason it's our preferred choice between the two. However, the extra inserts and longer rear-facing capability of the Extend2Fit are features that will appeal to many parents. In the end, it comes down to what you're looking for from your car seat.
Comparisons of Related Child Seats: