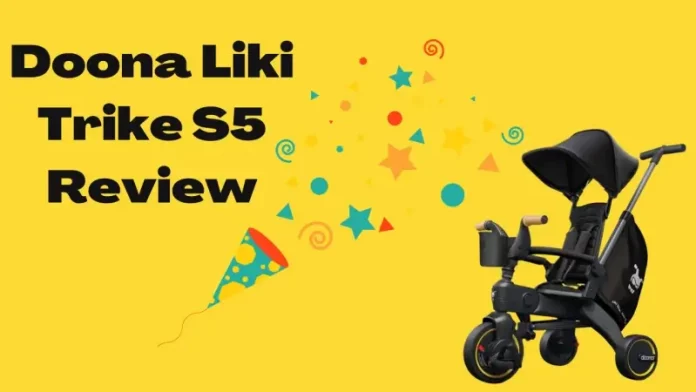 Is your toddler constantly squirming around in the stroller? Maybe your little one is ready to feel like a big kid. While you are not ready to let your toddler pedal off on their own, the Liki Trike S5 from Doona can give younger children a sense of freedom. Your toddler can pedal and steer the tricycle as you keep hold of the handles. Best of all, the tricycle can grow with your child.
While there is a lot to like about the trike, its higher-than-average price point is surprising. We wanted to know if the baby stroller/trike is worth the expense. In our Donna Liki Trike S5 review, we'll find out if the tricycle is worth its price (>>> Check on Amazon).
Doona Liki Trike S5 Review of Specifications:
| | Doona Liki Trike S5 |
| --- | --- |
| | |
| Maximum child weight | 44 lbs |
| Age range | 10 months - 3 years |
| Unfolded dimensions | 39.9"W x 19.7"L x 40.4"H |
| Folded dimensions | 12.6"W x 23.6"L x 9.2"H |
| Weight | 14.8 lbs |
| Price | Find on Amazon |
Pros
Folds easily down to a compact size
Three convertible stages for toddlers 18 months to three years
Durable aluminum frame
Lightweight and easy to use
Comes with a roomy drawstring storage bag and a travel bag
Cons
The trike requires assembly, and the manufacturer does not provide clear instructions.
The cup holder is not convenient for parents
Design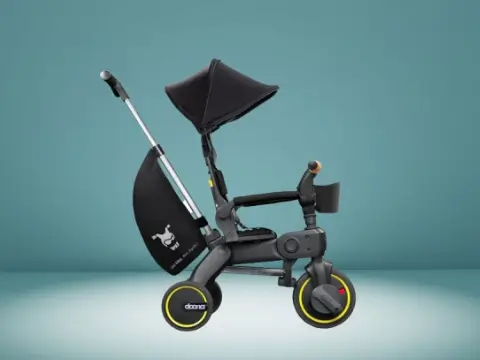 The Liki Trike S5 is a compact foldable tricycle. It has a seat similar to a traditional stroller and a handlebar for parents. What differentiates it from a stroller are the pedals and handlebars for toddlers. The stroller has a dual steering system that is surprisingly uncomplicated. The pedals and handlebars help toddlers develop their motor skills while still keeping parents in charge.
What we like about the Liki S5 is its ability to grow with your toddler. It can start as a stroller to a push tricycle. When your child is ready, it converts to a traditional tricycle. The tricycle is intended for toddlers ages 18 months up to three years.
Comfort and Safety
Before you spend money on the convertible tricycle, you want to ensure your toddler's comfort. Safety is another key issue we look for in a toddler tricycle.
We found that the seat and backrest have minimal cushioning. However, the backrest does feature multiple reclining positions. Some toddlers may experience discomfort on long or bumpy rides. However, the padded shoulder straps and armrests help alleviate some discomfort. The shoulder straps won't rub against your toddler's sensitive skin. A 5-point safety harness keeps active toddlers in their seats. The tricycle also comes with pedal straps. Find a comparison vs. Doona Liki Trike S3.
Ease of Use
Even though the stroller/tricycle is advertised as ready-to-go out of the box, we found some assembly is still required. Unfortunately, the included instructions are a little vague. We ended up using a YouTube video for reference.
What we like about the tricycle is how easy it is to fold down. It measures 12.5 x 23.6 x 9.1 inches folded. You can easily fit the Liki Trike in an airplane overhead bin, car trunk, or even a large duffle bag. Being able to take the tricycle almost anywhere is a convenience any parent will appreciate.
It's also easy to convert the trike to the next stage when your toddler is ready.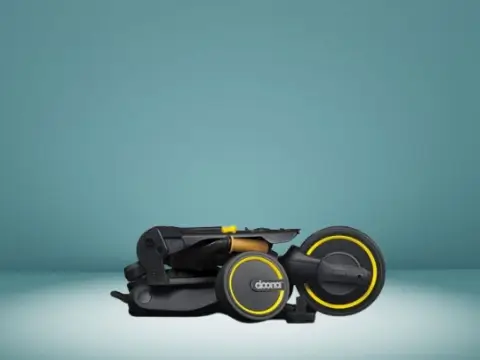 Durability
We are pleasantly surprised with the trike's durability. The seat and backrest are made from high-grade, fiber-reinforced polymers. An aluminum frame keeps the weight off. The trike only weighs a little over six pounds. The frame is also rust-resistant
The wheels are constructed from a durable material. They can handle most bumpy rides. You may want to skip trails with rougher terrain, the trike is not designed to go over large rocks or dips.
Additional Features
We are disappointed with the additional features. The trike has a cup holder, but the placement is awkward for both parents and toddlers. The cup holder is attached to the toddler handlebars, so parents may want to reserve it for their child's use.
A storage bag is also included, and it's great for storing accessories. The only downside is the bag can shift, especially when it's stuffed full. The trike also comes with a sunshade. It's easy to attach and remove as necessary.
We think the wooden handlebars are a nice touch. They are comfortable for toddlers to grasp and give the trike a more grown-up look.
Consumer Impressions
The price is a little offsetting for some consumers. The cup holder and storage bag lack some functionality, and consumers often expect more from a high-end product. What parents love is how easy it is to transition from a stroller to a toddler tricycle. They also appreciate its compact size. When folded, they can take the Liki Trike almost anywhere.
Conclusion
Our Doona Liki Trike S5 review highlights the pros and cons of the three-stage tricycle (>>> Find on Amazon). It may not work for everyone but there are reasons to consider it. The trike has three stages, it's compact and easy to use. Best of all, it can help your toddler develop confidence in their abilities.
REFERENCES: