Your little one is eager to start riding but they're not ready for a traditional tricycle. Doona has the answer parents and toddlers are looking for. The manufacturer's line of Liki Trikes doubles as a stroller and trike. Parents and toddlers get exactly what they want, but which model to choose?
Two popular models are the Doona Like Trike S3 and the S5, and at first glance, it's hard to spot the differences. The strollers are evenly matched in size and convenience. They also come with identical safety features. The S5 is a little higher in price than the S3, but it also comes with a few extra features (>>> Check on Amazon).
Here's what you need to know about these trikes, so you can easily choose the best one for your active family.
Doona Liki Trike S3 vs S5 Side by Side:
Doona Liki Trike S3
Doona Liki Trike S5
Material
95% Polyester, 5% EVA
95% Polyester, 5% EVA
Age range
10 months - 3 years
10 months - 3 years
Collapsed dimensions
12.5 x 23.6 x 9.1 inches
12.5 x 23.6 x 9.1 inches
Dimensions
24 x 13 x 10 inches
24 x 13 x 10 inches
Maximum product load
22 lbs
22 lbs
Price

Find on Amazon





BabyCubby.com




Find on Amazon
Safety Features
Safety is a top priority for any parent, and both Doona Like trikes meet industry standards. Both come with a five-point safety harness and padded shoulder straps. Even active toddlers will stay firmly in the seat
A durable aluminum frame handles bumps without buckling. Both can also support toddler weight up to 44lbs. Add in the pedal straps, and your toddler is safe whether you are using the S3 or S5 as a stroller or trike.
Best Safety Features: Doona Liki Trike S3 vs Doona Liki Trike S5
Comfort
Parents and toddlers look for comfort in a stroller/trike, and both models deliver. From the padded shoulder straps to the cushioned seat, your child stays comfortable on short and longer trips.
A footrest supports little legs in parent and push mode, and don't forget the padded backrest to ensure your child's comfort. Both the S3 and S5 also come with shade canopies, ideal for keeping bright sunlight out of your toddler's eyes.
Best in Comfort: Doona Liki Trike S3 vs Doona Liki Trike S5
Convenience and Ease of Use
Both are relatively compact, but neither model is ideal for tackling crowded aisles. The S3 and S5 are designed more for use on sidewalks and trails. The sturdy wheels can handle most terrain, and the dual-steering system ensures parents can take control as necessary.
You can easily fold the trikes down for storage in a vehicle trunk or closet. The trikes are just as easy to open up. The one-piece design and quick-push button ensure you aren't going to have any problems.
Best in Convenience and Ease of Use: Doona Liki Trike S3 vs Doona Liki Trike S5
Features
The S5 stands out when it comes to additional features. Both come with a convenient cup holder and a handy storage bag. The S5 also boasts a convenient travel bag. Its storage bag is also a little more durable compared to the one that comes with the S3. For families that love traveling, the extra bag comes in handy.
Best Features: Doona Liki Trike S5
---
Doona Liki Trike S3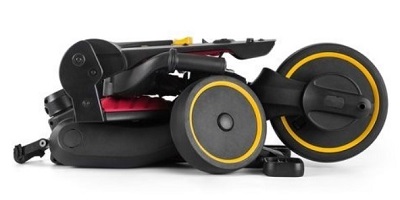 The Doona Liki Trike S3 is designed with parents and little ones in mind. It will grow with your child from 10 months up to three years. It comes with four modes that take the S3 from a stroller to a tricycle. The stroller mode is ideal for children ages 10 to 18 months. From there, parents can use the push and tricycle modes. When your toddler is ready, remove the footrest and parent control bar. It turns the S3 into a tricycle.
An aluminum frame provides plenty of support for children up to 44lbs. It's also rust-resistant, so you don't have to worry about getting caught in the rain. Durable wheels keep the trike rolling over most terrain.
Weighing a little over 16lbs, the trike is ideal for travel. It folds down with a single press of a button and comes with a storage bag. Remove the parent handle, and you can save even more space. If you are worried about assembly the S3 arrives in a single piece. It's ready to go almost right out of the box. For our more in-depth review of the Liki Trike S3 click here.
Pros
No, assemble required
Designed for children ages 10 months up to three years
Five-point safety harness
Aluminum frame
Four pushing and riding modes
Cons
The trike is not designed for use in stores or other crowded places
---
Doona Liki Trike S5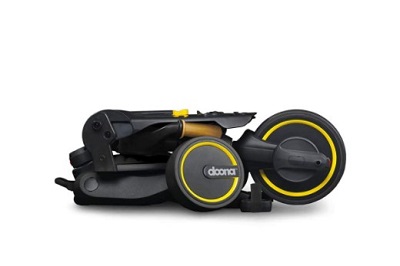 With the Doona Like S5, parents and toddlers are ready for their next outdoor adventure. The S5 gives toddlers the freedom they crave while still keeping them safe. Start in the parent mode, gradually transitioning to the push mode. The tricycle mode still lets parents stay in control until their toddler is ready for bike mode.
A backrest provides added support and helps toddlers keep their balance on all modes but the bike. The parent and push modes come with a footrest. It's also easy to remove when toddlers are ready to use the pedals. Straps keep their feet from slipping off of the pedals and don't forget about the five-point safety harness. It prevents active toddlers from wiggling out of the seat.
The S5 comes with the same features as some other trikes in the Doona Liki line, but it also has a few extras. The trike boasts wooden handlebars. They're comfortable to grasp and give the trike a sleek and contemporary look. (For more tricycles with handles options check this buyer's guide.) The trike also comes with two storage bags, and one is designed specifically for traveling.
Pros
Lightweight aluminum frame
Comes with storage and travel bags
Five-point safety harness
Dual-steering
Durable wheels
Cons
The stroller does not fully recline
---
Conclusion
Comparing the Doona Like Trike S3 vs the S5 highlights their similarities. Both come with the same safety features and are equal in comfort. Where the S5 stands out is with the added features. If your family loves traveling, the S5 might be the better option (>>> Find on Amazon). It comes down to what you are looking for in a trike for your toddler.