For families on a budget, you want to find a car seat at a good price—but you still need it to be safe and comfy for your baby. As you'll see in this Graco SnugRide SnugLock 35 Review, it satisfies on both of these points, and it's user-friendly, to boot. Let's take a closer look at the details so you can see if it's the best car seat for you. (>>> Check on Amazon)
Graco SnugRide SnugLock 35 Review of Specifications:
| | Graco SnugRide SnugLock 35 |
| --- | --- |
| | |
| Maximum child weight | 35lbs |
| Installation Type | Seat Belt |
| Dimensions (WxLxH) | 15.6" X 18.7" X 27.35" |
| Weight | 14.84 Pounds |
| Country of origin | China |
| Price | Find on Amazon |
Installation
There are two ways to install the Graco SnugLock 35 base. The quickest way is to use the LATCH system. The anchors use a clip style, which is easy to put on but can be tricky to take off if you need to move the base. Once the anchors are installed and the LATCH strap tightened, the base feels very secure.
The SnugLock 35 is also very easy to install using a vehicle seat belt. The belt lock-off ensures a snug fit, and it feels equally secure to the LATCH installation. This method will also work without the base if you're using the seat on public transportation.
Adjusting the angle of the base is easy, too. It has 4 recline levels and a clear indicator on the side so you can see at a glance if it's in the right position.
Safety Features
The SnugLock 35 has a sturdy build, and clicks onto the base or stroller when you attach them for a firm connection. For smaller newborns it comes with removable cushions for both the head and body, keeping babies as small as 4 pounds comfortably secure.
The tall shell of the SnugLock 35 uses an EPS foam filling for energy absorption. It performs well in crash tests, exceeding Federal safety standards, so while it's not the best-performing seat on the market it will keep your baby safe in the case of an accident.
The harness of the Graco SnugLock 35 provides a snug and secure fit, but it can take a bit of time to get it in the right position. There are 4 shoulder and 2 crotch positions, so it offers a good range of position options. You'll need to rethread the harness to change the height, though the large holes make this process relatively easy. Similarly, the buckle is secure but it can be a bit stiff, and can be tricky to both connect and remove.
Pros
Easy, quick installation with belt or LATCH system
Attaches to bases and strollers in one step
Adjustable base with level indicator
No adapter needed for use with Graco strollers
Great value
Cons
Harness is difficult to tighten and release
Hard to open the canopy
Only compatible with Graco strollers
Ease of Use
This is the only place the SnugLock 35 is a bit disappointing. The arrangement of the canopy and handle causes them to rub against each other, making it difficult to open the canopy. Along with the stiff harness, this can make it frustrating for parents when they're in a hurry, especially if you plan to carry the car seat rather than using a stroller.
Child Comfort
While the canopy can be tricky to open, it does offer good sun protection for babies and feels as durable as the rest of the seat. There's also a peek-a-boo window that improves ventilation along with letting you check in on your kid. The interior padding is a bit thin but has a nice soft feel, so it shouldn't irritate your baby's skin while they're riding.
Stroller Compatibility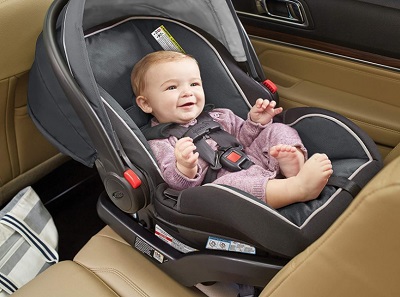 The SnugLock 35 is easy to use with Graco strollers, so if you want to build a travel system that is a good option. Unfortunately, there aren't many adapters available for using it with strollers from other brands. The few that do exist use a strap-in style that's easy to mis-use and isn't as secure as snap-in systems.
Graco SnugRide SnugLock 35 Review: The Verdict
The Graco SnugRide SnugLock 35 is definitely a great value at the price. It's easy to install both with and without the base, and provides great safety protection for your baby. The main downside is that it can be a hassle to use, with a stiff harness clasp and a poorly-designed canopy and handle layout. The lack of compatibility with other stroller brands can also be a deal-breaker for some buyers. For many, though, these are minor sacrifices to make considering the quality you'll get for the price. (>>> Find on Amazon)
REFERENCES AND FURTHER READING: