There are many solid car seat choices on the market, so choosing one comes down to deciding what features best fit you and your baby's needs. The Cybex Aton 2 and the Cybex Cloud Q are both superior and safe seats. Cybex is a trustworthy brand that priorities safety as well as style and convenience, and both these car seats live up to that brand reputation. When comparing these two models to decide which is best, it is a very close race, but the Cloud Q comes out on top in many areas (>>> Check on PishPoshBaby.com). Read on to explore the differences between these two car seats.
Cybex Aton 2 vs Cloud Q Side by Side:
Safety
Your most important question when buying a car seat is going to be, "will this keep my child safe?" The short answer for these car seats is yes. Being of the same brand, both these seats employ many of the same, effective safety features. They both use a Linear Side-Impact Protection System, which increases safety significantly in the event of a side-impact collision. They both also include a load leg base that stabilizes the car seat.
The feature that makes these two seats really exciting and innovative when it comes to safety is the SensorSafe Technology. SensorSafe Technology is a chest clip that sends alerts to your phone when there are unsafe conditions, such as if a baby unbuckles themselves, if the seat becomes too warm or too cold, if the baby has been seated too long, and if the driver leaves the baby behind. This feature alone makes these car seat some of the safest on the market.
Safety: Cybex Aton 2 & Cloud Q
Overall Comfort
When it comes to comfort, a child can rest easy in either of these cushy seats. However, the Cloud Q outshines much of the competition in the world of car seats thanks to its ability to recline! This feature lets the baby sleep comfortably and safely both in and out the car. This is a fairly unique feature, but it is likely to start showing up more and more in car seats.
In addition, an effective canopy providing shelter for your baby from the elements is a significant factor in deciding how comfortable your child will be in all weather. While they both have one, the Cloud Q's canopy provides far superior coverage, with an XXL foldaway sun canopy. The Aton 2 has a very short canopy in comparison.
Most Comfortable: Cloud Q
Ease of Use
Both these car seats are pretty standard when it comes to ease of install, and both can be used without the base. A huge point in favor for Aton 2 when it comes to ease of use is that it weighs in at just 9lbs! How they fit all those great safety features into a lightweight package is a mystery. While the Cloud Q is also pretty light for a car seat at 14 lbs, 5 pounds can be significant and makes the Aton 2 pretty attractive to parents.
However, the Aton 2 features a harness that must be re-threaded as your baby grows. This is a huge pain for many parents. The Cloud Q, on the other hand, has an 11-position height-adjustable headrest with an integrated harness guide. The harness length changes automatically when the headrest is adjusted, which prevents any need for the difficult re-threading! Parents rejoice when they hear this about a car seat.
Easiest to Use: Cloud Q
The Style
Cybex is known for stylish products, and these two car seats do not disappoint. The Aton 2 is a car seat in Cybex's Gold line, and it's sleek, lovely, and quietly elegant. The Cloud Q is considered a part of the Platinum line of Cybex car seats, meaning it is designed to be luxury fashion. It is gives off more of a statement, with exciting bright color options such as Autumn Gold and Passion Pink. For an upcharge, you can also choose from a large variety of beautiful patterns. Its cushier, more modern look makes it stand out as well. Thanks to this, and its huge variety of style options, the winner of this section goes to the Cloud Q.
Best Style: Cloud Q
---
Cybex Aton 2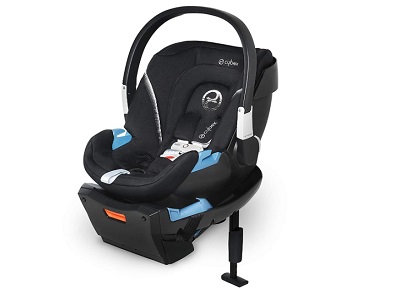 The Cybex Aton 2 is a trusted and secure car seat. It comes with a removable seat insert to provide additional support and safety for smaller babies. Between the SensorSafe technology, Linear Side-impact Protection System, and Load Leg base, this is an extremely safe car seat. For as much as it protects your baby, it also looks great and is convenient to use.
The Aton 2 is compatible with Cybex strollers, as well as many other brands, and can be installed without a car seat base when needed. It does include an integrated sun canopy that looks nice but is smaller compared to others on the market. The feature that makes this seat shine is that it's extremely lightweight! This is something that is extremely important to the on-the-go parent.
While Cybex products themselves are not the lowest in price, Aton 2 is one of their more affordable products, making it a great deal for all the features you get. Since it was introduced, it has often made appearances in online lists for best and/or safest car seat, and most parents are generally very happy with their choice. Click here for our more in-depth Cybex Aton 2 review.
Pros
Cons
Re-thread harness
Small canopy
Limited styles options
---
Cybex Cloud Q
The Cloud Q is an innovative, stylish, and premium car seat. It has all the safety features mentioned above (the SensorSafe technology, Linear Side-impact Protection system, and Load Leg base), as well as a removable newborn insert, so you can rest assured this is a safe car seat. The 11 position harness that removes the need for re-thread, and the very generous canopy, makes this car seat a smart choice. The fact that it is so stylish and offers such a large variety of color options, makes this car seat a fun style choice.
The most unique feature of the Cloud Q is that it is one of the few infant car seats that reclines to a lie flat position outside of the car. It has a longer leg rest that lends to this as well, so the baby can sleep comfortably anywhere. For younger babies, the ability to recline is also an added safety bonus, since lying back can help to keep the baby's head back while they sleep.
The Cloud Q is also compatible with Cybex strollers, as well as many other brands. It is a part of Cybex's Platinum line, and for good reason. While it is higher in price for a car seat, its many features may make it worth it for many parents.
Pros
Can recline
Great canopy
No-rethread harness
Many style options
Cons
More expensive
Slightly heavier
---
Conclusion
Both these car seats are an excellent example of Cybex's ability to create products that are safe, stylish and parent friendly. The innovative safety features, especially the Side-Impact Protection System and SensorSafe, are why parents and consumer testers repeatedly rate Cybex's car seats high on the list. The Aton 2 car seat is one of the more affordable options with all the great features, and it's extremely popular for that. The Cloud Q just barely comes out ahead in comparison thanks to its unique ability to recline, stylish options, no re-thread harness, and superior canopy, which all make it worth the extra cost if it's in your budget (>>> Find on Amazon). Whichever you choose, you can breathe easy while you are driving knowing your baby is safe and secure.