The CYBEX Aton 2 is arguably the safest car seat on the current market—but it also doesn't come cheap. As a new parent you have a lot of gear to buy, so you want to make sure it's money well-spent if you're going to spend this much on a car seat. We'll help you figure out if it's the best seat for you in this CYBEX Aton 2 review. (>>> Check on PishPoshBaby.com)
CYBEX Aton 2 Review of Specifications:
Safety
The Aton 2 has safety features you won't find on most car seats. This includes its Linear Side Impact Protection system, which reduces impact forces as much as 25% in the case of a crash. It also has an adjustable load leg that extends down to the floor, further stabilizing the seat and redirecting impact energy away from your child. Overall, its crash test performance is exceptional, far exceeding federal standards (and its competitors).
The sensor built into the restraint clip of the CYBEX Aton 2 adds another way for parents to keep their kids safe. It integrates with the SensorSafe app, sending alerts to your phone if the restraint is unbuckled or the car gets too hot or cold. The harness itself is sturdy and easy to buckle, though it only offers 3 shoulder heights and 1 crotch strap position, fewer than many car seats. This can make it tricky to get the harness perfectly snug, especially for smaller children.
Installation with the Base
There are 2 ways to install the Aton 2 base. The easiest is the LATCH method, which uses push-button style connectors that are easy to connect and release. It also comes with helpful latch guides and is easy to tighten and secure in place, giving it a fast, simple overall LATCH installation.
The Aton 2 base can also be installed using the car's seat belts. This method takes longer and is a bit trickier, but it does have a color-coded path for the belt, with a lock-off system that keeps the seat fully secure, so if you need to use a seat belt installation it's not too much of a hassle. Whichever way you install it, the ball-style level in the base will help make sure you have it at the correct angle.
Pros
2 easy, secure installation options with the base
Excellent impact and crash protection
Padded 5-point safety harness is easy to secure
Removable newborn insert for babies 4-11 pounds
SenosrSafe app alerts parents to potential dangers
Seat is relatively lightweight
Compatible with a range of stroller brands
Cons
Harness isn't a tight fit for smaller babies
Difficult to install securely without the base
Low-quality sun canopy
Use without the Base
The CYBEX Aton 2 can be secured to a seat without the base using just the vehicle's seat belts. Its color-coded belt path is fairly easy to thread and uses both the lap and shoulder straps. Unfortunately, the seat doesn't feel very stable when installed without the base, and getting the seat strapped in can be tricky even with the color coding.
On the plus side, the seat itself weighs less than 10 pounds, and has a well-designed, comfortable handle. This makes it a good option if you plan to carry the seat with you often, though most will still want to use a stroller for longer distances. If that's the case, you'll have a lot of options. The Aton 2 is compatible with strollers from a plethora of top brands, including UPPAbaby, Bugaboo, Peg Perego, and many more.
Child Comfort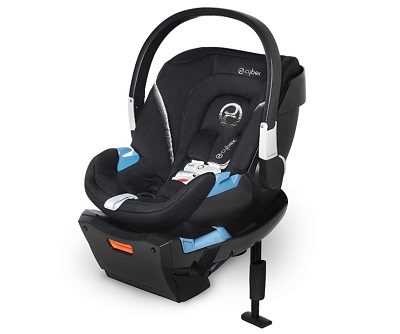 The interior of the Aton 2 feels plush and soft. It uses a jersey knit fabric that's both durable and smooth on a baby's skin. There's an additional pad you can put in for smaller babies to give them a tighter fit, and its similarly soft to the overall interior. The safety harness is padded, too, so while it's a bit tricky to tighten snugly, it's a comfortable fit once you get there.
Our only complaint from a baby comfort standpoint is the sun canopy. It doesn't pull forward enough to provide full protection from the sun, and the plastic front edge is stiff and feels cheap for the price point.
The Bottom Line: CYBEX Aton 2 Review
The CYBEX Aton 2 is a well-made, easy to install car seat. Its high safety rating and wide stroller compatibility are big points in its favor, but it's not perfect. It's not the easiest option to use without the base and the sun canopy design is a bit disappointing. These are minor concerns for many parents, however, and overall it's worth the investment if you're willing to pay a bit more for superior impact protection. (>>> Find on Amazon)
REFERENCES AND FURTHER READING: