Finding the perfect stroller for one or multiple children may have gotten easier with the Geo2. Part of Joolz's line of family strollers, it's easy to fall in love with it at first sight. Its modular design makes it easy to configure the stroller for one or two children. It's a breeze to push, and you can choose between three earth-inspired colors.
Want to find out if it's the right stroller for your family? You can get a closer look in our Joolz Geo2 review. (>>> Check on PishPoshBaby.com)
Joolz Geo2 Review of Specifications:
| | Joolz Geo2 |
| --- | --- |
| | |
| Maximum child weight | 90 Pounds |
| Age range | Birth to 50 pounds |
| Unfolded dimensions | 37" x 23" x 37" |
| Weight | 31 Pounds |
| Price | Find on Amazon |
Safety
Safety is paramount for parents and Joolz. The Geo2 comes with all of the safety features you expect in a stroller. A locking safety harness keeps little ones in the seat, and since it's adjustable it grows with your child.
Locking wheels keep the stroller securely parked even if you take your hands off of the handlebar. A durable, aluminum frame provides plenty of support and ensures the stroller will last for years.
Comfort
The Geo2 will keep your little one comfortable during nap and awake times. Infants will sleep soundly in the bassinet. A retractable sunshade keeps babies cool and keeps bright light out of sensitive eyes.
When your baby is ready, transition to the toddler seat. It also comes with a folding sunshade, with one difference. It has an air-top design. Your child gets plenty of airflow and you can keep engaged with each other. Both the bassinet and toddler are covered in soft fabrics that won't irritate or scratch your child's skin.
Pros
Easy to configure for infants, toddlers, or two children
Bassinet and toddler seat included with the stroller frame
One-hand design for easy steering
Five-point safety harness
Locking wheels
Cons
The adaptors for the bassinet and toddler seat are an additional purchase
Ease of Use
Every aspect of the Geo2 has convenience in mind. It's a breeze to change the stroller's configurations for an infant, toddler, or two children. Unfortunately, you lose storage space by placing the bassinet under the toddler seat. But it's a great option for growing families.
A one-piece folding design makes storage a breeze and a transport lock ensures the stroller stays closed. It's just as easy to open back up. Be careful picking it up. The Geo2 weighs around 31lbs. It's also a full-size stroller, it's not designed for tight aisles and crowded places.
All-terrain wheels tackle sidewalks and nature trails with ease. The stroller also has a one-hand push design. You can control the stroller with one hand, keeping the other free for your baby.
Storage Capacity
A feature parents love is the double-extra-large storage basket. It can easily hold diaper bags, groceries, and anything else you pick up on your walk. Its roomy opening makes it easy to store stuff inside.
The basket is easy to remove when you need to attach the bassinet. Just unhook the straps and store the basket in a dry place.
Consumer Impressions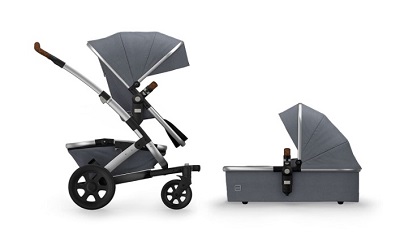 The Geo2 has several features consumers like, starting with its award-winning design. The streamlined chassis, black wheels, and leatherette wrapped handlebar give the stroller a sleek and sophisticated appearance. The stroller's weight is a complaint, but consumers also realize it can carry two children. Its one-hand push design and large storage basket are a few of the features consumers appreciate.
Conclusion
The Joolz Geo2 is more than a full-size stroller (>>> Find on PishPoshBaby). It has three configurations to meet the needs of growing families taking them from infant to toddler with a few simple seating adjustments. Parents can even use the stroller with two children.
It can support up to 90lbs and is a breeze to use. It's also easy to fold the stroller for travel or storage. You will need to assemble the stroller, and don't forget the adaptors for the bassinet.