Are you looking for an affordable and convenient stroller to use in cities or while you're traveling? In this Summer 3D Lite review, we're checking out a model that fits that bill perfectly. Its lightweight and compact design are balanced by a comfortable seat and a range of on-stroller storage options, giving it a good all-around performance for a great price. Let's look more closely at the details so you can see if it's the right option for you. (>>> Check on Amazon)
Summer 3D Lite Review of Specifications:
| | Summer 3D Lite |
| --- | --- |
| | |
| Maximum child weight | 50 lbs |
| Age range | 6 months - toddler |
| Unfolded dimensions | 19.5"W X 42.5"H X 33.5"L |
| Folded dimensions | 13.9"W X 10"H X 42.6"L |
| Weight | 13 lbs |
| Price | Find on Amazon |
Folding and Transportation
As you might guess from the name of the Summer 3D Lite, it's one of the lightest strollers you'll find on the market. The aluminum frame only weighs about 10 pounds, but is still durable enough to stand up to the wear and tear of daily use. That's the perfect combination for traveling parents, and is good news for moving around in cities, too, especially for those who take public transportation.
Carrying the 3D Lite from place to place is easy for other reasons, too. The integrated strap lets you sling it over your shoulder while you walk. For folding, it uses an umbrella fold, collapsing down into very compact package in one fast step. You can start the folding process with the foot release or by hand, and it locks into place once it's fully collapsed.
Wheels and Maneuverability
The wheels on the Summer 3D Lite are designed for use on paved, flat surfaces. They do have an anti-shock system on the front wheels to keep the ride smooth when you're going over small bumps or hazards, but they don't have the tread or suspension to handle rougher terrain.
Within cities, though, the 3D Lite is perfect for zipping around sidewalks or taking into stores. The rear wheels lock into place easily to keep it from drifting when you're stopped. The only issue here is that the handles flex, which can make it a bit harder to steer when you're trying to navigate in tight spaces.
Pros
Lightweight aluminum frame
Well-padded 5-point safety harness
Roomy seat with 4 recline positions
Compact, easy fold with built-in carrying strap
Multiple on-stroller storage options
Removable and adjustable sun canopy
Cons
Under-seat storage has a low weight capacity
Not compatible with car seats or infant bassinets
Child Comfort
For such a compact stroller, the Summer 3D Lite has a surprisingly roomy seat. The 5-point harness is built into the backrest padding, and has movable padding on the shoulder straps to help you find a comfortable, secure fit for your child. There are also 4 different recline positions and it's easy to switch between them, so you can quickly find the perfect position to keep your kid comfy.
Along with the seat itself, the 3D Lite includes a removable and adjustable canopy. It's larger than the canopies on many travel strollers, with a front lip that does an exceptional job keeping the sun out of your baby's eyes.
Built-in Storage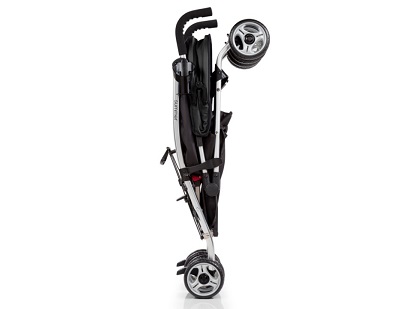 There are multiple places to store your items on the Summer 3D Lite. The under-seat storage has a good amount of room, with mesh sides so you can see everything inside easily and a design that keeps everything contained even when you're in motion. There's also a storage pocket on the seat back and a cupholder on the handle, so you can keep things like your water bottle or wallet close at hand.
The only downside of the under-seat storage is that it can't hold much weight. Its upper weight limit is around 10 pounds, so you won't want to use it to carry lots of shopping bags or other heavier objects. Still, its roomy design is ideal for carrying larger purses or diaper bags while you're on the go.
Summer 3D Lite Review In Summary
There are some things the Summer 3D Lite isn't designed to do. You can't use it to haul all your shopping bags, for instance, and it's not going to perform well on rough terrain or uneven surfaces like cobblestones or grass. It's a great choice for navigating in a city, though, and one of the easiest strollers on the market to fold up and carry with you when you're traveling. (>>> Find on Amazon)