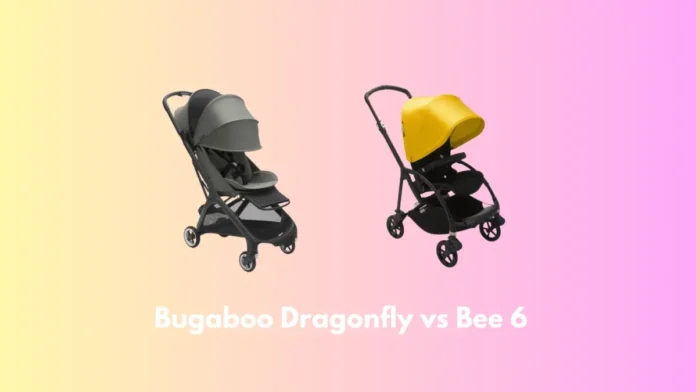 When it comes to compact, lightweight strollers designed with modern parents in mind, Bugaboo's offerings stand out. As an experienced user of Bugaboo strollers, I can confidently share my personal insights on two of their standout models: the Bugaboo Dragonfly (Check on Amazon) and the Bugaboo Bee 6. Let's dive deep into the world of these baby mobility solutions, comparing their features, performance, and customer reviews.
Bugaboo Dragonfly vs Bee 6 Specs Side-by-Side:
Bugaboo Dragonfly
Bugaboo Bee 6
Age range
from birth to ~ 3-4 years
6 months - 4 years
Unfolded dimensions
41.73 x 20.47 x 40.94 in
34.65 x 20.87 x 36.02 in
Folded dimensions
35.43 x 20.47 x 14.17
35.43 x 20.87 x 18.07
Stroller weight
17.4 lb (with seat)
20.72 lb (with seat)
Wheels size
Front: 7 in.
Rear: 8.5 in.

Front: 7 in.
Rear: 7 in.

Reversible Seat
Yes
Yes
Price

Find on Amazon




Find on Amazon



Bugaboo Dragonfly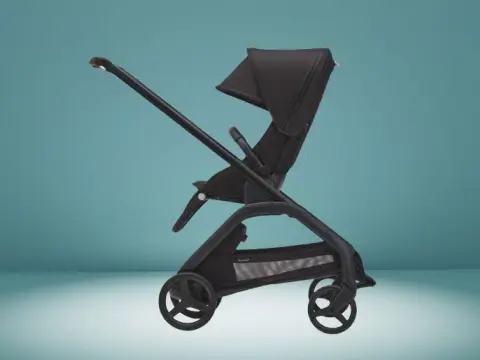 Pros
One-hand, compact fold even with bassinet attached.
Large storage capacity with rear pocket.
Car seat compatibility with adapters.
Integrated self-stand and carry strap.
Advanced suspension for smooth rides.
Cons
Heavier compared to similar compact strollers.
Uncomfortable walk with wheel board attached.
General Specifications & Design
Weighing between 17.4 – 21.8 lbs, the Dragonfly offers an impressive balance between lightness and robustness, accommodating children from 6 months to around 4 years old. Its handlebar height ranges between 39 – 41.3 inches, catering to different user heights. With its seat dimensions measuring 22.8 x 11.8 inches, it comfortably fits most children within the designated age range.
Wheels and Terrain Handling
The Dragonfly features 7-inch front wheels and larger 8.5-inch rear wheels. These sizes, coupled with advanced suspension, make for smooth strolls on various terrains, making it quite versatile for city streets or park paths.
Storage and Capacity
One aspect I appreciate is the storage options, which include a large under-seat basket and an extra rear pocket. With a combined capacity of up to 27.5 lbs, it takes a good chunk of your shopping or picnic items, leaving your hands free for other things.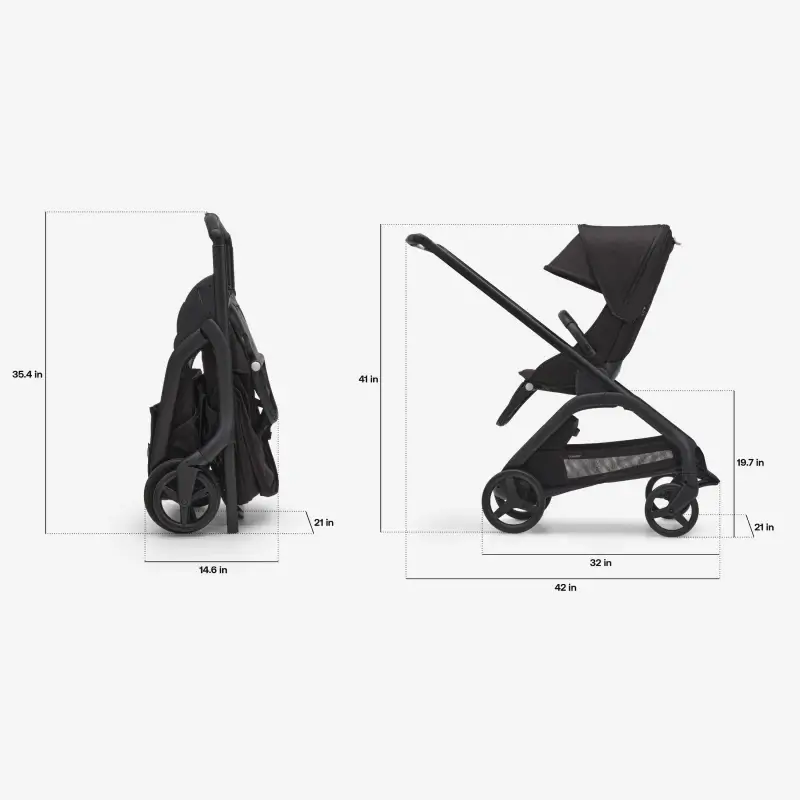 Comfort and Convenience Features
The Dragonfly features a large sun canopy with UPF 50+ protection and a peek-a-boo panel, which is quite practical for keeping an eye on your child during strolls. The seat can be positioned facing the world or parent, providing flexibility for your child's engagement with their surroundings. A unique one-hand, stand-up compact fold, even with the bassinet attached, is a great feature for on-the-go parents.
---
Bugaboo Bee 6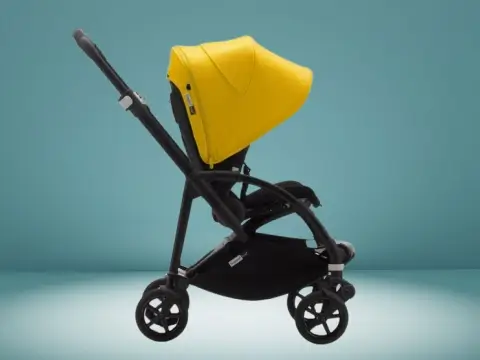 Pros
Ergonomic seat with extra ventilation.
High-quality, durable build.
Large sun canopy for full coverage.
Compact size for city commuting.
Advanced suspension for smooth rides.
Cons
Opening and closing not as easy.
Smaller under-seat storage capacity.
General Specifications & Design
Weighing in at 20.8 lbs, the Bee 6 is slightly heavier than the Dragonfly. Like the Dragonfly, it's designed for children aged 6 months to 4 years old. The adjustable handlebar height ranges from 36.02 inches to 42.91 inches, making it comfortable for parents of different heights.
Wheels and Terrain Handling
The Bee 6 opts for uniform wheel size, with both front and rear wheels measuring 7 inches. Coupled with the advanced suspension system, these wheels ensure a smooth ride on city streets.
Storage and Capacity
The Bee 6 offers an under-seat basket for storage with a capacity of 8.8 lbs, somewhat smaller compared to the Dragonfly's storage options.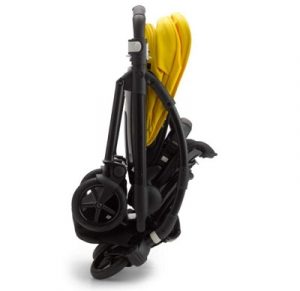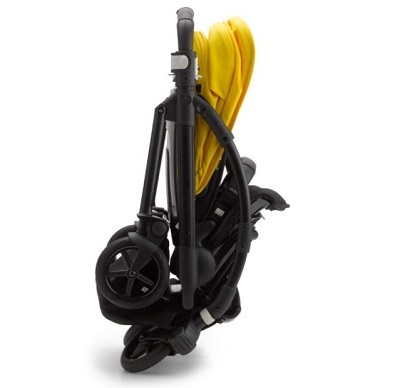 Comfort and Convenience Features
The Bee 6 offers an ergonomic seat with extra ventilation, crucial for maintaining your child's comfort during long walks. The sun canopy is quite expansive and effective against strong sunlight. Additionally, the compact fold and integrated self-stand make storage straightforward, ensuring the stroller stays upright when not in use.
---
Bugaboo Dragonfly Experience
The Dragonfly's one-hand, stand-up compact fold is indeed as convenient as advertised, making it easy to pack up when on the go. Its advanced suspension system and high-performance wheels made strolling around parks, city streets, and stores quite effortless.
The storage options on the Dragonfly are impressively large, making it easy to store everything from baby essentials to groceries. However, the positioning of the rear pocket, when loaded, may get in the way while walking, especially if you attach a wheel board for an older sibling.
The seat seemed comfortable for my baby, although I found myself wishing for a bit more padding. The rotating carry handle is a thoughtful addition, preventing disturbances when moving a sleeping baby.
Bugaboo Bee 6 Experience
The Bee 6's even wheel size provides a smooth ride in city environments. The stroller handled bumps and irregular surfaces quite well, and the compact design made it easy to navigate crowded sidewalks and public transport.
Although the under-seat basket is smaller than that on the Dragonfly, it still provides a reasonable amount of storage. It comfortably accommodates a diaper bag and a few small shopping items.
The seat on the Bee 6 was noticeably more ergonomic than the Dragonfly, with better ventilation. The adjustable canopy provided excellent sun protection.
Bugaboo Dragonfly User Reviews
Users praised the Dragonfly's easy one-hand foldability, even with the bassinet attached, and its generous storage capacity. Its sturdiness and easy maneuverability also received positive feedback.
Some users found the Dragonfly quite heavy despite its compact size. Additionally, some users found the long handlebar somewhat cumbersome when folding the stroller, and the position of the bumper bar awkward when the seat was reclined.
Bugaboo Bee 6 User Reviews
Users were particularly fond of the Bee 6's easy maneuverability and high-quality build. The stroller's large sun canopy was a hit among users in areas with strong sunlight.
Users indicated that folding and unfolding the stroller was not as easy as advertised. Despite its compact size, some users found it a bit challenging to open and close.
Summary & Final Thoughts
Both the Bugaboo Dragonfly and Bee 6 are high-quality, compact strollers, but they cater to slightly different needs.
If storage space and the ability to fold the stroller with the bassinet attached are crucial for you, then the Dragonfly would be the better choice. On the other hand, if navigating busy city streets and public transport is a daily part of your life, the Bee 6's smaller footprint and more ergonomic design may make it the superior option. Buy Now with One-Click on Amazon!
As with any product, it's important to consider your own lifestyle and requirements when making a choice. Remember, the best stroller is the one that makes life easier for both you and your child.