Welcome to our comprehensive Doona Liki Trike Midnight Edition review. We've had the privilege of getting our hands on the world's most compact folding trike, testing its features rigorously, and diving into every detail. Over several weeks, we've examined the Midnight Edition's performance in various real-world scenarios to provide you with an in-depth, first-hand review of this innovative children's trike.  Discover the Best Price on Amazon Today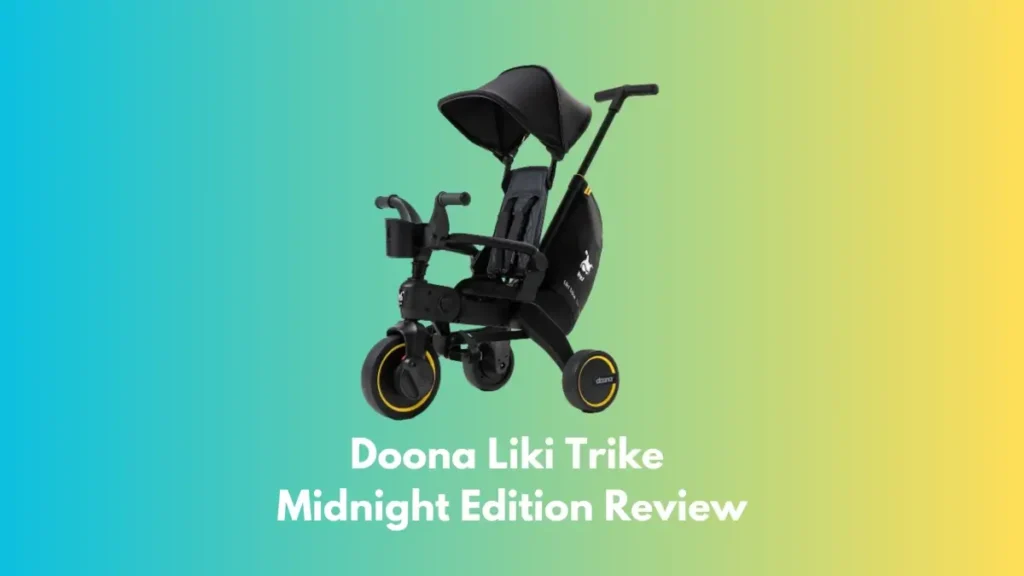 Doona Liki Trike Midnight Edition Specs & Features:
| | |
| --- | --- |
| Where to buy? | Find on Amazon |
| Specifications / Features | Doona Liki Trike Midnight Edition |
| Folded Dimensions (in) | 12.5 x 23.4 x 9.17 |
| Open with Parent Handle (in) | 36.8 x 19.7 x 40.3 |
| Open without Parent Handle (in) | 24.4 x 20.1 x 33.45 |
| Product Weight (lbs/kg) | 14.77 lbs / 6.7 kg |
| Maximum Load (lbs/kg) | 37.5 lbs / 17 kg |
| Suitable for Ages | 10 months - 3 years |
| Included in Box | Doona Liki Trike Midnight Edition |
| Black Shoulder Pads | Included |
| Faux-leather Handlebars | Included |
| Padded Armrest | Included |
| 5 Point Harness | Included |
| Cup Holder | Included |
| Pedal Straps | Included |
| Premium Storage Bag | Included |
| Travel Bag | Included |
| Today's Price | Find on Amazon |
First Impression
Right out of the box, the Doona Liki Trike Midnight Edition is a head-turner. Its sleek, all-black design and faux-leather finishes exude an elegance rarely found in children's ride-on toys. The trike's aesthetic appeal was the first thing that struck us, setting a high expectation for the rest of the features.
Compactness and Portability
Claiming to be the smallest folding trike on the market, the Liki Trike certainly lives up to its name. With its 12.5 x 23.4 x 9.17 inches dimensions when folded, it fits into tight spaces with ease. Even when fully unfolded, with the parent handle attached, its 36.8 x 19.7 x 40.3 inches dimensions are impressively compact. During our testing phase, we found this compactness to be a significant advantage in both urban and crowded environments.
Folding and Unfolding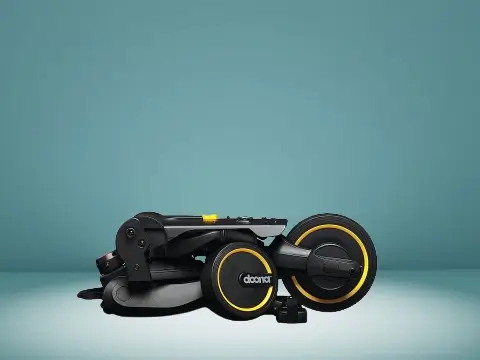 The trike's folding and unfolding mechanism is nothing short of genius. A mere click of a button transforms it from a portable, compact size to a fully operational trike, or vice versa, within seconds. The simplicity of this feature greatly enhanced our user experience during the testing phase. We also noted that despite repeated folding and unfolding, the mechanism remained smooth and robust.
Smooth, Enjoyable User Experience
Thanks to the dual steering system, navigation is a breeze, whether done by the parent or the child. During testing, we took turns navigating the trike through busy parks, across uneven sidewalks, and even up and down slight gradients. The faux-leather handlebars not only add an elegant touch but also provide a comfortable grip, making steering both enjoyable and ergonomic. Check an in-depth comparison vs. Doona Like Trike S5.
Quality Construction and Durability
Despite weighing only 14.77 lbs, the Liki Trike is impressively sturdy, thanks to its construction from premium-grade fiber-reinforced polymers. This robust design was evident in our durability tests, where the trike performed admirably across various terrains, from asphalt and concrete to grass and gravel. The high-durability soft-ride wheels demonstrated their quality, contributing to a smooth ride regardless of the surface.
Capacity and Age Suitability
With a maximum weight limit of 37.5 lbs, the Liki Trike is designed to accommodate children from 10 months to 3 years old. Throughout our testing phase, we found that its 5-in-1 design adapts effectively to children's growth and changing motor skills. We tested the trike with children of various ages within the specified range and found that each age group could use the trike comfortably and safely.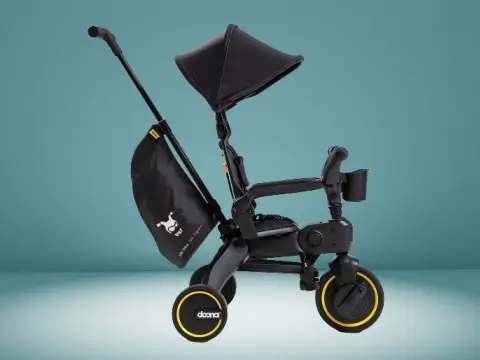 Pros
Compact and portable design allows easy transport and storage.
The folding mechanism operates smoothly and quickly.
Dual steering system facilitates easy navigation.
Numerous accessories enhance the overall user experience.
Comprehensive safety features ensure a secure ride.
Cons
The parent handle may feel slightly flimsy.
Premium pricing might not fit all budgets.
The Ideal Travel Companion
The Liki Trike is designed with travel in mind. Its compact folded size easily fits into a car trunk or an airplane's overhead bin. We took the trike on a short road trip and a domestic flight, and we found that it lived up to its claims, making travel with children significantly more convenient.
Add-Ons and Accessories
The Liki Midnight Edition comes loaded with useful add-ons and accessories, such as black shoulder pads, a padded armrest, a 5-point harness, a cup holder, pedal straps, a premium storage bag, and a travel bag. These accessories enhance the overall riding experience and add a level of comfort and convenience for both parents and children.
Safety Features
The Liki Trike excels in safety, coming equipped with a UPF 50+ sun protection canopy. During our summer testing, we found this feature to be a life-saver, protecting little ones from harmful UV rays. The 5-point harness, which keeps the child securely in place, added an extra layer of safety and peace of mind during our test rides.
Ready to Roll: No Assembly Required
Unboxing the Liki Trike was a breeze. The fact that it comes fully assembled straight out of the box was a real plus. We were able to go from unboxing to testing in a matter of seconds, without any assembly frustrations or confusions.
Customer Feedback
Our extensive testing and positive experiences with the Doona Liki Trike Midnight Edition mirror customer reviews. Users appreciate its portability, easy folding mechanism, and travel-friendly design. While we noticed initial concerns about the parent handle feeling slightly flimsy, we found that it remained sturdy and reliable throughout our testing.
Conclusion
The Doona Liki Trike Midnight Edition is a winner, hands down. It's more than just a trike; it's a fusion of convenience, style, and innovation. After weeks of testing and analysis, we were won over by its compact design, easy operation, safety features, and the overall riding experience it offers. It's more than just a ride-on toy for children; it's a solution for parents seeking a practical and stylish way to mobilize their little ones. The Doona Liki Trike Midnight Edition is a great investment that offers a wealth of benefits for parents and children alike. Find on Amazon
Related Articles: