Choosing the right stroller for your little one is a crucial decision for every parent. A top-notch stroller should ensure your child's comfort while simplifying your life on the go. In this comprehensive comparison of the Bugaboo Dragonfly vs Fox 5, we'll delve into the unique features, strengths, and potential weaknesses of these two standout models from Bugaboo, a leading manufacturer celebrated for its innovative and high-quality strollers.
Through hands-on experience and a careful evaluation of customer reviews, we found that, in the Bugaboo Dragonfly vs Fox 5 contest, the Fox 5 generally emerges as the superior option. Discover the Best Price on Amazon Today! Allow us to guide you in making an informed choice for you and your little one. Let's dive deeper into the details!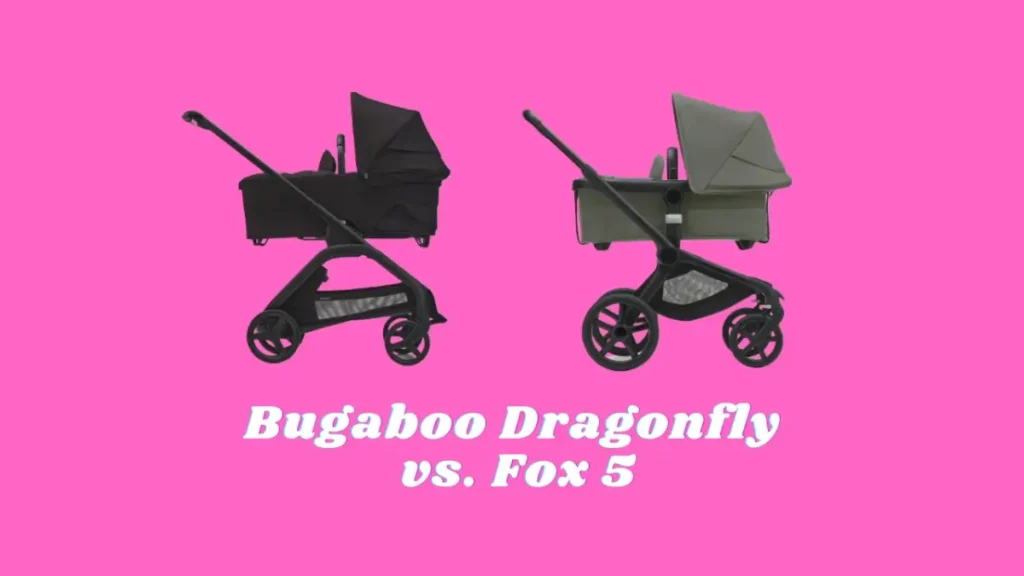 Bugaboo Dragonfly vs Fox 5 Specs Side-by-Side:
Bugaboo Dragonfly
Bugaboo Fox 5
Age range
0-4 years
0-4 years
Bassinet
Optional
Included - with air flow control
Convertible
Yes
No
Unfolded dimensions
41.73 x 20.47 x 40.94 in
36.61 x 23.62 x 41.34 in
Folded dimensions
35.43 x 20.47 x 14.17
21.26 x 17.72 x 9.06
Stroller weight
17.4 lb (with seat)
22.97 lb (with seat)
Wheels size
Front: 7 in.
Rear: 8.5 in.

Front: 8.5 in.
Rear: 12in.

Reversible Seat
Yes
Yes
Warranty
4 year
4 year
Price

Find on Amazon




Find on Amazon
Bugaboo Dragonfly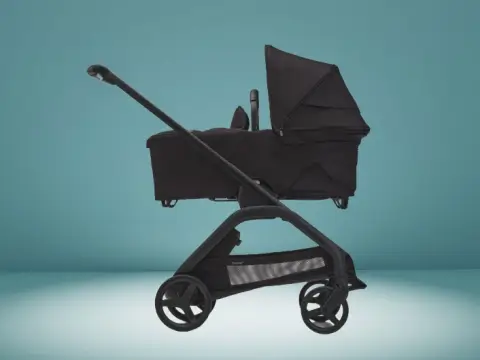 Pros
Compact and lightweight for easy maneuverability in city environments.
Innovative one-hand fold and unfold mechanism for quick stowaway.
Versatile seating options with a reversible toddler seat and adjustable leg rest.
Large underseat basket with extendable rear pocket for ample storage.
UPF 50+ sun canopy for excellent protection against harsh sunlight.
Cons
Some parents may find the frame less sturdy due to its lightweight design.
Lack of attachments for toys or accessories on the bassinet.
The Bugaboo Dragonfly is a true gem when it comes to city strollers. Its compact and lightweight design, coupled with its innovative one-hand fold and unfold mechanism, makes it an excellent choice for urban parents. Weighing just 17.4 lbs, it is easy to navigate through crowded city streets and public transportation and is compact enough to fit into tight storage spaces or the trunk of a small car. Despite its lightweight frame, the Dragonfly is robust and durable, holding babies up to 48.5 lbs. The addition of a carry strap makes it even more convenient for on-the-go parents.
One of the Dragonfly's standout features is its foldability. It folds into a compact size in any position without the need to remove the seat or bassinet, making it super handy for parents juggling a baby and the stroller. Apart from its practicality, the Dragonfly doesn't compromise on comfort. The city stroller offers a lie-flat reversible toddler seat, adjustable leg rest, and a large sun canopy with UPF 50+ protection. It also features an extra-large underseat basket with an extendable rear pocket, providing ample space for all baby essentials. The Dragonfly is a great blend of convenience, comfort, and style that urban parents will appreciate. Check our more in-depth Bugaboo Dragonfly review.
---
Bugaboo Fox 5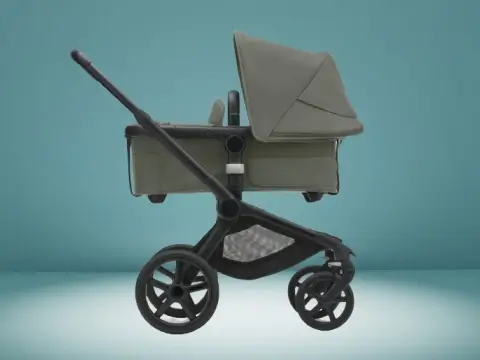 Pros
All-terrain suitability with large puncture-proof wheels and full suspension.
High seating and bassinet positioning for easier access and better visibility.
One-hand fold, backrest recline and footrest adjustment for easy adaptability.
Large, breezy bassinet and a reclinable toddler seat for superior comfort.
Machine-washable fabrics for easy cleaning and maintenance.
Cons
Heavier weight may be less convenient for regular transportation.
Assembling the stroller can be complex and time-consuming for some parents.
Bugaboo Fox 5 stands out as a premier all-terrain stroller, designed to offer unbeatable comfort and maneuverability regardless of the terrain. Weighing slightly heavier at 22.9 lbs, the Fox 5 showcases a sturdy design combined with extra-large puncture-proof wheels and full suspension. This stroller confidently handles uneven paths, from city streets to country trails, providing a smooth ride for your little one. With a seating capacity of up to 50 lbs, this model offers a long-term solution for growing children.
The Fox 5 stands out with its convenient one-hand fold, backrest recline, and footrest adjustment system. With an improved front bridge design, it can automatically stand in an upright position when folded. This all-terrain stroller comes with a spacious, breezy bassinet and a reclinable toddler seat for superior comfort. The sun canopy is extendable for better sun protection, and the stroller is equipped with an aerated 3D comfort mattress for optimal baby comfort. The Fox 5, while being a little bulkier, is built for parents who want versatility, resilience, and superior comfort in all their adventures.
---
Bugaboo Dragonfly vs. Fox 5 Strollers: Important Features Compared
Design and Size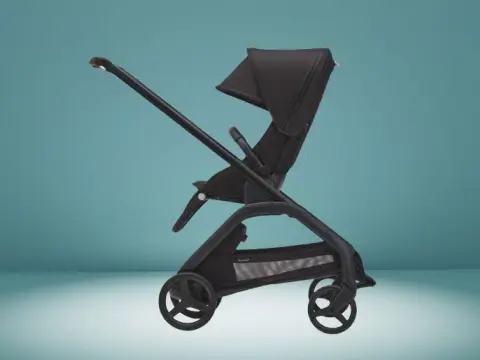 The Bugaboo Dragonfly and the Bugaboo Fox 5 are both stylish strollers, reflective of Bugaboo's commitment to excellent design. However, they cater to different needs when it comes to size. The Dragonfly, being a compact stroller, is more suited for those with limited space or living in urban areas. Its dimensions when in use are 42 x 20.5 x 41 inches and it folds down to 14.2 x 20.5 x 35.4 inches with the seat. With its smaller footprint and innovative one-hand compact fold feature, it is a breeze to navigate in crowded city streets and tight spaces. Its relatively lightweight at 17.4 lbs also adds to its portability.
On the other hand, the Fox 5 is a more substantial stroller. Its unfolded dimensions are 36.6 x 23.6 x 41.3 inches, and it can be folded down to a compact size of 17.3 x 23.6 x 35.4 inches. Despite its larger size, the Fox 5 also features a one-hand fold feature, which allows it to stand independently when folded. While its weight (22.9 lbs) is heavier than the Dragonfly, this contributes to its stability and durability, making it well suited to handle various terrains.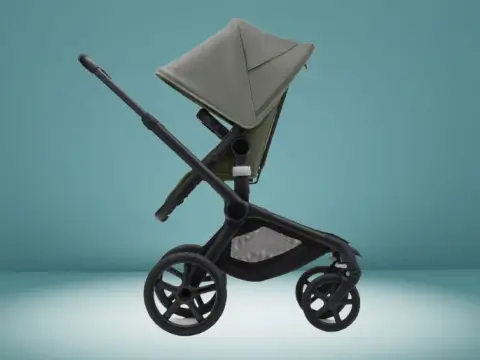 Performance and Comfort
Both strollers prioritize child comfort but excel in different areas of performance. The Dragonfly's stand-out feature is its City+ driving experience, which includes precision steering, enhanced wheels, and smart suspension. These features combined make for a comfortable and smooth ride for your child on city terrains. The stroller's seat and bassinet are made from 100% polyester, providing a comfortable resting spot for your child.
The Fox 5, in contrast, is designed as an all-terrain stroller, featuring large, puncture-proof wheels and full suspension. This makes it exceptionally well-suited for handling rougher terrains and providing a comfortable ride for your child, no matter the environment. It also features an ergonomically padded seat, providing extra comfort during longer journeys. Check our more in-depth Bugaboo Fox 5 review.
Versatility and Features
Both strollers offer versatile seating options, allowing your child to face you or the world. The Dragonfly comes with an innovative rotating carry handle that makes it easy to move your child without disturbing them, a feature much appreciated during our testing. It also has a generous underseat basket capacity of 22 lbs, with an extra rear pocket that can hold up to 5.5 lbs, providing plenty of storage space for essentials. The inclusion of a carry strap adds to the stroller's portability, allowing for hands-free carrying.
The Fox 5 also shines with its versatility, featuring an extendable sun canopy for added comfort and visibility. The stroller's underseat basket is large, offering plenty of storage space for strolls. One unique feature of the Fox 5 is its extendable seat length, providing additional room as your child grows. Furthermore, the Fox 5's bassinet comes with breezy panels and an aerated mattress, offering first-class comfort.
Customer Reviews
Customers appreciate both strollers, but there are pros and cons for each. Dragonfly users love its compact size and easy foldability, but some wish for a more cocooned feel for the bassinet. On the other hand, Fox 5 users rave about its ability to handle diverse terrains and its robustness, but some find the assembly challenging and the size a bit too large for car travel.
Sustainability
Both strollers incorporate sustainable elements, with the Dragonfly featuring bio-based materials to reduce CO2 emissions.
Quality and Durability
Both strollers exude an air of quality and durability, but the Bugaboo Fox 5 takes it up a notch. As an all-terrain stroller, it's built to handle different environments and wear-and-tear over time. Its slightly heavier weight and sturdy construction offer excellent stability and durability. Customers have reported that the Fox 5 has gone through various terrains from mountains in winter to sandy and rocky beaches in the summer without showing signs of use, attesting to its robustness.
The Bugaboo Dragonfly, while not as heavy-duty, is still very well-built. Its lightweight design does not compromise the stroller's sturdiness. The quality is evident in its precision steering, enhanced wheels, and smart suspension, which hold up well to frequent use in city environments. While not explicitly designed as an all-terrain stroller, users have found it reliable and durable in their daily use.
Ease of Use
Both strollers are designed with user convenience in mind. The Bugaboo Dragonfly stands out with its innovative one-hand compact fold and unfold feature, which can be done without removing the seat or bassinet. This feature is particularly helpful when you are holding your baby in one arm and need to quickly fold or unfold the stroller with the other. The included carry strap also allows for 100% hands-free carrying, which is a welcome addition.
The Bugaboo Fox 5, while not as compact, is still designed for convenience with its one-hand fold, backrest recline and footrest adjustment. Despite its larger size, it can automatically stand in a self-stand position when folded. However, as noted in some customer reviews, the assembly process may be challenging and time-consuming, requiring a good understanding of the instructions.
Accessories and Customization
Bugaboo offers a wide range of accessories for both strollers, and each stroller comes with a set of Turtle by Nuna car seat adapters, adding to their flexibility and usability. The Bugaboo Dragonfly can be easily customized with most Bugaboo baby accessories such as the cup holder, wheeled board, and car seats.
The Bugaboo Fox 5 is also compatible with most Bugaboo pushchair accessories, further enhancing its versatility. It comes with a rain cover, protecting your child from sudden weather changes, and an extendable sun canopy for added comfort and visibility.
Overall
Both the Bugaboo Dragonfly and Fox 5 are excellent choices, each offering distinctive features that cater to specific needs and lifestyles. For those prioritizing a compact size, lightweight design, and easy maneuverability in city terrains, the Bugaboo Dragonfly emerges as the prime pick. However, when it comes to handling a variety of terrains while providing superior comfort, even with its larger size, the Bugaboo Fox 5 outshines its counterpart. Find on Amazon Today! Despite some customers noting assembly challenges with the Fox 5, its overall performance and features make it the better option in the Bugaboo Dragonfly vs Fox 5 comparison. Regardless of your final choice, both strollers exemplify Bugaboo's unwavering commitment to delivering high-quality, functional, and stylish strollers.
Related Comparisons: