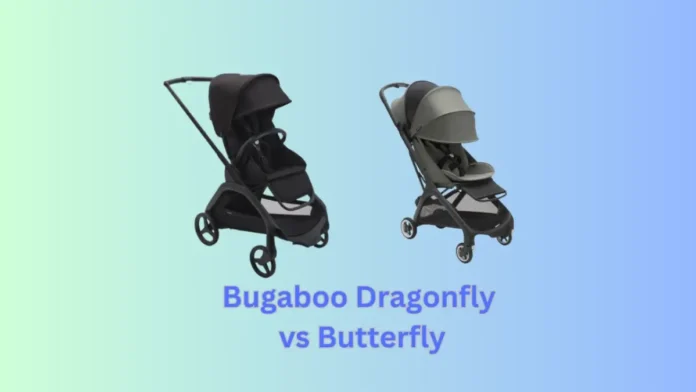 As proud parents and seasoned stroller testers, we're thrilled to embark on an in-depth comparison of the Bugaboo Dragonfly and Butterfly strollers. Both models come with their distinct features and benefits. Although we have a slight preference for the Bugaboo Dragonfly, due to certain advantages we'll elaborate on, the choice is ultimately down to your individual needs and preferences. Check the Latest Price on Amazon Now! So, join us as we delve into the nuances of these remarkable strollers, allowing you to make an informed decision that perfectly suits your family's needs.
Bugaboo Dragonfly vs Butterfly Specs Side-by-Side:
Bugaboo Dragonfly
Bugaboo Butterfly
Age range
from birth to ~ 3-4 years
6 months - 4 years
Unfolded dimensions
41.73 x 20.47 x 40.94 in
36.42 x 17.72 x 40.31 in
Folded dimensions
35.43 x 20.47 x 14.17
21.26 x 17.72 x 9.06
Stroller weight
17.4 lb (with seat)
16.1 lb (with seat)
Wheels size
Front: 7 in.
Rear: 8.5 in.

Front: 4.7 in.
Rear: 6 in.

Reversible Seat
Yes
No
Basket Capacity
22 lbs.
17.6 lbs.
Warranty
4 year
4 year
Price

Find on Amazon




Find on Amazon





Pishposhbaby.com
Bugaboo Dragonfly

Pros
High-performance wheels handle various terrains smoothly.
Advanced suspension ensures a stable, comfortable ride.
Spacious storage with an extra rear pocket.
Adjustable handlebar suits parents of different heights.
Rotating carry handle doesn't disturb a sleeping baby.
Cons
Slightly heavy, making it hard to lift.
Requires two hands to fold, which can be inconvenient.
After testing the Bugaboo Dragonfly, we found that it offers a smooth, enjoyable experience both for the parent and the child. The Dragonfly's high-performance wheels and advanced suspension system really stand out in daily use, handling both city pavements and park trails with equal aplomb. The ride is smooth and stable, and the child seemed comfortable and content throughout.
The adjustable handlebar height is a big plus, making it comfortable for both shorter and taller parents to push without straining their back. The rotating carry handle also comes in handy when you need to move the stroller without disturbing a sleeping baby. However, the stroller does feel a bit heavy, especially when trying to lift it into a car trunk or navigate stairs.
As for storage, the under-seat basket is spacious enough to hold a diaper bag, some shopping, and even the odd toy or two. The extra rear pocket is a neat touch and perfect for keeping smaller items within easy reach.
Despite its heft, the Dragonfly folds up reasonably compactly, though it does require two hands to do so. Once folded, it can stand independently, which makes it easier to handle and store.
---
Bugaboo Butterfly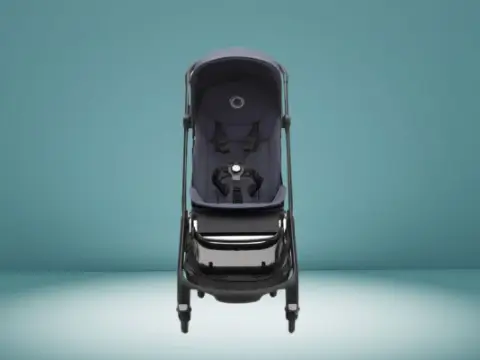 Pros
Lightweight and compact, ideal for urban use and travel.
One-hand recline quickly adjusts the seat position.
Large, easily accessible storage basket.
Handles well on city streets and smooth paths.
Lower priced
Cons
Struggles on rougher terrain due to smaller wheels.
Fabric quality seems prone to pilling after frequent use.
Our experience with Bugaboo Butterfly was mostly positive. The stroller is noticeably lighter than the Dragonfly, which is a big plus if you're frequently lifting it in and out of a car or navigating stairs. It handles well on city streets and smooth paths but struggles a bit on rougher terrain due to its smaller wheels.
The seat is quite comfortable, and the one-hand recline is a handy feature for adjusting the seat position quickly and quietly. The canopy provides excellent coverage, and the peek-a-boo window is a nice touch for keeping an eye on your little one.
The Butterfly's storage basket is similarly spacious and easily accessible from the front or the back, which can be a lifesaver when you're trying to retrieve something without disturbing a sleeping child. The stroller folds up compactly with just one hand, a feature that is particularly appreciated when you're juggling a child, a diaper bag, and the stroller itself.
One minor drawback we noticed was the fabric quality. Despite careful handling, there was some noticeable pilling after a few weeks of use. It doesn't affect the stroller's performance, but it does detract from its overall look and feel.
Bugaboo Dragonfly vs. Butterfly Strollers: Important Features Compared
General Specifications
Our experience with the Dragonfly reveals a sturdily built, comfortable compact and lightweight stroller. It weighs between 17.4 to 21.8 lbs depending on your setup and is suitable for children from 6 months up to approximately 4 years (max. 50 lbs).
The Butterfly is even lighter, weighing just 16.09 lbs, and can hold children up to 48.5 lbs, again for 6 months to approximately 4 years old. Being an ultra-compact stroller, it offers more mobility and portability.
Foldability & Storage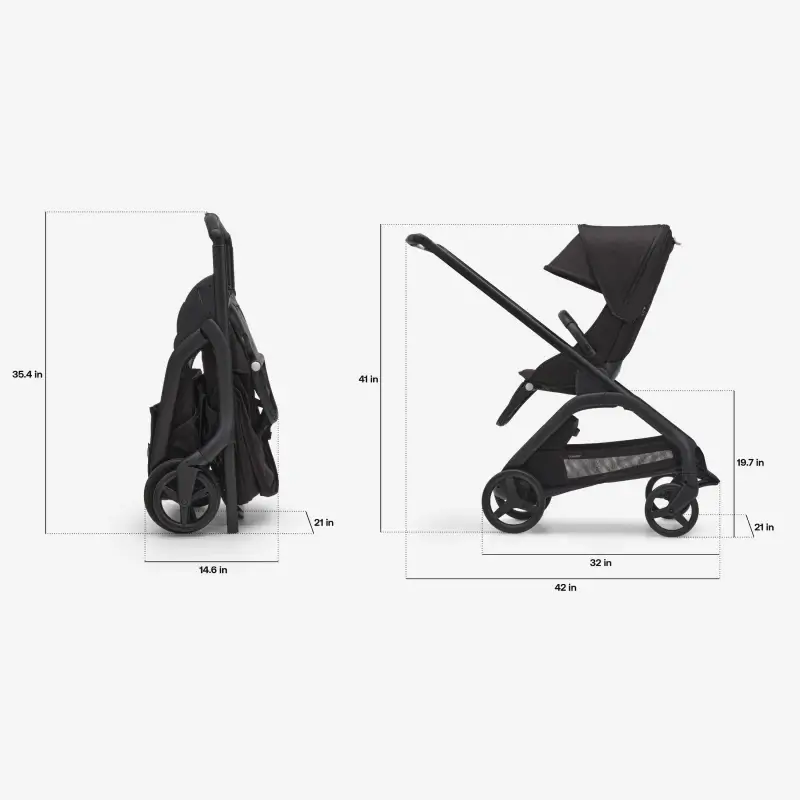 The Dragonfly impressed us with its unique one-hand, stand-up compact fold WITH or WITHOUT the bassinet attached. The advanced suspension and high-performance wheels make for effortless strolls on various terrains. Plus, it has a fantastic storage system with a 22 lbs capacity underseat basket and a moveable rear pocket.
The Butterfly folds and unfolds in a lightning second without adjusting anything. Although it has a smaller underseat basket capacity (17.64 lbs), it still gives you ample space for your essentials. Its compact fold is IATA compatible, making it ideal for travel.
Handlebar & Seat Comfort
With its adjustable handlebar height ranging from 39 – 41.3 inches, the Dragonfly accommodates parents of different heights. The seat dimensions are comfortable at 22.8 x 11.8 inches. However, some customers felt the seat could be a bit more cushioned for extra comfort.
The Butterfly's handlebar height is fixed at 40.31 inches, which may be less flexible for some users. The seat is large and adjustable, providing first-class comfort for growing babies.
Materials & Cleaning
The Dragonfly boasts 100% polyester fabrics and 100% vegetarian leather handlebar grips. All fabrics are machine washable at 86°F, and the faux leather grips can be cleaned with a damp cloth, making it easy to keep clean and fresh.
The Butterfly's sun canopy is 100% polyester while the footrest fabric is 100% polyamide. The seat inlay, underseat basket, and carry strap fabrics are machine washable at 86°F. However, the base seat fabric should be washed by hand.
Stroller Components
Both strollers come with chassis with wheels, underseat baskets, and integrated carry straps. The Dragonfly includes a rotating bumper bar and set of Turtle by Nuna car seat adapters, which the Butterfly does not offer. However, the Butterfly comes with an integrated leg rest adjustable to 5 different positions, and a rain cover.
Additional Features
The Dragonfly stands out with its flexible storage system, integrated self-stand, and car seat compatibility with an adapter. It also features a peekaboo canopy with a pop-out visor and an effortless rotating carry handle.
The Butterfly impresses with its ease of use, ultra-compact fold, and adjustable seat. It's small and lightweight, including the leg rest, carry strap, and seat inlay.
Real-life Experiences
Durability and Build Quality
When considering the overall construction and durability, the Dragonfly and Butterfly strollers both show strong promise. They both stand strong and sturdy, living up to the Bugaboo reputation. Their frames feel durable, reliable, and are designed to endure rigorous daily use. However, the Dragonfly is a bit heavier, contributing to its strong, grounded feel.
The Dragonfly features high-performance wheels that are a bit larger, making for an effortless stroll even on challenging terrains. This aspect is critical for those planning to use the stroller in varied environments, be it the city streets or off-road paths. One user of the Dragonfly praised its durable frame but also highlighted its less than ideal weight.
In contrast, the Butterfly is built with a lighter frame, and its wheel size is smaller, making it more suited for city strolls rather than rugged landscapes. The lighter weight of the Butterfly might make it a better option for those who prioritize easy portability over sturdy construction.
However, customer reviews have pointed out that the Butterfly fabric does not seem to be as durable as one might expect from Bugaboo. Multiple reviews noted fabric pilling and scuffing after only a few weeks of use, a problem that we didn't see mentioned for the Dragonfly.
Maneuverability and Comfort
Ease of use is a crucial factor when choosing a stroller, and both strollers shine in this aspect. The Dragonfly boasts advanced suspension and high-performance wheels that make pushing it effortless, even on challenging terrains, like gravel or uneven sidewalks. The rotating carry handle is a thoughtful feature as it doesn't disturb the baby's sleep when you need to move the stroller. However, one customer noted that it was slightly less comfortable to walk with when a wheelboard for an older child was attached.
The Butterfly, on the other hand, while also easy to push, may not offer the same level of smooth rides on all terrains due to its smaller wheel size. The stroller's one-hand recline offers easy adjustment, which can be a major plus when your baby falls asleep and you need to quickly and quietly adjust the seat position.
As far as comfort is concerned, both strollers offer an adjustable seat and leg rest for optimum comfort. But as one customer noted, the Dragonfly seat could use a little more cushioning. While this didn't seem to bother the baby, it was an area that the parent felt could use improvement.
Conclusion
In wrapping up, both the Bugaboo Dragonfly and Butterfly strollers have their unique strengths and areas for improvement, and the ultimate choice lies in the alignment with your individual needs and lifestyle. The Dragonfly, being a robust and sturdy stroller, thrives on handling diverse terrains, standing out as our slightly preferred option due to its exceptional versatility. Find it on Babycubby.com On the other hand, the Butterfly, with its lighter, more compact structure, is the perfect companion for urban adventures and frequent travel. Regardless of the choice, both models are equipped with ample storage and ingenious design features that make each outing a joy. Remember, the best stroller is the one that fits seamlessly into your life, creating convenience and comfort for both you and your little one.
Related Comparisons: