Travel strollers are convenient for parents on the go, but most of these models are lacking in other areas like the seat comfort or under-seat storage capability. The Bugaboo Butterfly bucks this trend. This super-compact and lightweight stroller matches other models in the Bugaboo line for durability, ease of use, and seat comfort, giving it the features of a full-sized stroller with the convenience of a micro design.
Still not sure whether the Butterfly is the right stroller for your family? In this Bugaboo Butterfly review we'll take a closer look at its features and capabilities so you can make an informed decision (>>> Check on Pishposhbaby).
Bugaboo Butterfly Review of Specifications:
Bugaboo Butterfly
Maximum child weight
48.5lbs
Age range
6 months-4 years
Unfolded dimensions
36.4" X 17.7" X 40.3"
Folded dimensions
17.7" X 9.1" X 21.3"
Weight
16.1lbs
Price

Pishposhbaby.com





Find on Amazon





Steering and Maneuverability
The all-wheel suspension of the Bugaboo Butterfly gives it a smooth ride on paved surfaces and relatively even surfaces like lawns or park paths. Between this and its lightweight build, it's also very easy for parents to push and steer, even when it's fully loaded.
Now, the wheels of the Butterfly aren't as large as those on other Bugaboo strollers, with 4.7-inch front wheels and 6-inch rear wheels. They also lack the tread you'll find on all-terrain stroller tires. Because of this, it's more difficult to steer and push on uneven and soft surfaces, and is best used in cities, suburbs, and other places that are mostly paved and smooth.
Child Age Range
Out of the box, the Bugaboo Butterfly is suitable for babies as young as 6 months. It has a similar upper weight limit to other Bugaboo strollers, just under 50 pounds, which lets most kids use it until they're about 4 years old.
You can also add from-birth capability to the Bugaboo Butterfly by using it with an infant car seat. Compatible seats include the Bugaboo Turtle One and Turtle Air, as well as select seats from Maxi-Cosi, Cybex Aton, and Nuna. The only thing to keep in mind here is that you'll need to buy both the seat and adapter separately since neither comes included with the stroller.
Pros
All-wheel suspension for a smooth ride
One-second fold
Large adjustable seat with 5-position leg rest
Under-seat storage is roomy and easy to access
Ideal for travelers
Compatible with car seats using adapters
Water-resistant seat materials are easy to clean
Cons
Not usable for infants out of the box
Toddler seat is non-reversible
Wheels not suitable for all-terrain use
Seat Comfort
The seat of the Bugaboo Butterfly is well-padded and roomy. It's also easy to adjust, with a 5-position leg rest and a one-hand recline, letting parents quickly find the perfect comfy position for their kid. The large, extendable sun canopy provides excellent coverage of the seat, with a large mesh panel for improved ventilation and easy check-ins while you're on the go.
Built-in Storage
The mesh storage basket on the Bugaboo Butterfly is impressively large given the stroller's slim dimensions. It has a weight capacity of right around 18 pounds and is sizeable enough to carry even large diaper bags. The mesh sides aren't as durable as solid-fabric baskets, but on the plus side make it easy to see everything in the basket quickly, and it has a large opening for easy access.
Folding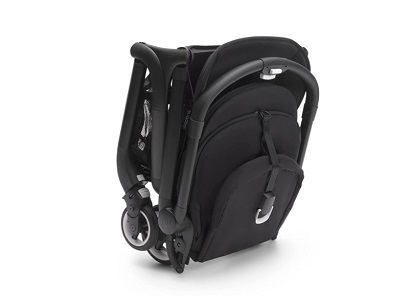 The Bugaboo Butterfly has one of the fastest and most compact folds you'll find from a stroller. It takes just a second to fully collapse it, no need to remove pieces or other hassles. Once folded, it's slim enough that it meets airline regulations for overhead bins. It also has a built-in shoulder strap so you can carry it hands-free. Since it weighs less than 20 pounds, most parents will have no trouble carrying it from place to place when they're traveling. We've also compared the Bugaboo Butterfly vs. Joolz Aer.
When you're ready to use the stroller, it's as easy to expand as it is to collapse. Simply pull up on the handle and the stroller pops up into its full form. This easy, space-saving fold is perfect for those living in small homes and users of public transportation as well as frequent travelers.
Bugaboo Butterfly Review In Conclusion
Bugaboo is a leading name in baby gear for a reason, and their Butterfly stroller rises to their reputation for excellence (>>> Find on Amazon). Its compact design and easy folding make it perfect for travelers or families living in apartments, tiny homes, and other smaller spaces. While it can be tricky to navigate on uneven or soft surfaces, its all-wheel suspension means a smooth, easy ride in most city and suburban environments, with an advanced seat design that keeps your child both comfortable and secure throughout the ride.
Related Reviews & Comparisons: