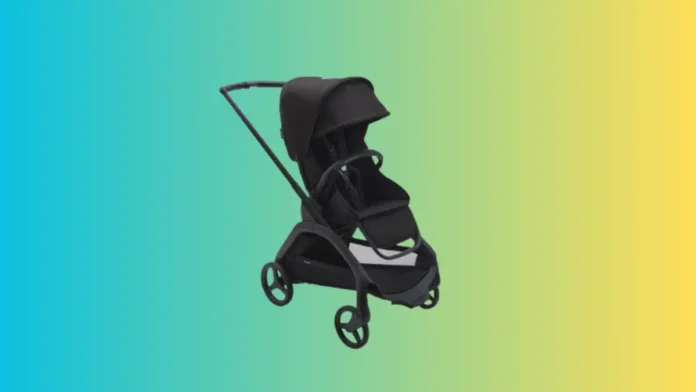 As a professional reviewer with years of experience testing and reviewing strollers, the moment we received the Bugaboo Dragonfly, we knew we were in for a treat. Over the course of several weeks, we examined this compact, lightweight stroller thoroughly. Here's our comprehensive, in-depth review, broken down into a set of practical categories. Check Out on Amazon Instantly!
Bugaboo Dragonfly Review of Specs:
Bugaboo Dragonfly
Age range
from birth to ~ 3-4 years
Unfolded dimensions
41.73 x 20.47 x 40.94 in
Folded dimensions
35.43 x 20.47 x 14.17
Stroller weight
17.4 lb (with seat)
Wheels size
Front: 7 in.
Rear: 8.5 in.

Reversible Seat
Yes
Basket Capacity
22 lbs
Warranty
4 year
Price

Find on Amazon





BabyCubby.com
Unboxing and Initial Impressions
When unboxing the Bugaboo Dragonfly, the first impression is its attractive design. The Dragonfly immediately speaks of quality, practicality, and style. The well-thought-out packaging secures each component and ensures safe delivery. As we started to assemble the stroller, we appreciated the pre-assembled vegetarian leather grips and 5-point safety harness seat.
Ease of Assembly
Assembling the Bugaboo Dragonfly was a breeze. The stroller was ready for its maiden journey in a matter of minutes, with everything fitting together perfectly, without the need for extra tools. The instruction manual was clear, concise, and user-friendly.
Design and Materials
The Bugaboo Dragonfly exudes style. The stroller uses 100% polyester for the fabrics, ensuring durability and easy cleaning. The vegetarian leather handlebar grips not only look fantastic but also provide a comfortable, non-slip surface for long strolls. And of course, the stroller is completed with a beautifully made, large sun canopy with UPF 50+ protection.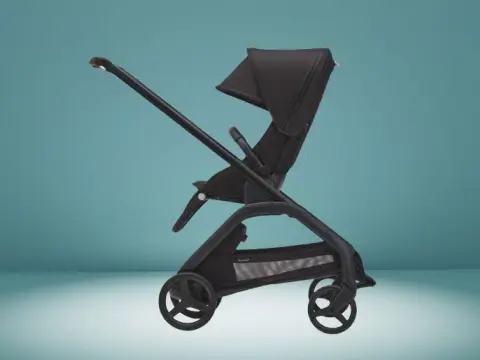 Pros
Advanced suspension system ensures a smooth ride on various terrains.
Unique one-hand, stand-up fold simplifies transportation and storage.
Reversible seat offers parent and world-facing options.
Eco-friendly, with PFAS-free and machine washable fabrics.
Ample storage with a large underseat basket and movable rear pocket.
Cons
At 17.4 – 21.8 lbs, it's heavier than some compact strollers.
The premium features come with a higher price tag.
Handling and Performance
The Dragonfly stands out with its superior handling and performance. It rides smoothly on different terrains, thanks to its advanced suspension system and high-performance wheels. The adjustable handlebar height allows parents of different heights to maneuver the stroller comfortably.
Portability and Foldability
One of the key strengths of the Dragonfly is its unique one-hand, stand-up fold. It's rare to find a stroller that folds so easily with or without the bassinet attached. This feature, along with the integrated carry strap, makes the Dragonfly a dream for parents on the go.
Comfort and Convenience
The Dragonfly has been designed with both parent and child in mind. The seat is reversible, offering world or parent-facing positions, and the adjustable leg rest ensures comfort for growing children. One thoughtful touch we loved is the side fabric protection on the seat, demonstrating Bugaboo's attention to detail.
Eco-Friendly Features
We commend Bugaboo for their commitment to the environment. The fabrics used in the Dragonfly stroller are PFAS-free, making it an eco-friendly choice for conscious parents.
Storage Capacity
The Dragonfly boasts a flexible storage system with a 22-pound capacity. The large underseat basket and moveable rear pocket provide ample room for shopping bags, baby essentials, and personal items. The rear pocket can be conveniently placed on the handlebar when necessary.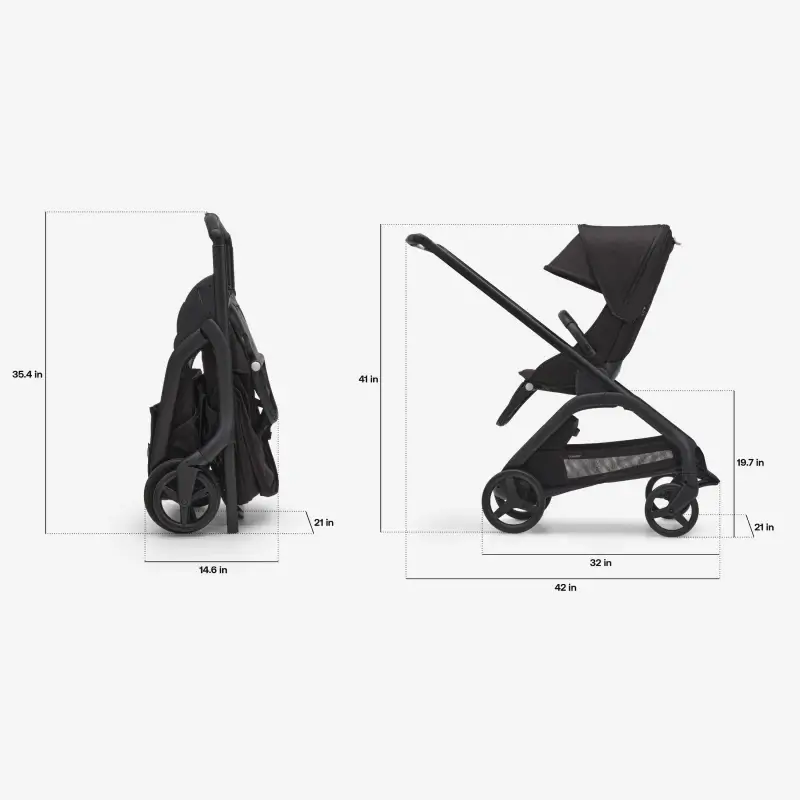 Safety Features
Bugaboo prioritizes safety, evident in the inclusion of an easy-to-click, extra-soft harness and a rotating bumper bar that adds an extra layer of protection. The Parasol+ attachment clip allows for easy attachment of the Bugaboo parasol+ for sun protection during summer strolls.
Compatibility and Extras
The Dragonfly is compatible with the Bugaboo Turtle One and Turtle Air by Nuna car seats with included adapters. This compatibility makes the transition from car to stroller effortless.
Care and Maintenance
Maintaining the Dragonfly is straightforward. All fabrics are machine washable at 86°F, and the faux leather grips can be cleaned with a damp cloth. This ease of cleaning is invaluable for busy parents.
Durability
Over several weeks of testing, the Dragonfly demonstrated impressive durability. Despite daily use, it sustained no noticeable wear or tear. The fabrics remained vibrant and fresh after numerous washes. The stroller's solid construction promises to hold up well over time, making it a worthwhile investment.
Personal Experience
During the testing phase, we had the opportunity to test the Dragonfly in various real-life situations. Its compact size, combined with a wealth of convenient features, was a joy in crowded city streets, public transport, and during family trips out of town.
From a personal standpoint, I remember the joyful experience of taking my little nephew for a walk in the park in the Dragonfly. The stroller navigated through the uneven park paths smoothly, and my nephew remained comfortable and happy throughout our adventure. The ease with which I could fold the stroller and put it in the car after our walk left a lasting impression.
Another instance where the Dragonfly shone was during a shopping trip. The underseat basket and rear pocket provided plenty of room for all our shopping bags, baby essentials, and my personal items. The Dragonfly proved to be a reliable shopping companion.
Customer reviews
Customer reviews for the Bugaboo Dragonfly are generally positive, with some notes for potential improvement. Users laud its easy folding mechanism, even with the bassinet attached, as well as its sturdy construction and ample storage space. While a few reviewers mentioned it's not the lightest option available, the Dragonfly's user-friendly design and practical features stand out. Some users wished for more cocoon-like bassinet and a padded seat for added comfort. A few reviewers found the handlebar length and folding process cumbersome, especially when using the stroller in a compact mode. Despite these critiques, the Dragonfly is generally seen as a comfortable and practical stroller that often provides peace of mind for parents, making it a popular choice among its users.
Conclusion
In conclusion, the Bugaboo Dragonfly stroller exceeded our expectations in every aspect. It beautifully combines style, practicality, and comfort into a lightweight, compact package. Its unique features like the one-hand, stand-up fold, the advanced suspension system, and its excellent storage capabilities make it a standout product in the market. Find it on Babycubby.com
This stroller is ideal for parents who are always on the go, as well as those who enjoy leisurely strolls in the park. The Dragonfly proves that you don't need to compromise on comfort or style when choosing a compact stroller. It's a worthwhile investment that grows with your child, from the first months up to approximately four years.
Given our extensive hands-on experience and testing, we wholeheartedly recommend the Bugaboo Dragonfly stroller to any parent seeking a reliable, stylish, and durable stroller for their little one.
Comparing the Bugaboo Dragonfly with other strollers: