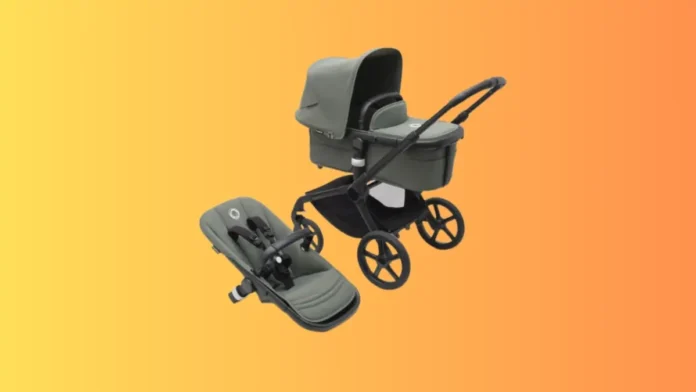 Parents expect a lot from a stroller and the brand. Safety is key, and they also want the stroller to be convenient and easy to use. Sustainability is something else parents look for, and Bugaboo is holding true to its commitment to the environment with its "Push to zero" promise. By 2035, the brand aims to have zero effect on the environment. It's one of the reasons we are choosing to review the Bugaboo Fox 5. We like the company's net-zero goal and are curious to see if the all-terrain stroller has everything else parents are looking for. Find it on Amazon.com Keep reading to find out more about this 2-in-1 stroller.
Bugaboo Fox 5 Review of Specs:
Bugaboo Fox 5
Maximum child weight
50 lbs
Age range
from birth to ~ 3-4 years
Unfolded dimensions
36.6 x 23.6 x 41.3 in
Folded dimensions
35 x 20.9 x 13.4 (with bassinet)
17.3 x 23.6 x 35.4 (stroller seat)
Stroller weight
22.9 - 26.9 lbs
Wheels size
Front: 8.5 in.
Rear: 12 in.

Warranty
4 year
Price

Find on Amazon





Pishposhbaby.com
Safety
Safety requirements for strollers are not as stringent as they are for car seats. However, a few safety features are standard on most models, including the Fox 5. A five-point safety harness keeps active babies and toddlers in their seats. It also features a quick-click design. It only takes one hand to buckle your child in.
Maneuverability
A lack of easy maneuverability is a common complaint from parents. They complain their stroller is difficult to handle around corners and over rough terrain. Our tests show this isn't an issue with the Fox 5. It features best-in-class maneuverability, thanks to its extra-large rear wheels and superb four-wheel suspension system. These larger wheels can tackle all types of terrain with ease. Go ahead and take the stroller down city streets or on rough trails. You also do not need to worry about flat tires. The wheels are puncture-proof. When you need to make a tight corner, don't worry. The front wheels swivel.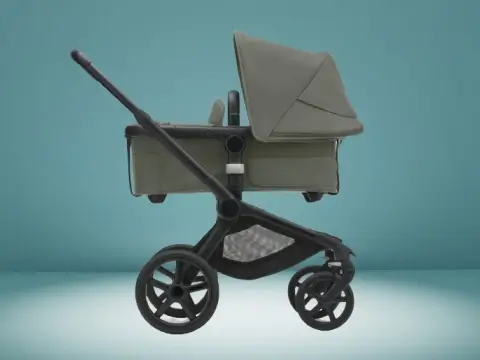 Comfort
Comfort applies to children and parents and this stroller delivers. The ergonomically padded seat provides maximum comfort, and it is also reversible. The seatback is reclinable, and it is also aerated. The extra airflow provides cooling comfort on warm days. Being able to recline the seat is a bonus. Your little one can nap comfortably whether you are on a walk or running errands. The footrest is extendable to keep up with growing toddlers. It can give you up to four extra inches of space. It doesn't matter if you are short or tall, the Fox 5 accommodates parents of all heights. The handle adjusts to your ideal height, so you aren't straining to reach it or bending over. Check our comparison of 2 previous-generation Fox strollers.
Ease of Use
We know the stroller is easy to maneuver, but what about other aspects? Does it fold down without any hassles? With the press of a button, the stroller folds down to a compact size. It fits easily into vehicle trunks, but it is too large to meet carry-on regulations. It measures 36.61 x 23.62 x 41.34 inches open and 35 x 21 x 13.3 inches folded down. It is not a travel stroller, so expect to check it with the rest of your luggage. However, it is relatively lightweight at 26.9 lbs. You aren't going to strain a muscle getting the stroller in and out of a vehicle trunk. Best of all, the fabric is removable and machine washable.
Extras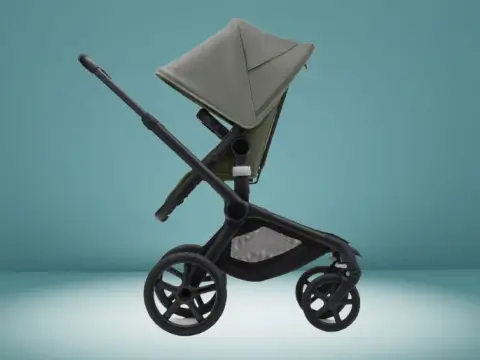 The 2-in-1 stroller comes with an extra-large retractable sun canopy, and a roomy storage basket. We like the basket's size. It's large enough to hold a diaper bag, along with a few items you may pick up along the way. The side flaps keep items from falling out and the basket can support up to 85 lbs. The stroller is compatible with most car seats, however, it is an additional purchase. It does come with a carrycot so you can use the stroller from newborn up to toddlers weighing around 48 lbs. We would like to see the stroller come with a cup holder, especially given its price, but it is also extra.
Eco-friendly Construction
It's not often we cover a stroller's eco-friendly construction, but it applies to the Fox 5. Every part of the stroller is made from sustainable, bio-based materials. In line with the company's pledge to have zero harmful emissions by 2035, you aren't going to find any fossil-based plastics on the stroller.
Pros
Eco-friendly construction
Easy to maneuver over all types of terrain
Reversible and reclining seat
Large, puncture-proof wheels
Folds into an upright position
Cons
The stroller does not come with a cup holder, it's an extra purchase.
Consumer Impressions
Consumers like almost every aspect of the Fox 5, except for its price. It is slightly higher than some similar models, but consumers also note it comes with a few unique features. They appreciate the all-terrain, puncture-proof wheels and advanced suspension. They also like the reversible and reclining seat. Most parents wish for an included cup holder but it's not enough to turn them away from the stroller.
Conclusion
The Bugaboo Fox 5 checks a lot of the boxes for parents, especially eco-conscious ones. Its best-in-class maneuverability lets you take the stroller over any type of terrain. Thanks to the suspension system, your baby rides smoothly over bumps. While it does have a slightly high price tag, you get a lot for your money. Check on PishPoshBaby.com. Ultimately, it's up to you to decide if this is the right stroller for your family.
FAQs:
Is Bugaboo Fox 5 really all-terrain?
It is advertised as an all-terrain stroller. The Fox 5 has large, puncture-proof wheels and suspension systems that allow the stroller to glide easily over gravel, concrete, dirt, and rocky paths. With this being said, you may want to avoid trails with larger obstacles. Think about how much effort you want to put into pushing the stroller over uneven terrain before setting out.
What age is Bugaboo Fox 5 for?
The Fox 5 is ideal for newborns and toddlers. The carrycot supports babies up to 19 lbs. Once your baby has outgrown the carrycot, switch to the stroller seat. It is capable of supporting toddlers up to 48 lbs.
Can you jog with the Bugaboo Fox 5?
Determined runners may be able to jog with the FOX 5, but it's not recommended. The stroller's weight is a disadvantage, along with the large wheels. The stroller's weight also discourages jogging, along with the wheel design. The wheels are not designed to move at faster speeds.
Comparisons with other strollers: