The Bugaboo Fox 2 and the Bugaboo Fox 3 are both luxury strollers designed by the quality Bugaboo brand. Being of the same line, they both have many of the same great features. The largest differences between the two are generally improvements made by the Fox 3. This naturally means the Fox 3 is higher in price. The question of which to choose is a matter of weighing whether those improvements make up for the higher price. In many cases, possibly not, because many of the improvements are in the small details. However, if you are going to use this seat from infancy, like many parents, then the answer may be that the Fox 3 is worth it (>>> Check on PishPoshBaby). Let's break down the features to compare Bugaboo Fox 3 vs Fox 2.
---
Bugaboo Fox 3 vs Fox 2 Side by Side:
Bugaboo Fox 3
Bugaboo Fox 2
Maximum child weight
48.5lbs
50lbs
Age range
Infant to toddler
Birth to toddler
Collapsed dimensions
40.9"L x 23.6"W x 34.6"H
33.9" X 20.5" X 13.4"
Unfolded dimensions
41.3"L x 23.6"W x 42.5"H
34.6" X 23.6" X 15.7"
Weight
21.83lbs
21.8lbs
Price

Pishposhbaby.com





Find on Amazon

Pishposhbaby.com





Find on Amazon
Safety
Safety is always the first consideration of any stroller. Bugaboo is best known for innovation, so you can rest assured that the most modern technology was used, and these strollers were made with quality, sturdy materials. The Fox 2 was already an exceptionally safe stroller, so the Fox 3 didn't have much to improve upon here. Both these seats use a 5-point, easily adjustable harness that provides a secure, safe fit. Both can be reversed towards parent or world facing. Lastly, both have canopies with a mesh window, so babies can easily be checked on.
Safest stroller: Fox 3 & Fox 2
Comfort
When it comes to comfort while strolling, the Fox 2 and the Fox 3 provide exceptionally smooth experiences. They both use a similar chassis, so there is not a lot of difference to the strolling comfort. They both have large, no-puncture wheels with great suspension that can power swiftly over any terrain. The effective central joint on both of them works to help absorb shocks, even over bumpy terrain.
For the seat, the Fox 2 is wonderfully comfortable thanks to premium fabrics and soft padding. The Fox 3 boasts using even softer, more breathable fabrics for an ultra-comfortable experience. The biggest improvement is the straps. The Fox 3 harness uses softer shoulder pads and straps, which makes for a more comfortable experience for the baby. There are a few other small details that make the Fox 3 more comfortable as well, such as the product labels and logo that are now embroidered instead of printed.
Most comfortable: Fox 3
Usability
Bugaboo's commitment to innovation also translates to creating products that are intuitive and parent friendly. Both these strollers are so easy to push, you could use just a finger! They are simple to break down and lightweight for easy travel and storage. They both are also compatible with various car seats with use of an adapter. They both have a telescopic height adjustable handlebar to adjust comfortably to any parent's height. Lastly, they both have a nicely large under seat basket.
The Fox 3 may come out just slightly ahead with a more ergonomic seat recline lever, as well as a fast-folding button mechanism that saves just a bit of time for the busy parent. It's click quick harness also shaves a few seconds off loading the child.
Easiest to Use: Fox 3
Bassinet
One of the biggest differences between these two strollers is the bassinet. The bassinet on the Fox 2 is great, but the Fox 3 takes it to the next level. It uses temperature regulating technology that provides newborns with an exceptionally comfortable and safe experience in any weather. This includes an aerated mattress and a mesh panel that can be opened and closed to make the baby warm or cool as needed. Considering overheating is sometimes a factor in strollers, this is an especially great feature.
Best Bassinet: Fox 3
Style
As expected from Bugaboo products, both these strollers are sleek and stylish. The Fox 3, however, provides a much larger variety of new, vibrant color options. Other style changes are in the details, giving the Fox 3 a bit more polished look. Both are supremely premium and modern, but the Fox 3 comes out just slightly ahead.
Most Stylish: Fox 3
---
Bugaboo Fox 2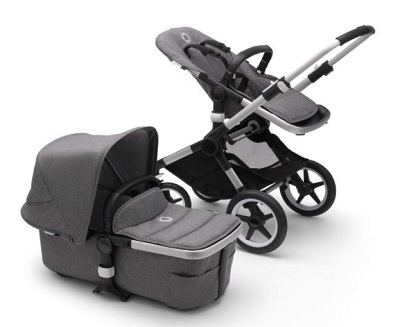 The Bugaboo Fox 2 is a luxury stroller from the tried and tested Bugaboo brand. It's responsive, light push stroll and large wheels lets it guide like a dream over any terrain. It improves upon the previous model with its exceptionally advanced suspension. It has easily adjustable and intuitive features that keep parent's needs in mind.
The Fox 2 provides any child a comfortable and safe ride. A large canopy keeps them safe in all weather. The large under seat basket is just one more feature that makes this a great seat. It comes with a bassinet, and it is compatible with a variety of seats using an adaptor. With all the great, innovative features that the Fox 2 has to offer, this is a wonderful, quality stroller.
Pros
Cons
---
Bugaboo Fox 3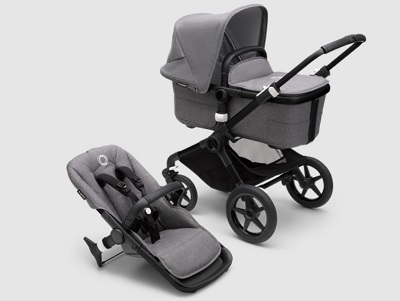 The Bugaboo Fox 3 is a stylish and sleek stroller that any parent would love to use, and look great doing so. As the latest stroller in the Fox line, this stroller uses all the newest and best technology. This includes the soft, high-quality materials that provide babies the most comfortable experience. The Fox 3 takes infants especially to heart with the innovation, temperature regulating bassinet that keeps your baby safe and comfortable in all weather.
Parents love the Fox 3 for all its great features. Its 5-point harness and comfortable straps keep babies safe and secure at all sizes. It is easy to push even in the toughest of terrains. It adjusts and breaks down with ease, saving precious time on every outing. The Fox 3 also has a whole line of stylish color options. There is no denying that the Fox 3 is as beautiful as it is effective. Check our review of the newer generation stroller, the Fox 5.
Pros
Many style options
Temperature regulating bassinet
Padded harness straps
Improved fabrics
Cons
---
Conclusion
The Bugaboo Fox 2 and Fox 3 are both wonderful strollers in the world of luxury strollers. When forced to compare the two, the Fox 3 may come out just slightly ahead. Whether it is worth the increase in price is contingent to your needs. Considering neither stroller is inexpensive, the slight extra cost for the improved features may be worth it. This is especially true for parents of infants. The temperature regulating bassinet is an innovative piece of technology that really elevates the Fox 3. If style is a consideration for you, the Fox 3 is a gorgeous stroller that will have other parents turning heads (>>> Find on Amazon). Whichever stroller you choose, your baby will have a comfortable and smooth experience– and that is the most important thing .