If you are seeking a premium luxury stroller, look no further than the Bugaboo Fox 3. Bugaboo is a brand known for making high quality products with a focus on innovation. This latest stroller in their Fox line showcases their constant commitment to utilizing the latest technology. As expected by the brand name, it is higher up in price for a stroller. However, it has many great features that may make the Fox 3 worth it if it falls within your budget. The following Bugaboo Fox 3 review breaks down the seat's key features. (>>> Check on Amazon)
---
Bugaboo Fox 3 Review of Specifications:
Bugaboo Fox 3
Maximum child weight
48.5lbs
Age range
Infant to toddler
Collapsed dimensions
40.9"L x 23.6"W x 34.6"H
Unfolded dimensions
41.3"L x 23.6"W x 42.5"H
Weight
21.83lbs
Price

Pishposhbaby.com





BabyCubby.com





Find on Amazon
Safety
Bugaboo products come with the promise that they have been tested intensively. The Fox 3 stroller's easy-click buckle and 5-point adjustable padded harness lets you firmly secure your child safely at all sizes. When it comes to safety in all weather, the Fox 3 performs well with a large extendable sun canopy that has full coverage sun protection. It is also water repellent to keep your baby dry and safe in any unexpected rainfalls.
Comfort
The Fox 3 has a fully ergonomic seat, so your baby will be as well supported as they are comfortable. The fabric is extremely soft and well cushioned as well. It uses the highest quality materials for the best feel.
One of the best features of the Fox 3 is the innovative bassinet, so newborns will especially love this stroller. The bassinet is made to help regulate temperature and breathability for optimal comfort. It does this thanks to an aerated bassinet mattress and a large mesh panel in the bassinet that can be opened and closed, solving the problem of overheating that can occur in some strollers. No matter the weather, your newborn can rest comfortably.
Pros
Maneuverable
Easy adjust harness
4-wheel suspension
Temperature regulating bassinet
Easy to use
Stylish
Cons
Strolling Power
The Fox 3 is an all-terrain stroller that can handle even the bumpiest of hikes. The durable, no-puncture wheels and an especially strong chassis lend themselves to this promise. The highly effective 4-wheel suspension really gives this stroller extra points, providing the smoothest ride a baby could ask for. The wheels are also large, which helps make the stroller easier to push.
The Fox 3 also boasts that it can be pushed with the barest amount of effort, using just the tip of your finger. It provides frictionless swiveling that allows users to navigate through even the tightest spaces. With the Fox 3, you and your baby can have a nice and long, smooth ride.
Usability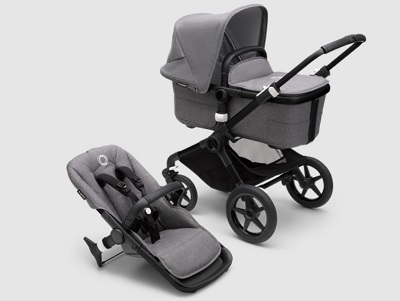 There are plenty of reasons that parents love Bugaboo products, and a huge reason is that Bugaboo loves parents. They show this by making products that are intuitive and easy to use. The Fox 3 commits to this well. The stroller is fairly light, which is nearly always a positive feature for a parent on the go. It effortlessly collapses into one piece and has a self-standing option. It doesn't fold up as small as some strollers, but it can be easily stored in most trunks.
There are other details made with parents in mind as well. The telescopic height adjustable handlebar allows parents of all heights to easily adjust to their strolling comfort. The seat's reclining feature can be adjusted using just one hand. This stroller is compatible with a variety of car seats with use of an adaptor. Lastly, the fabrics are spill resistant and machine washable, which every parent knows is wonderful!
Bugaboo Fox 3 Review Final Thoughts
The Bugaboo Fox 3 is an exceptional luxury stroller that any parent and baby would be happy with. From infancy to toddler, this stroller can serve all your needs. It's expensive, but that can be attributed to more than just the brand name. This is a high quality, secure stroller. It is parent friendly, thanks to the easily adjustable features, and child friendly, thanks to the exceptionally soft and comfortable fabrics and cushions. No matter how long and rough the terrain is, every walk with you and your baby will feel like a dream. (>>> Find on Amazon)
REFERENCES AND FURTHER READING: