Bugaboo has been one of the most innovative names in baby gear since the company first opened its doors in 1996. Their strollers are particularly appealing for parents who live in apartments, tiny homes, large cities, and other places you need a compact, easy to maneuver stroller.
The Lynx and the Fox 3 are both prime examples of Bugaboo convenience and forward-thinking design in action. Comparing the Bugaboo Lynx vs Fox 3, the smaller Lynx is the best choice for use mostly in city environments, while the Fox 3 is the more versatile stroller (>>> Check on PishPoshBaby), both in terms of where you go with it and the car seats you can use it with. Read the full reviews below to help you decide which one's the best for you.
Bugaboo Lynx vs Fox 3 Side by Side:
Size and Folding
The Bugaboo Lynx and Fox 3 both use a one-piece fold system, shrinking down to a very manageable size without the need to remove the seat. However, the Lynx is both lighter and smaller overall, and can be made even more compact in its two-piece fold version. This makes it the better option for frequent travelers and parents with limited storage space.
More compact stroller: Bugaboo Lynx
Maneuverability
The small size of the Bugaboo Lynx also makes it an impressively maneuverable stroller. At only 20.5 inches long, it has a much smaller footprint than most full-sized strollers, giving it a tighter turning radius and making it easier to navigate store aisles, narrow hallways, and other tight spaces. While the Bugaboo Fox 3 does have a smooth suspension system and can be pushed and controlled with one hand, just like the Lynx, it just can't match the smaller stroller for steering ease.
More maneuverable: Bugaboo Lynx
All-Terrain Use
The Bugaboo Lynx is at its best in cities and suburbs. Its tires are relatively large, with a front-wheel suspension and a helpful two-wheel mode for getting through snow or sand, but the ride can get bumpy when you're going over uneven surfaces like grass lawns or gravel paths.
The Bugaboo Fox 3 uses a 4-wheel suspension system with a central joint that minimizes jolts on all surfaces. Along with this, the tires are larger and puncture-proof, keeping kids comfortable and giving parents peace of mind on any surface.
Better all-terrain use: Bugaboo Fox 3
Child Age Range and Comfort
Here's another category where these are both strong contenders. Both the Fox 3 and Lynx have from-birth capability right out of the box, and have similar upper weight limits that can accommodate toddlers up to around 50 pounds. Either one can also function as a travel system thanks to their compatibility with a variety of car seats. However, the Fox 3 comes with adapters for many of those seats, something you'll have to purchase separately with the Lynx. It also has broader overall car seat compatibility, as well as a better infant bassinet design with an additional ventilation window.
Better child comfort: Bugaboo Fox 3
---
Bugaboo Lynx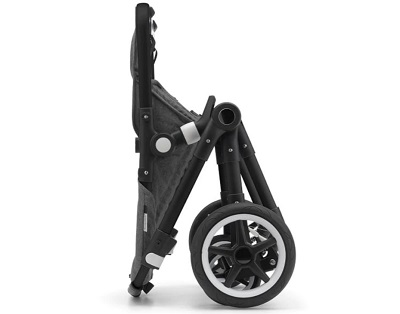 At just over 20 pounds, the Bugaboo Lynx is one of the lightest full-sized strollers on the market. Its profile is also much slimmer than most strollers, making it more maneuverable in store aisles, crowded sidewalks, and other tight spaces. This is part of what makes it so effortless to push and steer, too, though the large wheels and two-wheel suspension system also help with this. The two-wheel mode is great for soft surfaces like sand and snow, and its large tires can handle most uneven terrains without a problem.
The Bugaboo Lynx is just as convenient to store and transport as it is to navigate. Just lift up the side triggers and it folds into a compact, self-standing unit with either the infant bassinet or toddler seat still attached. You can make it even smaller by removing the seat when you need to stash it in an overhead bin or other tight space.
The Bugaboo Lynx offers from-birth capability out of the box, with an infant bassinet that can be swapped out for an upright seat when your child is old enough. Both seats are reversible, with 3 recline levels and a 5-point no-rethread harness for toddlers that make it easy to get a snug, comfy fit. It also can be used with a range of car seats from brands including Bugaboo, Maxi-Cosi, and Nuna, though you'll need to buy those adapters separately.
Pros
Lightweight with narrow profile
Two-wheel mode for sand and snow
Reversible seat with 3 recline levels
Includes infant bassinet and full toddler seat
Option of self-standing one-piece or more compact two-piece fold
Easy-access under-seat basket with 22-pound capacity
Cons
Not as smooth a ride on uneven surfaces
Car seat adapters aren't included
---
Bugaboo Fox 3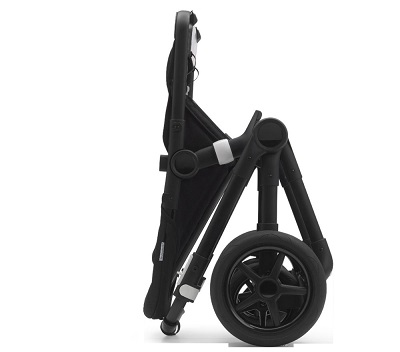 Agility is the main strength of the Bugaboo Fox 3. Its large 12-inch rear wheels and 8.5-inch front wheels are puncture proof and connected to a central-joint 4-wheel suspension system. Thanks to this, it can be pushed and controlled with one hand, and is both smooth and easy to maneuver over a variety of surfaces, from park paths and lawns to snowy or uneven sidewalks.
Another great feature of the Fox 3 is its easy use from birth. The infant bassinet has a high-quality sun canopy with a large mesh panel in the rear that improves both the airflow and the visibility into the seat. It can also be used with infant car seats from a range of popular brands like Chicco, Nuna, and Maxi-Cosi, as well as car seats from Bugaboo. Swapping from the bassinet to a car seat or the full toddler seat is a fast, one-step process. You can also fold it into a self-standing unit with either the bassinet or toddler seat attached.
The materials used across the Bugaboo Fox 3 have the same impressive balance of quality and convenience. The soft-touch fabrics are machine washable and water-repellant, making them both durable and easy to maintain. Its durable aviation-grade aluminum frame can support toddlers up to 48 pounds, along with around 22 pounds of gear in the under-seat basket, without distorting or getting hard to push.
Pros
Puncture-proof wheels with 2-wheel mode for snow and sand
Easy to steer and maneuver, even in tight spaces
Includes infant bassinet and adapters for popular car seats
One-piece fold with seat attached
Breezy panel on bassinet improves ventilation
Soft-touch, water repellant fabrics
Easy-access under seat basket with 22-pound capacity
Cons
Slightly heavier
Less maneuverable in small spaces
---
The Bottom Line
Something else we haven't mentioned yet is price and value. You'll often find the Bugaboo Lynx selling for a few hundred dollars less than the Fox 3. This will make it a better choice for parents on a budget, as well as those who mostly plan to use their stroller in city environments. That said, the better tires and suspension of the Bugaboo Fox 3 (>>> Find on Babycubby), as well as its included car seat adapters and wider array of car seat options, are worth the extra investment for parents who need more versatility. Whichever one you buy, you'll get a durable stroller to move your family around in style!
REFERENCES AND FURTHER READING: