The Chicco KeyFit 30 is the top-rated car seat in the United States for 2021, and a great value to boot. On its own, the sturdy construction and easy installation make it a convenient way to keep your baby safe and comfy on car trips, and its compatibility with a variety of popular strollers expands its potential as part of a whole travel system.
Not sure whether this is the right car seat for you? We'll dig into the details in this Chicco KeyFit 30 review so you can decide if it's the perfect fit for your family. (>>> Check on PishPoshBaby.com)
Chicco KeyFit 30 Review of Specifications:
Safety
The most important questions for most parents when they're buying a car seat is how well it will protect their baby from harm. The Chicco KeyFit 30 uses a energy-absorbing foam in the carrier shell that improves its protection against impacts. It outperforms its competition in crash tests, with lower G forces and superior head and neck protection.
For newborns, the KeyFit 30 includes a removable extra support for the head and body. This provides a snug fit for infants as small as 4 pounds. The 5-point harness system helps here, too. It's designed to be tightened with one hand, making it easy for you to get the right fit every time.
Ease of Use
The KeyFit 30 is best installed using Chicco's LATCH system. The base uses push-style anchors to attach to the vehicle seat firmly. Once the base is installed, inserting and removing the seat is quick and easy.
You also have the option of installing the KeyFit 30 base using a seat belt, though this isn't the recommended method. Threading the belt through the base can be tricky, especially if your vehicle has shoulder and lap seat belts instead of lap-only belts.
We do appreciate how easy it is to get the car seat base level. The bubble indicator built into the base shows you at a glance if it's installed at the right angle, and you can adjust the angle quickly with the ReclineSure foot.
Pros
Excellent results in crash tests
Latch system is easy to install
Durable, easy-to-clean fabrics
Removable newborn supports
5-point harness is easy to adjust
Compatible with a variety of strollers
Cons
Difficult to install with seat belt
Interior materials are a bit rough
Comfort
The Chicco KeyFit 30 can accommodate babies up to 30 pounds and 30 inches. The extra newborn padding and padded strap are helpful here, too, making it easy to adjust the car seat to perfectly fit your baby. It also has a removable canopy to keep the sun out of baby's eyes on summer days.
The interior padding of the KeyFit 30 is nicely soft and has a good amount of give. However, the fabric is a bit rougher than we'd like. On the plus side it's very easy to clean and can stand up to being washed in a machine, but it may be too coarse for babies with sensitive skin.
In terms of parent comfort, the handle is easy to grip and moves smoothly between its 3 positions. The car seat is a bit heavier than most, at 17 pounds, so it's not the most comfortable model to carry for long distances. The good news is this may not be a concern. Not only does the KeyFit work with Chicco brand strollers, it's also compatible with models like the UPPAbaby Vista and BOB Revolution Flex.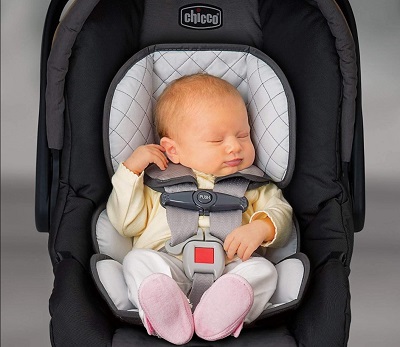 Chicco KeyFit 30 Review In Summary
The Chicco KeyFit 30 is a high-quality car seat, and its superior safety features and high crash test rating are big points in its favor. It's a versatile car seat, too, compatible with a variety of stroller systems and offering multiple installation options. All told, it well lives up to its #1 rating and is a worthwhile investment for any growing family. (>>> Find on Amazon)
REFERENCES AND FURTHER READING: