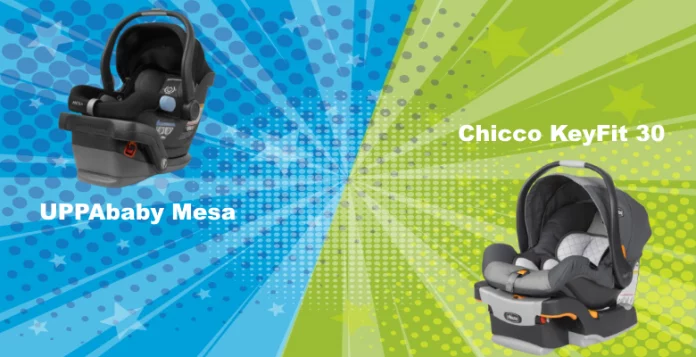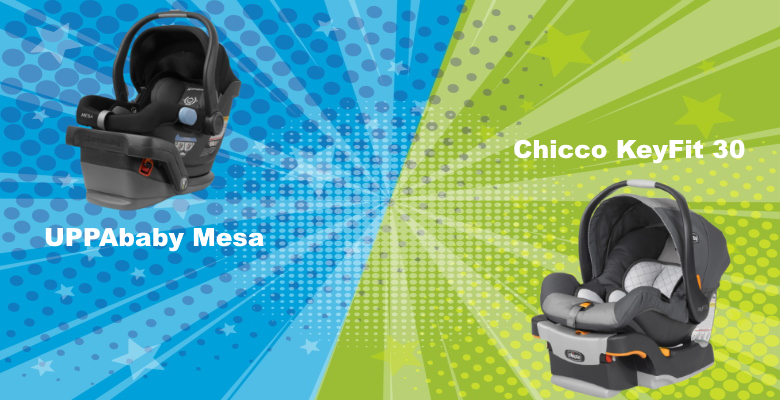 For today's active parents, a car seat that can work with a stroller system is a necessity, letting you take your baby anywhere you need to go. If you're looking at the UPPAbaby Mesa vs. Chicco KeyFit 30, you'll see both offer this flexibility, along with a comfortable fit for infants. The KeyFit 30 will be the better choice for many, with slightly better safety stats and stroller versatility (>>> Check on PishPoshBaby.com). The Mesa is more versatile in other ways, though, and could be the better choice for some parents.
Wondering which one is the best for your family? Check out this side-by-side to see the full breakdown of features.
UPPAbaby Mesa vs Chicco KeyFit 30 Side by Side:
Installation Ease
In a personal vehicle, the Chicco KeyFit 30 has a quick, easy installation. Its base uses a LATCH system with push-down anchors that attach it to the seat. The ReclineSure foot and bubble level indicators help guarantee the car seat is installed at the right angle.
The base of the UPPAbaby Mesa has a similarly straightforward installation to the KeyFit 30. Where it really outperforms its competition is in other situations. Its color-coded seat belt thread system makes it easy to install with both lap and shoulder belts, and also make it simpler to secure without the base. That's key for those who use taxis, ride shares, and other public transportation on a regular basis.
Easier to install: Chicco KeyFit 30
Impact Protection
The UPPAbaby Mesa performs very well in impact tests, exceeding federal guidelines for G forces and head protection in federal crash tests. Its EPP foam shell does a great job absorbing shocks in the case of a crash, while the removable newborn cushion provides a snug fit for smaller babies.
As well as the Mesa performs in crash tests, the Chicco KeyFit 30 exceeds it. It's the best-performing car seat on the current market from an impact protection standpoint, especially in the metric of head protection. This makes it the superior choice if you want the ultimate in safety for your child.
Better impact protection: Chicco KeyFit 30
Child Comfort
The Chicco KeyFit 30 can accommodate infants from 4-30 pounds and up to 30 inches long, and has a well-padded interior with a removable extra newborn cushion. Its padded restraint provides a comfy, snug fit for kids of all sizes, too. The only potential complaint is the fabric, which feels a bit rough to go right against a baby's sensitive skin.
Here, it's the UPPAbaby Mesa that has the slight margin over the Chicco KeyFit. It's similarly plush and well-padded, with an equally easy-to-use 5-point harness system, but uses a wool blend for the fabric that's softer to the touch.
Better child comfort: UPPAbaby Mesa
Stroller Compatibility
The UPPAbaby Mesa snaps straight into strollers from the brand, including those of the popular VISTA and CRUZ lines. It's incredibly easy to add and remove the car seat with the one-button release on the handle, and you won't need to buy an extra adapters to use them together.
The KeyFit 30 works with Chicco-brand strollers, but you're not limited to those options. It's just as easily compatible with stroller systems from brands like BOB and UPPAbaby, giving buyers more options to find a stroller that suits them.
Wider stroller compatibility: Chicco KeyFit 30
---
UPPAbaby Mesa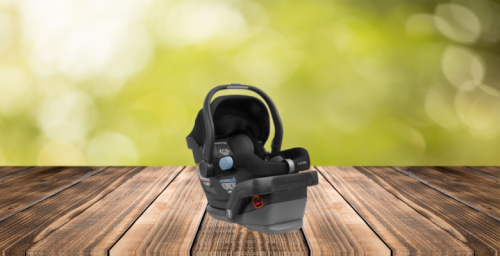 The UPPAbaby Mesa is a high-end and versatile car seat. Every aspect is designed with the same attention to detail, from the foam-filled shell to the soft, naturally flame resistant wool blend interior. The LATCH base has level indicators along both sides that let parents easily find the ideal angle, with a color-coded system for securing it with a seat belt that's much easier to use than most car seat bases.
While the UPPAbaby Mesa is on the heavier side, it's not too heavy for most parents to carry, especially without the base. It's much easier to use without the base, too and can be secured using a seat belt in a matter of seconds, giving it much more versatility for parents who don't use a single car for transportation.
The only downside of the Mesa for most buyers is its price tag. It's one of the more expensive car seats you'll find on the market, and the same is true of the Vista and Cruz strollers it's compatible with. That said, it's built to last and has features you won't find on other car seats, so it's worth the investment for many parents.
Pros
LATCH base is easy to install
Easy to use without the base
Comfortable wool fabric interior
High impact protection ratings
Works with UPPAbaby strollers
Cons
Limited versatility with other stroller brands
High cost
---
Chicco KeyFit 30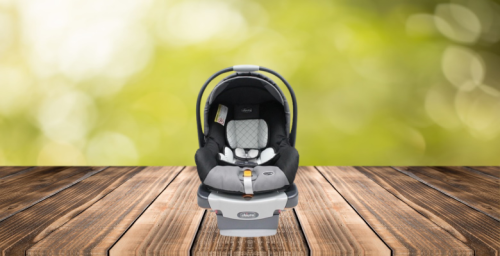 The Chicco KeyFit 30 records the best marks in federal crash tests of any car seat on the current market, and this is its main strength for parents. The included newborn pillow and easy-pull 5-point harness system add to this high safety rating. With the KeyFit 30 in your back seat, you'll know your baby is riding safely every time.
How easy the KeyFit 30 is to install depends on how you need to install it. It's a breeze using the LATCH base, which has push-style anchors that attach quickly to the seat. You can also secure it with a seat belt, though it's a bit trickier to do so than with the UPPAbaby Mesa. This is the main reason we don't recommend it for use without the base, and it's not the best choice for users of public transportation.
The KeyFit 30 is versatile in other ways, though. Its wider compatibility with various stroller brands is a definite plus for those on a budget, giving you more options at a wider range of price points than what's compatible with the Mesa. Overall, its blend of usability, safety, and comfort makes it an exceptional value. For our more in-depth review of the Chicco KeyFit 30, click here.
Pros
Exceptional impact protection
LATCH base is easy to install
Removable newborn padding
5-point harness tightens with one hand
Works with a range of stroller systems
Cons
Interior fabric is a bit rough
Difficult to use without the base
---
UPPAbaby Mesa vs Chicco KeyFit 30: In Summary
Choosing between the UPPAbaby Mesa and Chicco KeyFit 30 really comes down to how you'll need to use it. For single car owners and users, the KeyFit is easy to install, safe, and convenient, along with being a bit more affordable (>>> Find on Amazon). On the other hand, the option of using the Mesa with no base gives it a bit more day-to-day use versatility. Whichever way you go, you'll get a well-built car seat designed to go wherever you do.