For many parents, a car seat is necessary gear to keep your child safe as you go from place to place. The UPPAbaby Mesa is one of the top-rated options on the market, with impressive crash test performance and a user-friendly LATCH installation system. Let's take a closer look at what it can do in this UPPAbaby Mesa review, so you can figure out if it's the right car seat for your family. (>>> Check on PishPoshBaby.com)
UPPAbaby MESA Review of Specifications:
Safety
The UPPAbaby Mesa uses an EPP foam-filled shell around the headrest. It performs excellently in crash tests, with among the lowest G force ratings and best side impact protection of all the car seats tested. This alone justifies the relatively high cost for many parents.
UPPAbaby brings that same high-quality construction and emphasis on safety to every aspect of the Mesa car seat. It's five-point harness system uses a no-rethread system, and can be easily adjusted both with and without the optional infant headrest. This makes it a quick process to get a snug, comfortable that keeps your child secure.
Installation Ease
The low-profile base of the UPPAbaby Mesa has level indicators of both sides so parents can see if it's at the right angle with a glance. Once you install the base in your car, you can insert and remove the car seat by just pushing a button. If you'd rather use your car's seatbelts to hold the seat in place, the color-coded belt path still makes it a relatively quick process, even for shoulder-strap style seat belts.
One thing the UPPAbaby Mesa does better than just about any high-end car seat is that you can use it easily without the base. This is important for parents who take public transportation or ride share services. The seat can be firmly secured using just a lap belt, so it will keep your child safe no matter how you get around.
Pros
Excellent impact protection
Hideaway canopy with UPF 25+ protection
Infant insert suitable for small newborns
Easy to install using the Latch system
Can be used without the base on public transportation
No-threading five-point harness
Compatible with Vista and Cruz strollers
Cons
High cost
On the heavier side
Baby Comfort
The seat of the latest Mesa model is nicely padded, with a plush, soft feel. This is an improvement over previous iterations of the Mesa, which felt a bit rough to use against a baby's sensitive skin. The fabric is made of naturally fire-resistant wool, rather than using chemical treatments for fire resistance, so you don't need to worry about putting any chemicals near your baby's face.
The UPPAbaby Mesa can be used with infants as small as 4 pounds, including premature newborns. It comes with an infant insert to make the interior more snug and comfy for smaller babies, and you can remove this as your child grows, allowing kids as tall as 32" to ride comfortably.
The extendable canopy of the Mesa is another nice touch to keep your kid comfy. It tucks away when you don't need it, and once pulled out provides a good amount of coverage from the sun.
Stroller Compatibility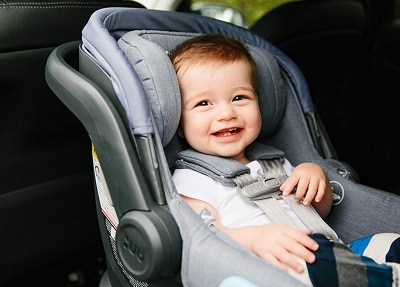 The Mesa is designed to be a part of the broader UPPAbaby travel system and integrates seamlessly with the brand's VISTA and CRUZ line strollers. You can click it into both without using adapters, with either a front or rear-facing position. To remove the seat from the stroller, there's a one-handed release button at the top of the handle.
UPPAbaby MESA Review: The Bottom Line
You might feel a bit of sticker shock when you see the price of the UPPAbaby Mesa, but the truth is it's well worth that investment. It's one of the most versatile car seats for infants, just as useful for bus and Uber rides as it is in private vehicles. The high safety ratings and impressive material quality round out the appeals of this user-friendly car seat, and it's a particularly smart buy for users of UPPAbaby strollers. (>>> Find on Amazon)
REFERENCES AND FURTHER READING: