You have plenty of choices as you're browsing for a car seat. Thanks to government mandates, all models currently for sale meet strict safety regulations, but convenience and comfort are still factors to consider. It's also nice if the car seat grows with your baby.
Two popular models are the Chicco Fit2 and UPPAbaby Mesa. Both models are rated for infants and toddlers, but the Fit2 comes with an adjustable base and seven-position headrest. The Mesa boasts extra safety features and is compatible with more than one stroller brand, giving you more flexibility (>>> Check on PishPoshBaby.com).
Still not sure which car seat is best for your baby? It helps to take a close look at what each model offers.
Chicco Fit2 vs UPPAbaby Mesa Side by Side:
Safety Features
Both car seats meet and exceed government safety regulations. You can confidently use either model knowing your infant is safe in the backseat. A five-point latching harness and steel alloy construction are standard on the Fit2 and Mesa. The car seats are also compatible with all vehicle belting systems.
The Mesa takes your baby's safety one step further. It has side impact protection. The car seat will absorb the energy from a side collision, so your baby stays safe.
Best Safety Features: UPPAbaby Mesa
Ease of Installation
You don't want to struggle with a car seat while holding your baby. It's frustrating and time-consuming. These car seats are a snap to install in your vehicle and each one comes with unique features.
The Fit2 uses a super Cinch Latch while the Mesa comes with a Smart Secure system. Both allow you to install the car seat in seconds, but the Fit2 makes it a little easier. Ride Right bubble levels and Sure leveling make it a breeze to install the car seat and ensure your baby's comfort during long and short rides.
Easiest to Install: Chicco Fit2
Comfort
Comfort isn't a problem with either car seat. Padding on the seat and headrest keeps your baby snug and comfortable. You also get a retractable canopy to keep bright sunlight out of your baby's eyes.
The Mesa does come with an adjustable headrest, but the Fit2 has seven reclining positions. It also comes with a convertible base. You can give your baby more legroom without taking up extra room in the back seat.
Best in Comfort: Chicco Fit2
Compatibility
These car seats are compatible with any existing belting system. There's no need to purchase adaptors. Each model uses a different latching system, but both are a breeze to operate, even with one hand.
It's also nice being able to attach the car seat to a stroller. You don't have to wake a sleeping infant by transferring them from a car seat to a stroller.
The Fit2 is only compatible with Chicco brand strollers. You are limited in your options. You get a little more flexibility with the Mesa. You can attach the car set to either a Vista or Cruz stroller.
Most Compatible: UPPAbaby Mesa
---
Chicco Fit2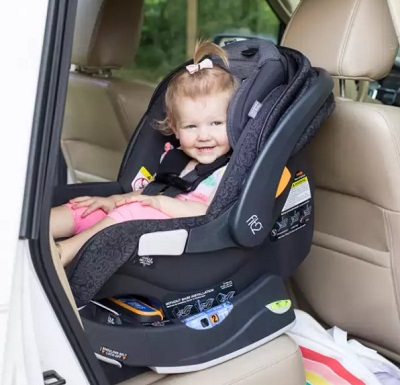 There's a lot to like about the Chicco Fit2. It boasts a steel alloy frame ensuring your baby's safety. You'll also appreciate how easy the car seat is to install in a vehicle or on a Chicco stroller. You don't need to buy any adaptors, thanks to the Cinch Latch system.
Seat and headrest cushioning keep your baby comfortable, along with the no-rethread harness. The car seat is rated for infants and toddlers up to 35 pounds. When you're baby is ready, just remove the head and body inserts. The base also adjusts to give your growing baby more legroom.
Along with an adjustable base and multi-position reclining seat, the Fit2 also comes with a retractable sun canopy. An adjustable handle makes carrying the car seat a breeze. Cleaning the car seat is just as easy as installing it in the back seat. The fabric is machine washable.
Pros
7-position headrest
Retractable canopy
Front and rear-facing
Steel alloy construction
Cinch Latch system
Cons
The car seat is only compatible with Chicco brand strollers
---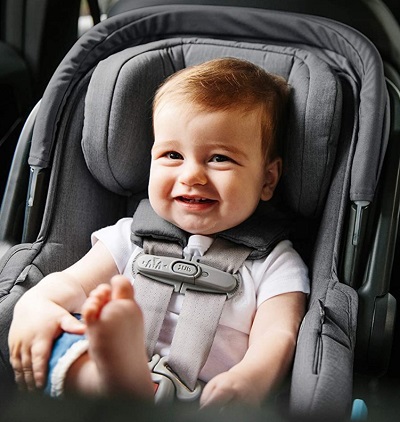 The Mesa is a rear-facing only car seat, but it's not necessarily a downside. Not every parent feels comfortable with a front-facing model until their child is over 35 pounds.
Safety is one of the key advantages you get with the Mesa. Along with a steel alloy frame, it also comes with side-impact protection. A five-point harness keeps active babies securely in the seat, and it's designed to prevent skin irritation.
Installing the car seat is a breeze thanks to the Smart Secure system. You know when the car seat is securely installed. The system takes out all of the guesswork. It's just as easy to install on a Cruz or Vista model stroller. Additional adaptors are not necessary.
Pros
Side impact protection
UPF retractable canopy
Easy to install
Adjustable headrest
Collapsible carrying handle
Cons
The car seat is rear-facing only and may not be suitable for older toddlers
---
Conclusion
Comparing the Chicco Fit2 vs the UPPAbaby Mesa, a few things set the two car seats apart. Both will support babies up to 35 pounds, but the Fit2 comes with a few extras that help maximize your infant's comfort. It's also a front and rear-facing car seat, unlike the Mesa, making it better suited for older toddlers.
The Mesa is the winner when it comes to safety (>>> Find on Amazon). It's hard to ignore the side-impact safety feature. It's also compatible with additional stroller brands, making it easier to find one that best fits your lifestyle.
Whichever car seat you bring home, your baby will be safe and comfortable in your vehicle's back seat.