The Britax B-Safe Gen2 is a great infant car seat that is secure, comfortable, and exceptionally parent friendly. It has a bunch of wonderful and essential features, though it omits some of the more frivolous features that you may see on other car seats. This allows it to be more affordable than many seats on the market. Coming from the trusted Britax brand, which has over 50 years of experience making products, the B-Safe Gen2 seat can provide parents peace of mind during every car ride. The following Britax B-Safe Gen2 review breaks down the seat's key features. (>>> Check on PishPoshBaby.com)
Britax B-Safe Gen2 Review of Specifications:
Safety
Britax products are known for quality and safety. With a steel reinforced base, the seat remains secure and stable. In addition, it utilizes SafeCell technology, which is a fairly unique and effective technology that crumples to absorb energy in the event of a crash. A protective shell with foam surrounds the head, neck & torso for a super safe fit. It doesn't have some of the extra safety features of the more expensive models, but it is a very safe car seat.
Comfort
The B-Safe Gen2 is reported by many to be an exceptionally roomy and comfortable seat, with tag-less, smooth-touch knit fabric. Thick shoulder cushions allow for extra comfort if the baby falls asleep. Even compared to other Britax models, this is a lovely and comfy seat.
The nice canopy also provides comfort and protection for your little one. It doesn't have the largest canopy compared to other car seats, but it is a good size. It is thick, waterproof, and rated for UPF 50+, so your baby will be comfortable and safe in rain or shine.
Pros
Affordable
Easy to clean
Spacious and comfortable
Easy to install
Easy to use
Cons
Must be rethreaded
A bit plain
Ease of Install
Britax products are usually parent friendly and easy to use. This seat is no exception, with clear instructions and intuitive install. It includes a SafeCenter LATCH installation that allows for the base to be pulled tightly to the sear. Installation is as easy as 3 easy steps: connect lower anchors, pull straps tighten, then click carrier into base. The seat also has an all-angle easy to read level indicator and spring-assisted recline, so you can make sure it is adjusted perfectly.
The B-Safe Gen2 seat can also be installed without the base when necessary. It uses a belt path that is clearly marked and easy to access.
Usability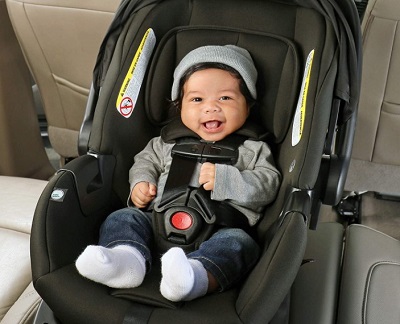 In terms of usability, the B-Safe Gen2 is a very parent friendly seat. The harness comes with a one-hand buckle release, so taking the baby in and out is super easy. The seat can be used with all Britax strollers and select other strollers.
The best usability feature of this seat is that it is very easy to clean, using SafeWash fabric. It can be both machine washed and machine dried, meaning you won't have to wait around for it to drip dry. Considering a diaper blow-out is bound to happen a few times, this is a mercy.
One negative is that the seat does need to be rethreaded as a child grows, which is a hassle compared to seats that don't require that. In addition, it is rear-facing only, so you will need to look elsewhere for a convertible car seat if you'd like front-facing as an option.
Britax B-Safe Gen2 Review Final Thoughts
The Britax B-Safe Gen2 lacks some of the bells and whistles you see in some other car seats, and it isn't overly flashy or stylish. However, if you are looking for an effective, safe seat with all the essential features at an affordable price, this is a wonderful seat. Carrying the Britax brand name, you know it is trusted. It is parent friendly by being both super easy to install and super easy to use. It is exceptionally comfortable and safe. Any baby would be happy to sit in this seat, and any parents would have peace of mind. (>>> Find on Amazon)