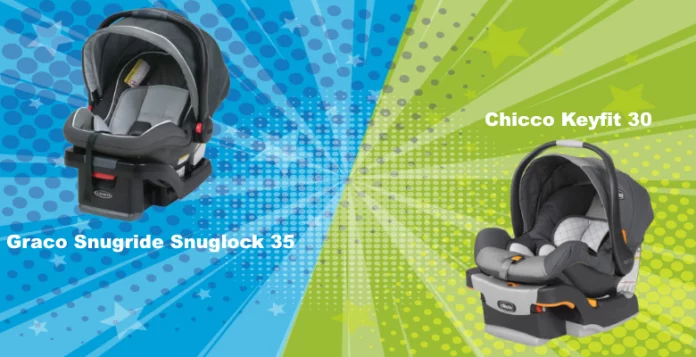 How can you compare the Graco Snugride Snuglock 35 vs Chicco Keyfit 30 without actually seeing and trying them?
When comparing car seats, you may feel a bit of trepidation and that is completely normal. While no one plans on getting in a car accident, and most of us drive a little more carefully when we have children, a car seat is more than a safety device. Sure, that is its most important function. As a child grows, however, a car seat becomes more: it is a place to eat, sleep, play, and travel. Your baby will spend hours in this seat, so there are many things you need to consider.
Let's take a look at how these two car seats compare – and where one (the Snugride) clearly stands out (>>> Check on Amazon).
Graco Snugride Snuglock 35 vs Chicco Keyfit 30 Side by Side:
How Much Do They Cost?
There is no price on safety, but as a new parent, you don't want to spend unnecessary money. The Graco Snugride is less expensive than most of its competition, including the Chicco Keyfit 30. When put up against each other in terms of what you get for the price, the overall quality of the seat and materials, and the expected longevity of the car seats, the Snugride is a better deal.
Chicco is a name known for its overall quality and longevity. They almost always offer accessories with their car seats, and the Keyfit 30 is no different. It has some great features like a high-quality zipper and snow boot add-ons. If you live somewhere where you will use these accessories, they may be worth a second look. If you are looking for something that is quality and still feels good, but maybe doesn't have the accessories, the Snuglock should work.
Better Overall Deal: Graco Snugride Snuglock 35
Installation
Putting the Chicco Keyfit 30 into a car is easy, thanks to the single LATCH system. It can easily be installed by one person through a seatbelt either with or without the base. Chicco has a plethora of videos and guides online to help someone install the car seat without damaging it, which can be extremely helpful for families on the go and those who have to change cars.
For new parents, in particular, the Graco Snugride Snuglock has some features that make it easier to install the seat into your car, including a level indicator so that you know everything is level and at the right angle. However, installation does require a few more steps than the Chicco. This is a lighter car seat than most others, making it very easy to install as well.
Easier to Install: Chicco Keyfit 30
Ease Of Use
Both of these seats are extremely easy to use.
Overall, the Chicco brand has a lot of parts that interconnect, so you don't have to worry about looking for specific model numbers of pieces. Graco, being one of the most popular brands out there for all sorts of baby products, has made childcare easier than ever.
The Chicco is on the heavier side, which parents may not notice at first. However, as your child gets older, it is likely that you will notice it quite a bit. It is also larger, which means you'll have some trouble fitting it into smaller cars, but you should still have plenty of room.
Easier to Use: Graco Snugride 35
Cleaning
All parents will eventually need to clean their baby's car seat, and some seats are easier to clean than others. The Chicco Keyfit 30 is lined with EPS foam, and the seating pad is completely removable and washable. Upon washing, it is easy to put everything back together. All of the fabric comes off of the seat using a series of zippers, elastic, and snaps.
The Graco Snugride also uses EPS foam, but the car seat fabric isn't removable. This makes it much harder to get a good, thorough cleaning and to sanitize everything.
For both of these seats, the fabric is stain-resistant, so if you are able to clean them quickly, you shouldn't have any issues.
Easier to Clean: Chicco Keyfit 30
Appearance
The Keyfit comes in a few different colorways, including:
Isle (emerald and gray)
Hydra (teal and gray)
Genesis (black and white)
Black and gray
Avena (shades of gray)
It very much looks like a high-end car seat with some great finishings. The fabric looks a bit more expensive than others within this price range.
For the Graco Snugride, you get two different options: the Pierce (black and gray) and Gotham (dark gray and black).
Appearance Options: Chicco Keyfit 30
---
Graco Snugride Snuglock 35
Overall, the Graco Snugride Snuglock 35 is a fantastic car seat for those who have a strict budget. It gives you everything you need from the safety side, has options accessories that you can add on your own, and the brand itself has improved its basics over the last few years. You may have heard that Graco car seats aren't good enough, but that isn't true. They may not be as "fashionable" or as high-tech, but they are still a great option for most people. Click here for our more in-depth Graco Snugride Snuglock 35 review.
Within its price range, it is still one of the highest quality options, even if it isn't as nice as the Chicco.
Pros
Good value for the cost
Easy installation
Good crash results
Stain Resistant
Easy to find accessories
Cons
Lower-quality fabric and finishes
Not as many colorways
---
Chicco Keyfit 30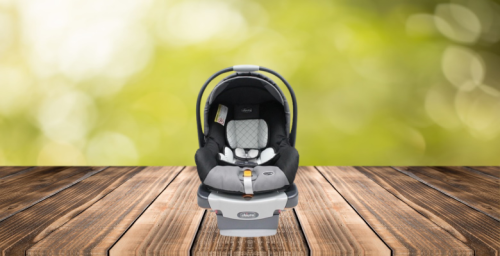 The Chicco Keyfit 30 is the type of car seat that parents on the go love. It is sturdy, beautiful, and easy to install. It offers a ton of support and security, consistently ranking well in crash tests. The seat is a bit heavier than others, in part thanks to the quality of the plastics used in the base and shell, and because of the foam used for a cushioned bed for your baby.
Perhaps one of the easiest car seats to install, the seat is large but not bulky, sturdy but not damaging to your seats. The one sticking point is that the belt's pathway isn't as refined as some others.
For a baby, this is a cushy ride from start to finish. Everything "snaps" into place, but not enough to jerk the baby. The material used on the seat is easy to clean and doesn't stain, but it doesn't breathe easily, so it's possible that the baby will get too hot. For our more in-depth review click here.
Pros
Easy to Install
Good crash test results across the board
Quality build
Easy to clean
Cons
Fabric is heavy and not breathable
Harder to find accessories that don't come standard if you don't have them shipped
---
What's The Bottom Line?
At the end of the day, these two seats are for very different clientele. However, if you have the extra money to spend, then the Chicco is a great option for those who want something easy to clean. It is a bit heavier, however, and larger, so it won't be the best fit for all parents. On the other hand, the Graco is a more affordable option that many parents love and know (>>> Find on Amazon).