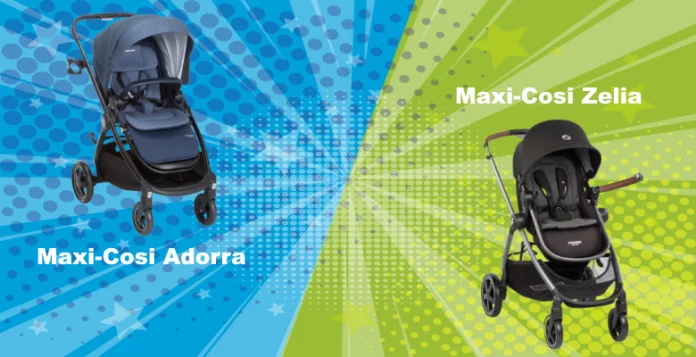 Maxi-Cosi strollers are stylish, functional, and affordable, a combination that will appeal to lots of parents. While all of their strollers are a great value, however, in a comparison of the Maxi-Cosi Adorra vs Zelia it's really no contest. The Zelia outperforms the Adorra in every category except price, and its extra features are worth the slightly higher price tag in our opinion (>>> Check on PishPoshBaby.com). Let's take a closer look at the key differences so you can see how we reached this conclusion.
Maxi-Cosi Adorra vs Zelia Side by Side:
Safety
This is arguably the most important thing to consider when shopping for a stroller: will it keep my child safe? Both the Adorra and Zelia have a sturdy frame and padded, secure harness on the seats. For infants, both use a carriage mode with Cozi-Dozi head support attachments that provide extra protection around your baby's head, preventing injuries from jostling or impacts.
The 5-point harness system on the Maxi-Cosi Zelia can be quickly adjusted for a precise fit with no re-threading. It also comes with a car seat attachment that provides more stability and protection for infants, making it a safer stroller for all ages.
Better safety features: Maxi-Cosi Zelia
Child Comfort
The padded seat and harness of the Adorra has multiple recline levels and can be set up facing outward or facing the parent. Its included sun canopy has an extending visor for broader protection and is well-ventilated, with large wheels that give a smooth ride in city settings.
The Zelia does all of this, too—just a little bit better. The seat pads are plusher, with a deeper leg rest and superior harness system, while the canopy offers more complete sun protection when fully extended. The included car seat is a factor here, too, keeping infants comfy when you're moving them from the car to the stroller.
More comfortable for kids: Maxi-Cosi Zelia
Steering Ease
Both the Adorra and the Zelia are designed for use in cities, and neither one is designed for a smooth ride on rough surfaces. They're great in urban and suburban settings, though, with large rear wheels to handle curbs and a narrow enough profile to fit easily through doorways. Maxi-Cosi has thought about the parent's comfort, too, and both strollers have a padded push bar.
With the standard seat, the Zelia weighs 21 pounds. That's a bit higher with the car seat attachment, but it's still much lighter than the 34-pound Adorra. Thanks to this, it's easier to maneuver and control despite being a bit wider than the Zelia.
Easier to steer: Maxi-Cosi Zelia
Maximum Weight
The Maxi-Cosi Adorra has a recommended maximum weight limit of 30 pounds. That's around 2 years old in most cases, though smaller kids may be able to use it up to the age of 3. The 50-pound weight recommendation of the Zelia is high enough to accommodate any toddler, so you'll be able to use the stroller longer before your kid outgrows it.
Higher maximum weight: Maxi-Cosi Zelia
---
Maxi-Cosi Adorra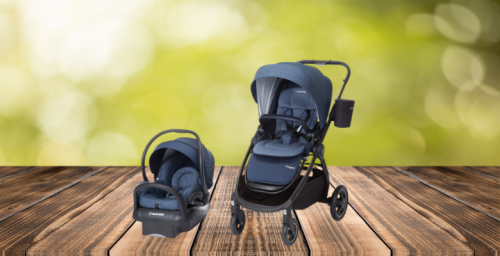 The Maxi-Cosi Adorra gives babies up to 30 pounds a smooth and comfortable ride. For infants, it has a fully-reclining carriage mode with Cozi-Dozi support attachments that keep the smallest babies safe. Once babies can sit up on their own, it has the option of front- or parent-facing configurations and reclines to a comfy angle. The included canopy extends to protect them from the sun, and has a mesh window so you can peek in on your child without stopping.
The Adorra is equally comfortable from the parent's side. The handle has a padded grip that's more comfortable to hold and steer. Parents will also appreciate the cupholder on the handle and roomy under seat storage basket.
Another convenient feature of the Adorra is its easy and compact fold. It collapses down to a slim, self-standing unit even with the seat attached. The folding mechanism is so simple you can do it with one hand, and it's just as quick to set up when you're ready for a stroll.
Pros
Carriage mode supports infants from birth
Reversible and reclining seat
Sun canopy with peek-a-boo window
Convenient cupholder and storage basket
One-hand fold with seat attached
Seat pads are comfortable and machine washable
Cons
No car seat compatibility
Relatively low upper weight limit
---
Maxi-Cosi Zelia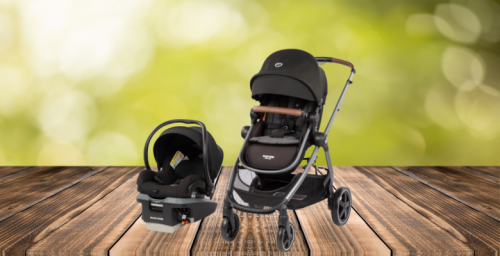 The Maxi-Cosi Zelia is a sophisticated 5-piece travel system that ensures maximum safety and comfort for babies and toddlers. It includes a car seat that attaches easily to the stroller base, sparing you the need to wake sleeping kids. Since the seat is roomier and has a higher weight limit, older toddlers can use it as comfortably as babies, and the 5-point harness system is fully adjustable to give a precise fit every time.
Now you will need to take the car seat off before folding the Zelia. The frame itself is very easy to fold, though, and stands on its own so you can tuck it easily into a corner. It's also remarkably lightweight, weighing just over 20 pounds. That makes it easier to lift into your car trunk and also enhances its maneuverability.
Both the car seat and standard seat have an attached sun canopy that extends for full coverage, with the same peek-a-boo window ventilation as the Adorra. The under-seat storage is also equally roomy and easy to access. Just about the only thing it doesn't have is the cupholder attachment, and that's a pretty minor sacrifice for the smoother, more comfortable ride you'll get from the Zelia.
Pros
Lightweight, durable frame
Easy to steer and push
Includes a car seat
Comfortable, secure 5-point safety harness
Reclining and reversible seat
Expandable canopy gives full sun coverage
Self-standing fold
Large under-seat storage basket
Cons
---
What's the Bottom Line?
The included car seat with the Maxi-Cosi Zelia is a huge value add, expanding its versatility and giving kids a more comfortable ride (>>> Find on Amazon). Along with that, it can handle bigger kids, has better safety features, and is easier to steer. Add in the easy fold and light weight and it meets all the needs of a modern family.
REFERENCES AND FURTHER READING: