Maxi Cosi strollers are known for their lightweight and durable construction, along with their stylish appearance. Every aspect of the strollers is designed to make life easier for busy parents.
Comparing Maxi Cosi strollers isn't easy. There aren't a lot of differences between the models. If you are looking at the Maxi Cosi Tayla vs the Zelia, you see each is a complete travel system. On a closer inspection, you'll notice the Zelia comes with a bassinet, unlike the Tayla (>>> Check on PishPoshBaby.com). It also offers more riding options for your baby's comfort. Where the Tayla comes out ahead is with its innovative safety features.
Still unsure which stroller is right for you and your baby, let's take a closer look at what you get with each model.
Maxi Cosi Tayla vs Zelia Side by Side:
Compatibility
How compatible a stroller is with your lifestyle may not seem like a deciding factor until you get it home. You want to make it as easy as possible to transport your baby from the car to the stroller. Both Maxi Cosi strollers come with detachable car seats for babies, but only the Zelia comes with a bassinet.
The bassinet supports babies 5 to 30lbs and comes with everything you need to keep your baby safe and comfortable. Now you won't have to worry about waking your sleeping infant when you're going from the stroller to your home. The bassinet is also great when you're visiting family and friends.
Best Compatibility: Maxi Cosi Zelia
Maneuverability
The last thing you want is a stroller that's hard to push or maneuver around corners. Both models boost all-wheel suspension for a smooth ride over all types of terrain. The larger rear wheels make it easier to control on bumpy sidewalks, and the small front wheels allow you to turn corners with ease.
An adjustable handle ensures you won't have to bend over the stroller while pushing. Where the Zelia comes out ahead is with its lightweight construction. At 21lbs, the Zelia is noticeably lighter than the Tayla. It does make a difference when you are trying to push a fully loaded stroller.
Easiest to Maneuver: Maxi Cosi Zelia
Safety Features
You never want to put your baby in an unsafe stroller, and it's something you won't worry about with either model. Both come with side impact protection in the car seat to protect your infant from bumps whether you are driving a vehicle or using the stroller.
The Tayla comes with Maxi-Lock technology. It ensures a quick and secure installation when you attach the car seat to the stroller. You won't have to worry if the bassinet is securely in place.
Best Safety Features: Maxi Cosi Tayla
---
Maxi Cosi Tayla Review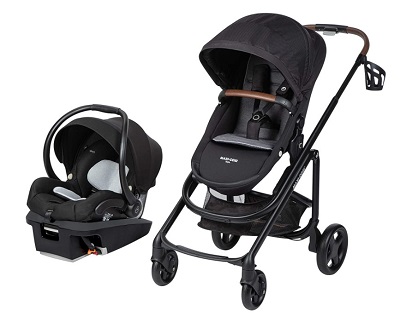 The Maxi Cosi Tayla is a travel system busy parents will appreciate. It comes with a detachable car seat featuring maxi lock latch technology. You can see when the car seat is securely attached. Patented side protection gives you peace of mind knowing your baby is safe.
Use the rear-facing car seat up to 30lbs, and then transfer your child to the front-facing stroller. The stroller will grow with your child.
Comfort is key for a happy baby, and the Tayla delivers. The fabric is non-treated, so you don't have to worry about irritating your child's sensitive skin. The seat coverings are soft and plush to ensure maximum comfort. A pull-out shade canopy keeps the sun out of your baby's eyes, and it comes with a convenient peek-a-boo window.
All-wheel suspension ensures a smooth ride, along with easy maneuverability. You can adjust the handle to four height positions, and it even has a convenient cup holder. Add in the spacious storage basket, and you're ready to take the stroller almost anywhere.
Pros
All-wheel suspension
Safety features
Pull-out shade canopy
Comfortable fabric
Easy storage
Cons
The stroller is heavier than some similar models which may make it harder to maneuver
---
Maxi Cosi Zelia Review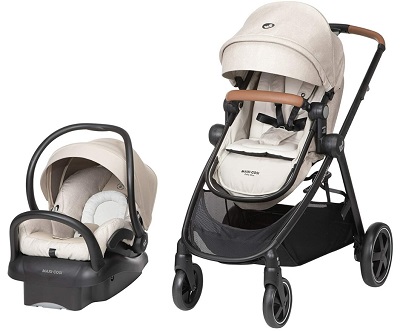 The Maxi Cosi Zelia comes with five modes allowing you to easily change your baby's position. Go from parent to world-facing with the attached car seat or stroller. You can reposition the handle, so your toddler faces you or the scenery.
Weighing only 21lbs, you won't have a problem pushing the stroller. Add in the all-wheel suspension, and you can tackle any terrain with ease. A large storage basket frees up your hands and makes it easy to bring along everything your baby needs.
You won't have to worry about your baby's comfort. The fabric is soft and comes with moisture-wicking. Your baby stays cool and dry on hot summer days. It also comes with a shade canopy for additional comfort.
One convenient feature is the included bassinet. It attaches to the stroller as easily as the car seat. It's great to have when you're taking your baby for a visit. You already have a bed with you when your infant falls asleep.
Pros
5-1 travel system
Pull-out sun canopy
Fully reclining seat
Large storage basket
Included bassinet
Cons
The stroller is wider than similar models making it hard to maneuver in tight places
---
Conclusion
There is a lot to recommend both the Maxi Cosi Tayla and Zelia . The strollers are easy to maneuver, fold into a compact size, and come with safety-approved car seats. The Tayla does have additional safety features, but the Zelia comes with a bassinet (>>> Find on Amazon). It is also lighter in weight.
It comes down to what you want and need in a travel system. Take a minute to think about where you are planning on using the stroller. If you frequently go down cramped aisles, the Zelia may be a little too wide. On the other hand, the Tayla is the heavier of the two models.
Hopefully, you have the information you need to make the best decision.
REFERENCES AND FURTHER READING: