Bugaboo strollers are popular with parents for several reasons. Their strollers are designed for comfort and convenience, but there are differences between the various models. These differences may make one a better choice for your family.
Comparing the Bugaboo Fox 3 vs the Bee 6 is an example. The Fox 3 is newborn-ready, it comes with a bassinet. It's also designed to handle all types of terrain, from city streets to nature trails (>>> Check on Amazon.com). The Bee 6 is a lightweight city stroller. The bassinet is extra, but the stroller comes with advanced safety features.
Still not sure which Bugaboo stroller best fits your lifestyle. Sometimes, it helps to take a closer look at their features.
---
Bugaboo Fox 3 vs Bee 6 Side by Side:
Safety Features
It doesn't matter if you are pushing a newborn or toddler around safety is always a priority. Both strollers come with 5-point safety harnesses. Your active little one stays securely seated. Locking wheels keep the strollers in place, and the sturdy frames support up to 50 lbs.
The Bee 6 also comes with a rotating bumper bar. It provides a little extra support and protection around the legs. The bar prevents the stroller from bumping against objects keeping your toddler safe.
Best Safety Features: Bugaboo Bee 6
Ease of Maneuverability
You aren't going to have a problem pushing either Bugaboo stroller. They have a one-push design. You can push the stroller using one finger. Rotating front wheels let you tackle tight corners with ease.
The Fox 3 comes with all-terrain wheels and advanced suspension. You can easily tackle almost any terrain with ease. In comparison, the Bee 6 boasts extra-large 7-inch rear wheels ideal for bumpy city streets.
Easiest to Maneuver: Bugaboo Fox 3
Comfort
Both strollers use soft, breathable fabrics keeping your baby comfortable in all types of weather. The strollers also come with a large, retractable sunshade. A mesh peek-a-boo window allows for maximum airflow and lets you keep an eye on your child.
The Fox 3 also comes with a plush footmuff. It's the perfect way to keep your baby's feet warm on breezy days.
Best in Comfort: Bugaboo Fox 3
Convenience
The strollers come with car seat adapters. You can attach a compatible car seat to the stroller, turning it into a travel system. The strollers also have a one-click button. Press the button, and the stroller folds down for easy storage.
The Bee 6 is around 10lbs lighter than the Fox 3. Its lighter weight may make it a little easier to use and store.
Most Convenient: Bugaboo Bee 6
---
Bugaboo Fox 3
The Bugaboo Fox 3 is a lightweight, full-size stroller, weighing around 30 lbs. It's compact enough to fit through aisles and a breeze to maneuver. The all-terrain wheels let you explore city streets and park trails. The advanced suspension keeps the stroller rolling smoothly and protects your baby from bumpy rides.
The one-piece fold makes the stroller easy to store. It has a self-standing design, so it takes up less space in your vehicle or closet. Included adaptors allow you to use a compatible car seat with the stroller. You can transfer your sleeping child from the car to the stroller without disturbing their nap.
A large bassinet lets you use the stroller from newborn before transitioning to the toddler seat. Soft, breathable fabrics keep your baby comfortable. The large sun canopy protects your baby's eyes. It also comes with a convenient mesh window. For our more in-depth review of this stroller, click here.
Pros
All-terrain wheels
Large 22lb capacity storage basket
Lightweight, full-size design
Easy storage
Advanced suspension
Cons
The stroller's larger size may make it difficult to navigate narrow store aisles
---
Bugaboo Bee 6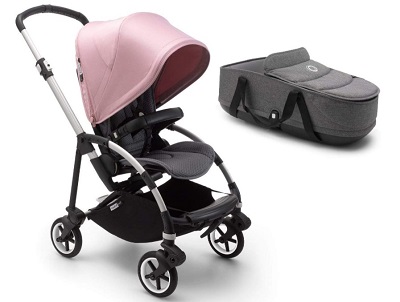 The Bugaboo Bee 6 is designed for city living. It's a lightweight, compact stroller that's a breeze to push and maneuver. Large 7-inch wheels roll smoothly over sidewalks and streets. It can handle corners without problems.
A storage basket underneath keeps all of your belongings in one convenient place. It's a little smaller than some on other strollers, but you still have plenty of room for a diaper bag. The Bee 6 is also a breeze to store and comes with a self-standing design.
Breathable fabrics keep your baby cool and comfortable. The stroller also comes with an XXL sun canopy. The peek-a-boo window makes it easier for you to stay connected with your baby on walks.
Along with a five-point harness and locking wheels, the stroller has a bumper bar. The rotating bar gives toddlers extra leg support and protects them from bumping into objects. Click here for our more in-depth Bugaboo Bee 6 review.
Pros
Easy, one-piece fold
Large wheels
Lightweight and compact design
XXL sun canopy
Car seat adaptors included
Cons
The stroller does not come with a bassinet
---
Conclusion
Deciding between the Bugaboo Fox 3 vs the Bee 6 comes down to where you are planning on using the stroller.
The Bee 6 is the ideal stroller for city life. It's compact, lightweight, and a breeze to push. The Fox 3 is also designed for easy maneuverability, but its all-terrain wheels make it a better option if you plan on taking the stroller off paved trails (>>> Find on Amazon).
Related Comparisons: