Babyletto cribs share a lot of strengths. Both the Hudson and Lolly models have a 3-in-1 convertible design, transitioning from a crib to a toddler bed to a daybed so they can grow with your child. Along with this impressive longevity, they're made from sustainable materials and Greenguard Gold certified for safety, with no VOC emissions or other potentially hazardous chemicals.
The main question you probably have when you're comparing the Babyletto Hudson vs Lolly is: just what is the difference between them? While they are quite similar in function and build, they're not as identical as they seem at first glance. Let's take a closer look at the differences before we dive into the full product details. (>>> Check on Amazon)
Babyletto Hudson vs Lolly Side by Side:
Colors and Finish
The Babyletto Hudson is available in 4 finishes: all white, all brown (espresso), all gray, or brown with white spindles. This gives parents a good range of colors, and most can find an option that fits in with their nursery décor.
You'll get a similar range of color options with the Babyletto Lolly, with a choice of white, black, or gray for the rails. The main difference is that the spindles are unpainted, natural wood on all color options. Along with giving them an air of sophistication, this means no paint on the spindles themselves, which are the part of the crib babies are most likely to explore with their mouths.
Better colors and finish: Babyletto Lolly
Design
Both these Babyletto cribs have a low-profile design. The side rails are as tall as other cribs, and equally effective at keeping kids contained. The difference is the feet, which are shorter than on most cribs. This is especially great news for shorter parents, sparing you the need for painful contortions to get your child in and out (and making the process safer for both of you). It's also why they can function so well as toddler beds—once you switch to the toddler rail, the mattress is low enough for children to climb in and out on their own easily.
Again, the differences here are subtle. The Hudson has standard exterior corners and angled feet set in slightly from the edge. On the Lolly, the feet are closer to the corners, giving it even better stability. It also has rounded exterior corners, a nice touch from a safety standpoint.
Better design: Babyletto Lolly
Value
While neither of these cribs is especially cheap, both are a good value for what you get, especially considering they can convert from cribs to beds as your child grows. The Babyletto Hudson usually sells for about a hundred bucks less than the Babyletto Lolly. Considering they're identical in all functional respects, this makes the Hudson the better overall value for parents.
Better value: Babyletto Hudson
---
Babyletto Hudson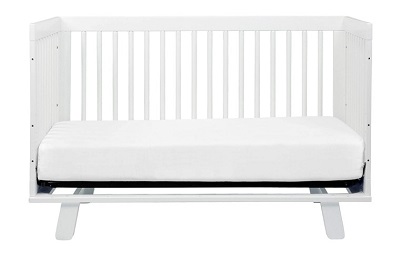 The Babyletto Hudson is one of the most popular cribs in the company's catalog, and with good reason. It's a safe, stylish crib for kids of all ages. It's also one of the most customizable cribs on the market, with an included conversion kit to quickly change it from a crib to a bed and 4 height options for the mattress.
The detailed assembly instructions that come with the Babyletto Hudson give it a straightforward and easy assembly. You won't need many tools of your own, just a Phillip's head screwdriver to secure the bolts and the Allen wrench that comes included. While it's possible to assemble with one person, it's a much easier process with two, so single parents may want to recruit a friend to help.
The attention to detail on the Babyletto Hudson is superb. This starts with the sustainable pine wood used in its construction. The paint and stain used are non-toxic and free of VOCs, and Babyletto cribs undergo rigorous testing to ensure there are no chemical emissions. Its clean, modern design will fit the décor of both modern and classic nurseries, while the compact design of the crib means it'll fit in a space sense, too, even in relatively small rooms and homes.
Pros
Sustainably sourced wood with no chemical emissions
Easy to assemble with included instructions
Includes conversion kit to toddler bed and daybed
Adjustable mattress height with 4 positions
Low profile ideal for shorter parents
Hidden hardware with no visible screws or bolts
Excellent value
Cons
Corners aren't rounded
Solo assembly is difficult
---
Babyletto Lolly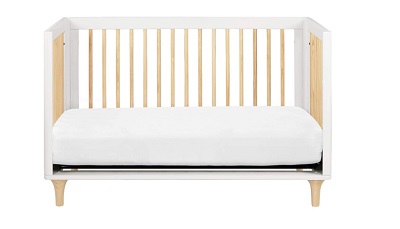 From a usability and feature standpoint, the Babyletto Lolly is virtually identical to the Babyletto Hudson. Like the Hudson, it uses a 3-in-1 design with an included conversion kit and toddler rail so you can switch it to a toddler bed at around the 18-month mark of your child's growth. Along with this, it has the same low 35" height and sustainably-sourced wood construction that make the Hudson such a popular choice.
The design of the Lolly is where you'll see the most differences. Rather than using the same paint color throughout, the spindles are washed natural wood. This gives it a unique, modern look, and also means fewer places for babies to chip off paint while they explore their world. The rounded outer corners are a nice touch, too, lowering the risk of injury if kids (or parents) run into the crib's edges.
While these small details are a nice touch, the question parents have to ask is whether they're worth the extra cost. The standard price of the Lolly is about a hundred dollars more than that of the Hudson. This price doesn't include the mattress, either, which you'll need to buy separately for both cribs.
Pros
Easily transitions from crib to bed with included kit
Low profile with short and stable supports
Certified chemical-free with no VOCs
Durable, high-quality sustainable wood construction
Natural wood spindles are safe and attractive
Rounded corners lower risk of injury
Cons
Higher cost
No included mattress
---
The Verdict: Babyletto Hudson vs Lolly
The Babyletto Hudson and Lolly are both safe, durable cribs with the potential to be useful long after your child grows into a full bed. The difference between them comes down to design and price. The sleek two-color look of the Babyletto Lolly can go with a wider range of furnishings, and will maintain their sharp look longer since there's less paint to chip. That said, budget-conscious buyers will be equally pleased with the performance of the more affordable Babyletto Hudson. (>>> Find on Amazon)
REFERENCES AND FURTHER READING