A convertible crib can be a very smart investment for new parents because they grow with your kid as they age, smoothly transitioning from a full crib to a toddler bed to a daybed. Babyletto is one of the most trusted names in the field for parents, known for their safety, durability, and stylish design.
Looking at the Babyletto Hudson vs Modo, they're very similar from a functional standpoint, with both offering easy assembly and convertibility, as well as a sustainable, safe, and convenient design for both parents and children (>>> Check on Amazon). Choosing between them really comes down to your style, aesthetics, and budget. Let's take a closer look at where these two impressive cribs differ.
Babyletto Hudson vs Modo Side by Side:
Foot Design
The Babyletto Modo uses block feet, set just a couple of inches in from the outer edges of the crib. This gives it excellent stability and makes it virtually impossible to tip over, great news for parents of active children. This also puts them right in tone-stubbing range for parents, though.
On the Babyletto Hudson, the feet are slimmer and set further in from the crib's edge at an angle. This gives it similar stability to the Modo but has a sleeker look that many parents prefer.
Better foot design: Babyletto Hudson
Slat Design
The sides of the Modo and Hudson use similar spacing between the slats, and both are effective at keeping babies contained without the risk of them getting stuck if they reach between them. That said, the flat slats of the Modo aren't as comfortable for babies to grip (or explore with their mouths) as the rounded spindles of the Babyletto Hudson.
Better slat design: Babyletto Hudson
Finish and Color Choices
There aren't a ton of color choices available for the Babyletto Modo. The all-white option is widely available, and you can also get it with a black or gray base. Other color options include gray and espresso, though these can be difficult to find and sell at a higher price from many retailers.
Solid color options for the Babyletto Hudson include white, black, espresso, gray, and natural wood. You can also get it in two-tone versions, like black/white, gray/white, and white/natural. While availability of finishes varies between retailers, most have more options for parents to choose from than they do for the Modo.
More finish and color options: Babyletto Hudson
---
Babyletto Hudson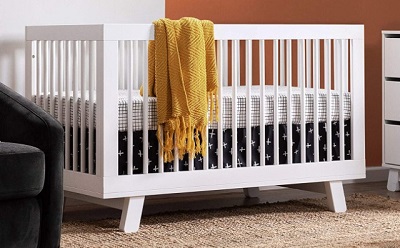 The sleek, modern design of the Babyletto Hudson is easy to pair with the other furnishings and décor in your nursery. There's more to the design than looks, too. It's Greenguard Gold Certified for safety, with no harmful emissions or VOCs and a non-toxic multi-step painting process. The pine wood used in the construction is sustainably sourced, and it assembles without visible screws, maintaining the smooth look and feel of the exterior.
The low profile of the Babyletto Hudson is a huge advantage for shorter parents. It has full-sized sides but shorter legs than most cribs, so children can't climb out but parents won't have to strain to reach them. The 4 adjustable positions for the mattress help with this, too. Once your child's old enough for a toddler bed, it's easy to change from a full side to the toddler rail with the included conversion kit.
The rounded rail spindles of the Babyletto Hudson are well-spaced and have a cleaner look than flat slats. The crib is available in a range of colors, too, including two-tone options and natural paint-free finishes. It's also relatively easy to assemble and convert, though single parents may need to recruit a helper—it's much easier with two people than one. Click here for our more in-depth Babyletto Hudson review.
Pros
Convertible 3-in-1 design (conversion kit included)
Low 35" profile for shorter parents
Rounded spindles are attractive and well-spaced
Sustainable build
Non-toxic paint and stain with no VOCs
4 adjustable mattress positions
No visible bolts or screws
Cons
Can be tricky to install for one person
Slightly higher cost
---
Babyletto Modo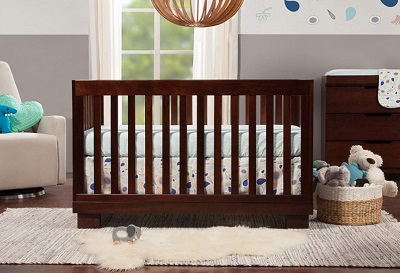 The Babyletto Modo shares a lot of strengths with the Hudson above. It has the same low 35" profile and 3-in-1 convertibility, with 4 mattress positions for customizing the height further. The materials and finishing process the same, too, and it's also Greenguard Gold tested for more than 10,000 chemicals, so you can count on it to be nontoxic and safe for your child.
Design-wise, the feet and slats are the main things different on the Modo. The feet are at the crib's corners, which gives it a more stable base (though that also increases the risk of parents stubbing a toe). The slats are flat instead of rounded spindles, which may be less comfortable for babies to grab, though they're similarly spaced for safety.
The standard white finish of the Babyletto Modo is the most popular and easiest to find. There are also brown and gray finish options, though these can be more difficult to find and may cost more because of that rarity.
Pros
Sustainable, non-toxic build and finish
Change to toddler bed or daybed with included conversion kit
Square feet give it a stable base
Greenguard Gold certified healthy for babies
Easy access for shorter parents
Cons
Fewer color and finish options
Flat slats aren't as visually appealing
---
The Verdict: Babyletto Hudson vs Modo
The Hudson and Modo sell at a similar price point, with both typically retailing between $300 and $400. That said, the Modo usually sells for a bit less, and matches the Hudson in all functional respects. This makes the Modo a better choice for parents on a budget. On the other hand, the sleeker spindle and foot design of the Hudson are more aesthetically pleasing for most (>>> Find on Amazon), and its wider range of finishes gives you more color options for your nursery. Whichever one you buy, the fact that it can grow with your child makes both the Babyletto Hudson and Modo a smart long-term investment.
REFERENCES AND FURTHER READING